SingularityNET Moves $50M Between Exchange Addresses
Over the five-week stretch of January 3rd to February 6th, SingularityNET ($AGIX) jumped an astonishing +1,109% while crypto was recovering. Ever since then, we've seen choppy price action with a lot of uncertainty.
However, a 100M AGIX transaction was made today, with about a quarter of the available AGIX being sent from one of the largest known exchange addresses to another. This transaction, currently worth approximately $50M, was the largest made on the network in 14 months.
After SingularityNET's ascension at the beginning of the year, it comfortably sits as the 75th largest market cap asset in crypto. But it's difficult to figure out what to make of this mammoth transaction, when looking at the context of this address that holds a combined $1.23B worth of altcoins.
When looking at the pink line, representing the amount of AGIX this address has held historically, we see that its last large accumulation occurred in June, 2022. And prices actually dropped shortly after. But they continued accumulating, and actually look like they sold for a profit 3 months later.
The sending address of this transaction, for what it's worth, holds a ridiculous $9.92B in combined altcoins, with its largest portion in BUSD. It had been increasing its stake in AGIX throughout the past year quite massively.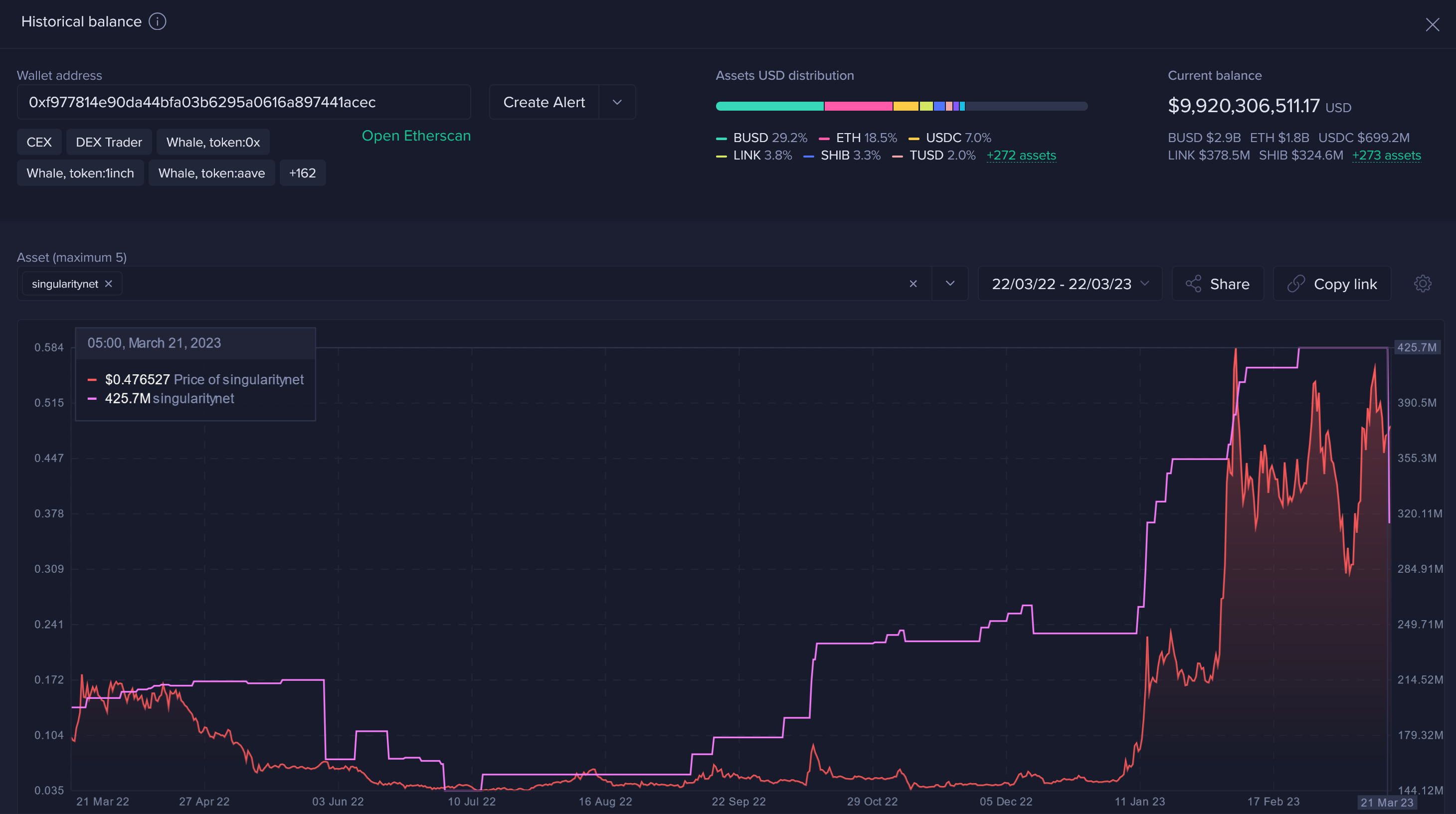 Keep in mind that both of these addresses are exchange addresses, so this could be simple asset shuffling. But when it's a $50M+ transfer of one of the largest gaining assets of 2023, we definitely have to keep an eye on the upcoming price action.
-----
Disclaimer: The opinions expressed in the post are for general informational purposes only and are not intended to provide specific advice or recommendations for any individual or on any specific security or investment product.
Thanks for reading!
If you enjoyed this insight please leave a like, join discussion in the comments and share it with your friends!
Never miss a post from brianq!
Get 'early bird' alerts for new insights from this author