Santiment is Gold Mine for Crypto World
Introduction
If you are in stock market then you know ESignal. I have been researching in stock market for last 20+ years. And I have used Esignal data for backtesting of trading models and then to execute them for real time trading. A key post that summarizes my research and use of ESignal data is described in My work in the field of Artificial Intelligence - Episode 4 (2015-2017).

Crypto economy is very new and evolving and with time the dataset that will be available for crypto assets will be much richer in attributes than what is available for stocks.

Santiment, a Switzerland based company with its smart contract on Ethereum blockchain, was launched in H1'2017. Having known the value of data for stock market - I have been following this project with keen interest since then.

I have developed many models using data that Santiment provides. The list of my key publications using their data is given at the end of this post.

Objective of this article is to let crypto enthusiasts know about the wealth of information that is there and yet to be extracted from data provided by Santiment.

Data Types Available
Santiment provides data for almost all dominant crypto projects. Below are the data types that are available for each project:
1. OHLCV
2. Social Sentiment
3. Github Developers activity
4. Blockchain activity

Although all other field types are important but I am particularly impressed with the blockchain activity data that is provided by santiment. It is also important as this data type differentiates crypto world from conventional stock market eco-world. Below is the list of some of the Blockchain activity data that is provided by Santiment:

1. Daily Active Addresses
2. Network Growth
3. Token Age Consumed
4. Stack Velocity
5. Age Distribution (HODL Waves)
6. %Active Coins
7. MVRV Ratio
8. Exchange Funds Flow
9. Daily Active deposits
10. Withdrawal Volume

These fields provide huge insight into project economics as well as participants behavior. As an example just look at the hodl waves behavior of Bitcoin as shown in below graph.
Those who are interested in more details about HODL waves can refer to Bitcoin Data Science (Pt. 1): HODL Waves.

In order to access their data you need to hold some SAN Tokens and that provides value to the token. For detailed and various subscription models pls visit their website.

Price Performance and Expectations
The chart below shows price performance of this project from CMC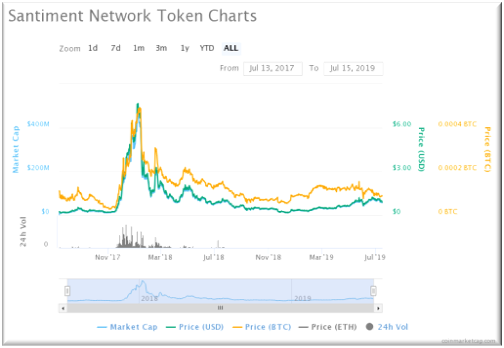 Recently Santiment and Bitfinex have joined hands to enrich the trading experience of bitfinex users by providing them santiment data to make informed trading decisions.
Integration Announcement: Santiment data, charts and insights – now on Bitfinex!

I will drill down later into price behavior and tokenomics for Santiment but in general currently I see this token undervalued. Watch out for my detailed posts for the project features and its potential.

List of My Key Articles For Santiment
Data provided by Santiment improves Trading Profitability
Combination of Santiment data and proprietary Trading Signal Suggests bear market to continue
We Got a Buy Signal after 8 months of bear phase - is it going to be correct prediction
Assets from this insight
Santiment
SAN