Ripple before and after snapshot
Assets covered: Ripple (XRP)
Metrics used: Exchange Inflow, Social Volume, Funding Rate, Age Consumed, Network Realized Profit or Loss, MVRV, Holders Distribution Combined Balance.
The Flare Network is supposed to be coming online next year, it had a snapshot for airdrop on December 11th, the idea was the more Ripple you have the more Flare token you are legit to receive.
We were looking at a bunch of metrics and it appears to be quite an interesting event.
It seems like a lot of people have accumulated Ripple days before the snapshot. And when it was taken it was a classic "Buy the rumour sell the news".
Let's see how could we foresee the downtrend for Ripple and where we are now.
Spoiler: Now it seems to be everything going back to normal.
You can clearly see the period of increased sell side pressure for Ripple after the snapshot has been taken.
Social volume shows another sort of uptick. It points to increased crowd chatter around that time. Which also coincides with downtrend after the snapshot.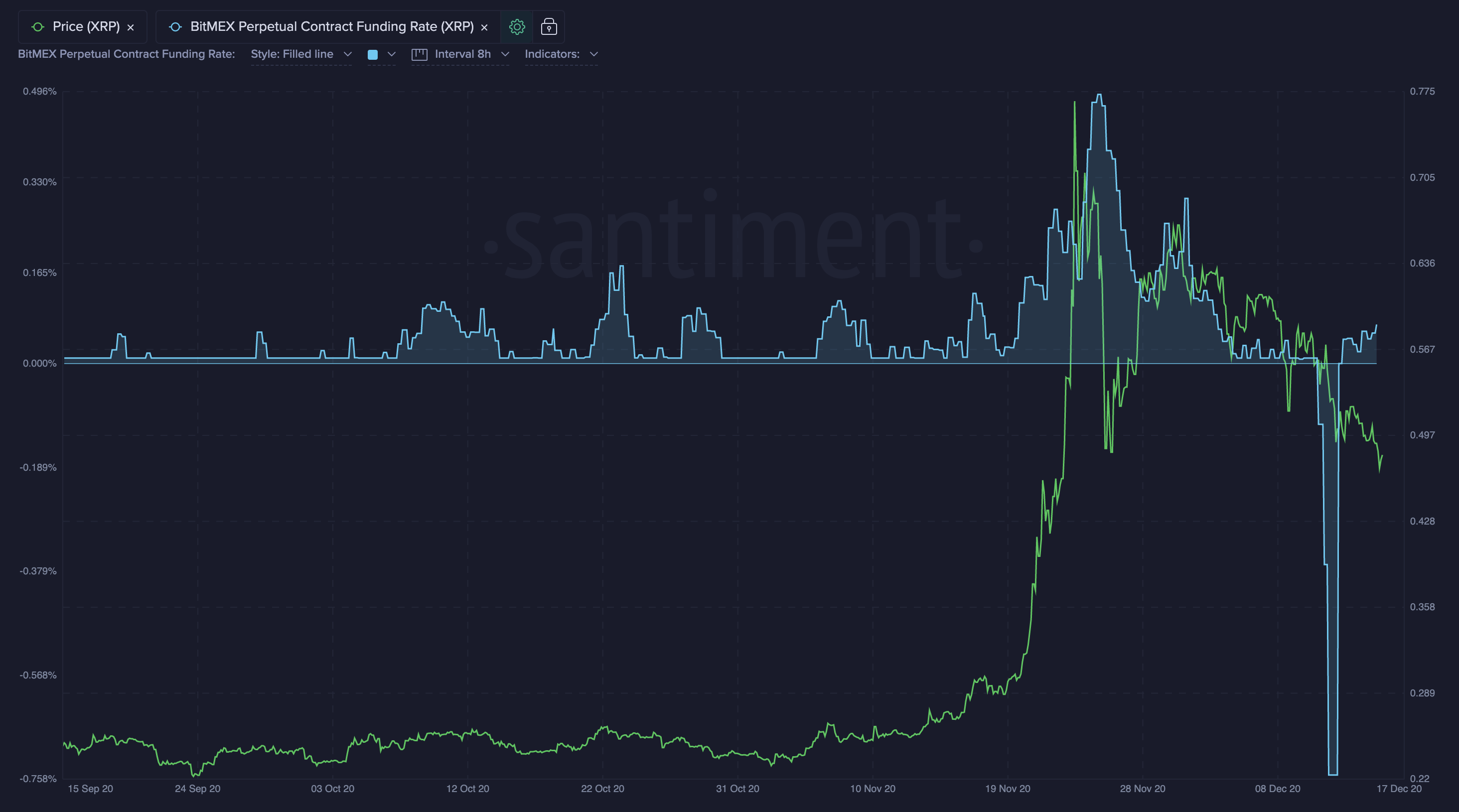 Derivatives is also very interesting, at least on BitMex. A massive drop! Highest since Black Thursday in March. Although this time people were correct. This could have been expected. A snapshot is taken and afterwards nobody cares what to do with that Ripple. We think a lot of people expected it before the selloff and they went short. Looks like some people probably made really good money on it.
There has definitely been an uptick. It just stopped all of a sudden. Long term hodlers probably also started to move their Ripple that days. Perhaps they were afraid of a dump.
This metric is very telling. It's amazing how some Ripple holders realized XRP profits before corrections. If we'll see spikes in opposite direction next days, we could probably consider entering a position.
MVRV 30d is now in negative zone. And is actually approaching the historical negatives, if we assume March to be an outlier. We're getting there, to the 30d term bottom.
Long term holders are still in profit but this potential profit is going down quickly. These guys are starting to feel a little bit pain as well. If they also go in the negative territory, it could be a bounce back. Especially if followed with spikes in network loss.
Looking like Bitcoin's, a massive drop. Distribution efforts are seen clearly since start of the rally. And back to accumulation after the snapshot.
Holders from 1000 XRP to 10M XRP dumped as one, in a single trend. The last one, from 10M XRP to infinity, has gotten all the money, probably exchanges:
But in the last couple of days, since the snapshot, we can say that holders started to reaccumulate XRP. As seen on MDIA chart. We think a lot of people thought we were going to dump stronger. And since we bounced back around $0.5 support, people perhaps moving back into XRP.
Ripple seems to be going back to normal.
---
If you like this content and would like to stay up to date and see full chart data for all metrics discussed in this insight, consider signing up to join our PRO community, and support these kinds of reports! https://santiment.net/
Disclaimer: The opinions expressed in the post are for general informational purposes only and are not intended to provide specific advice or recommendations for any individual or on any specific security or investment product.
XRP
Thanks for reading!
If you enjoyed this insight please leave a like, join discussion in the comments and share it with your friends!
Assets from this insight

Ripple
XRP