REP wins today's pump lottery - correction imminent?
It's breakout season y'all.
Today's special - Augur's native governance coin REP, which soared 51.85% in the past 24 hours, and has now almost doubled its value over the past week:
REP is the latest in a string of semi-random pumps gaining steam in the past few weeks, as onlookers try to figure out whether this altcoin rally is for real or not. Other honorable mentions include the likes of DASH and LTC, whose recent rallies we covered already, as well as a bunch of lucky newcomers such as INS and BTG.
The REP surge understandably got the crowd giddy, as Sanbase recorded over 230 new mentions of 'REP' or 'Augur' in the last 48 hours, a 4-month high for the coin:
Much of today's pro-REP chatter - as is so often the case - cropped up in the Binance English telegram channel, where perennial bulls and early buyers welcomed the pump with vigor:
As we've seen hundreds of times in the past, such social peaks are often the telltale sign of a looming correction, especially when the coin also reaches our list of the top 10 emerging words on crypto social media at the same time. Oh, why would you look at that:
Meanwhile, our sentiment data suggest the general crypto crowd has been turning against REP ever since the start of the rally back on Monday, with bearish mood rising alongside price:
Suffice to say our social data does not bode well for a prolonged REP rally. There's also the lack of any formative reason for the pump in the first place. A few people seem to think Augur's upcoming v2 is to blame, though no new announcements have really been made about it as of late:
Expected v2 launch date according to the Augur website - 'soon':
Still, the rally is not all pomp and no substance. In fact, the past 2 days have seen the ATH on-chain transaction volume (total amount of tokens across all transactions) as well as token circulation (only unique tokens moved) for the REP coin. Well, technically the second-highest if you count the ICO bump:
General on-chain activity is also on the rise, with both the amount of daily active addresses as well as new addresses created on the network recording a 30-day high:
One common on-chain indicator of a forming top is the influx of tokens from users' personal wallets to exchange addresses.
So far, this pattern has not yet materialized on our charts. In fact, quite the opposite: there's been a slight decline in exchange holdings of REP over the past few days, as the withdrawal volumes overshadow deposits:
This is even more evident when we zero in on the most active REP exchange at the moment - Binance. Although both REP deposits and withdrawals on Binance have been abnormally high in the past few days, the outflows trump any new money moving to the exchange so far:
One alternative explanation is that users are sending REP to another exchange wallet that is not currently labeled as such (maybe Coinbase?) to take advantage of arbitrage opportunities. I haven't been able to locate such a wallet while going over the biggest REP transactions in the past week, so take this with a grain of salt.
Another notable tidbit is that elevated inflow of REP to Binance a few weeks prior to the rally - December 27th, to be exact - while the coin was mostly consolidating (hovering around $9.4). It was the biggest incoming volume of REP to Binance (140,000 REP) in 4 months, and seems to have originated from 1-2 addresses, since there's no corresponding spike in active deposits at the time:
A few whales positioning prior to the pump? Might very well be.
And speaking of whales, I wanted to highlight a few jolly fellas that I came across while looking over the top REP transactions in the past week:
Starting with this address that sent 34,5k REP ($557,459) first to an interim address and then to Bitfinex 5 hours ago. You'll notice his previous two dumps both came at the respective tops for Augur at the time(s), so it's fair to say he's helped skew the REP market before. This most recent was also his biggest REP transaction to date:
If you want to keep an eye on this address going forward, I made a quick signal that will notify you when he moves his REP bags again in the future. He doesn't do it often but whenever he does, it's always an event.
Next up is this address, which moved 30,742 REP ($298,500 at the time) to Binance a few days before the uptrend:
This one has mainly been accumulating REP beforehand, so maybe he just got very lucky with the timing. Don't buy it? Here's a signal to let you know when he starts hoarding REP again.
Finally, here's a look at Mr. Whale #3, which added 15k REP to his wallet a week before the pump, and dumped all of his 17.5K REP ($282,800) to Bitfinex at the very top: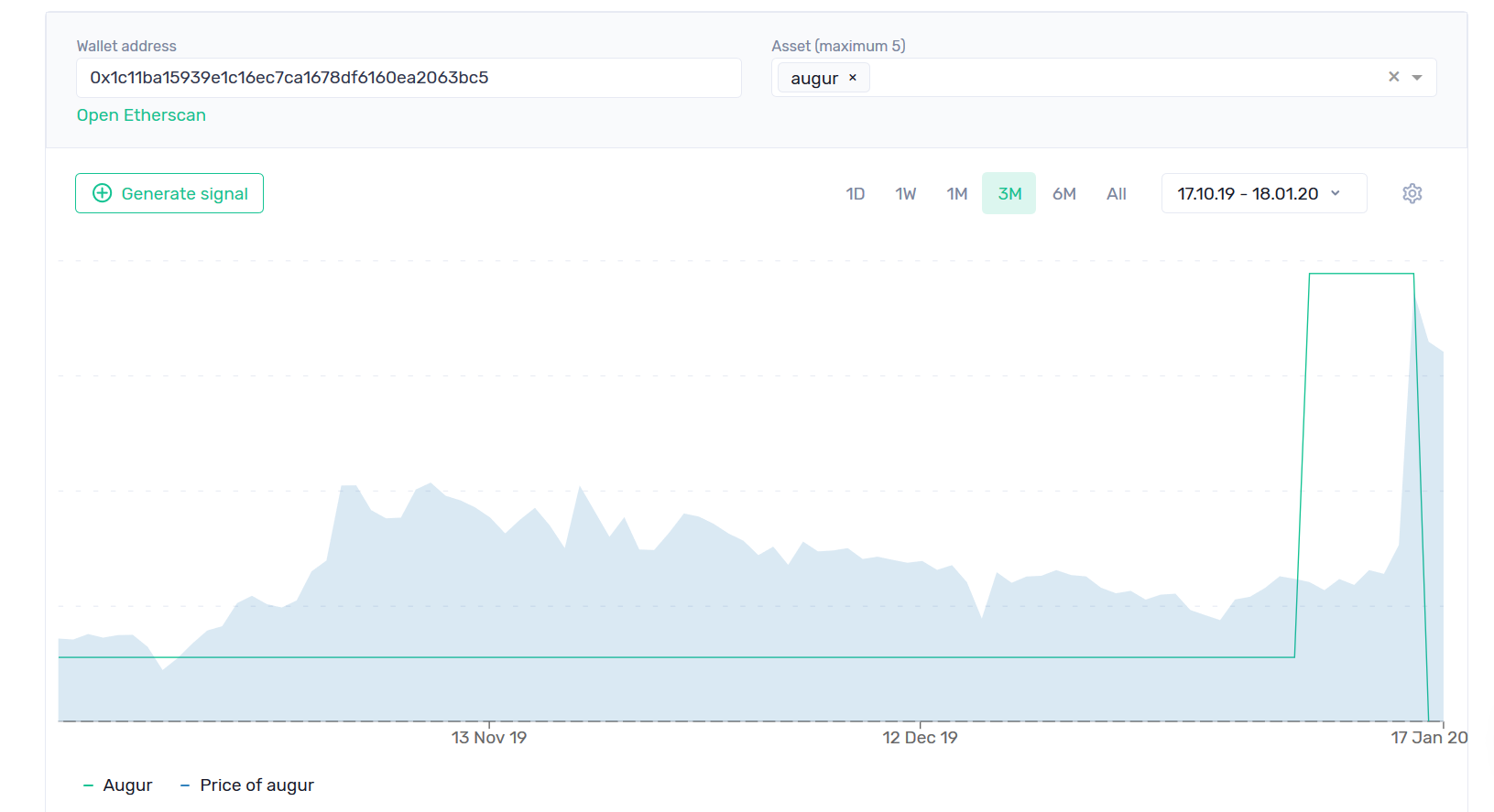 His wallet is empty at the moment, but here's a signal if you want to keep an eye on his REP balance in the future.
That's it for now. Seems like REP is starting to get back to reality even as I write this, and with the amount of bearish signals and lip-licking whales, I can't say I'm surprised. On to the next pump!
Assets from this insight
Augur
REP