Orchid (OXT) will need more than a listing pump to keep going..
Takeaways:
Listing pumps still happen
OXT highly centralized in Top 10 holders
Assets covered: Orchid (OXT)
Metrics used: Network growth, Holder distribution, Top Holders, Emerging trends
OXT has recently popped up as #2 in our emerging trends, possibly signalling a local top might be imminent.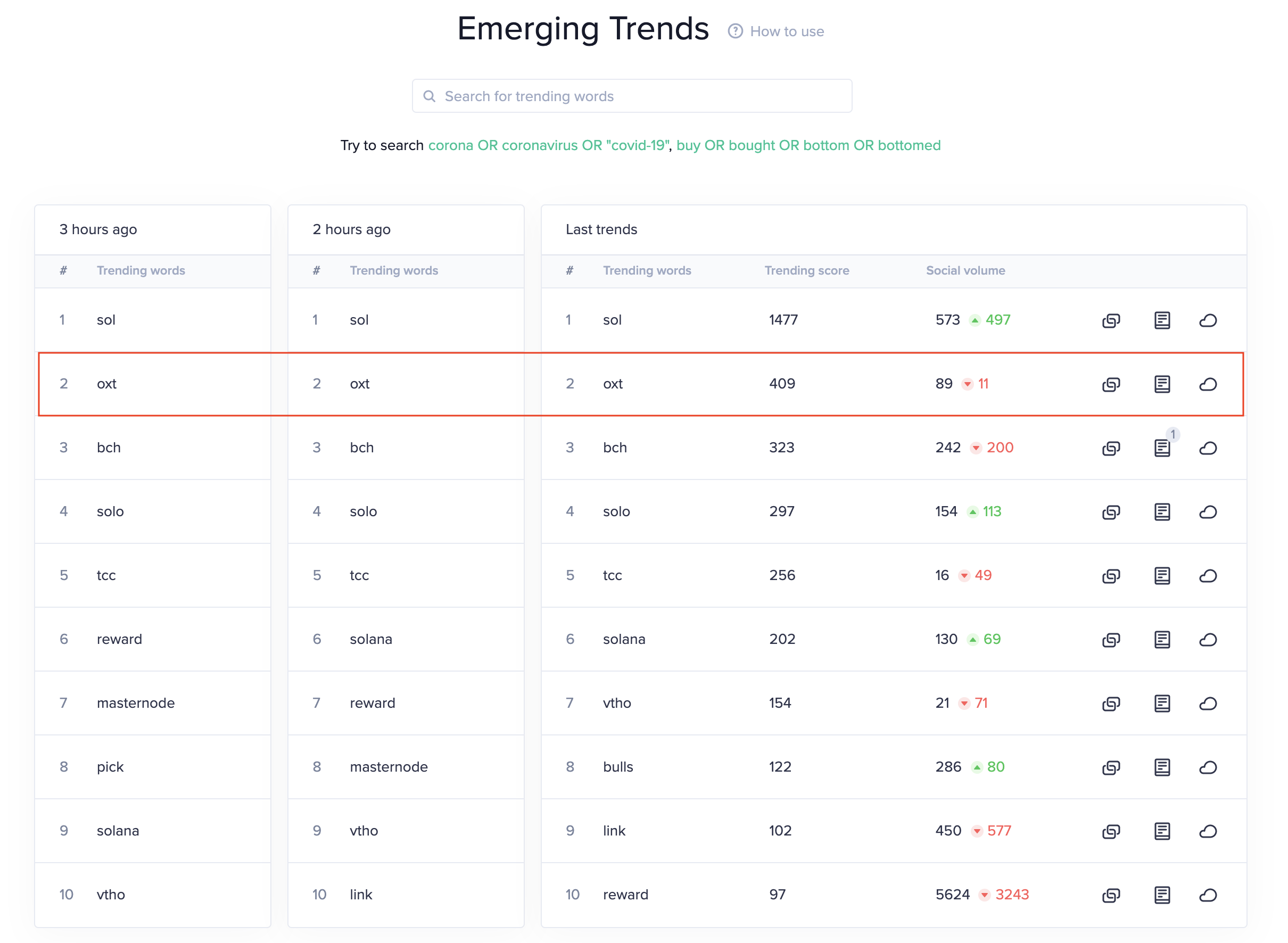 At the time of writing, OXT saw a nice +21.8% in the past 24hrs. This is largely due to the surprise listing announcements from Gemini and Bittrex Global the day prior.
It also saw the highest trading volume in the past 1 year, with most of the trading happening on Coinbase Pro.
Top holders & Token holder distribution
Looking at the token holder distribution, we observe that OXT is highly centralized around the top 10 non-exchange holders, with 79.1% of total supply belonging to them.
Now, you might be wondering why... this is because there was no ICO held for Orchid. Instead, it raised $48M via two funding rounds with a handful of VC/funds:
Seed investors - $0.03 USD per OXT
Other rounds - $0.50 USD per OXT.
And the top 10 non-exchange holders have been offloading their stash over the past few months.
They will need a lot new investors/traders to exchange those OXT with.
Looking at the token holders balance by number of owned coins, the % of people owning OXT that falls in the 1 - 1,000,000 coins range (crowd) still only makes up less than 2% of the entire supply. It'll take some time for the top holders to distribute them to the crowd.
To keep updated on how the top 10 holders are doing, here's a signal that tracks outgoing movements of minimal 100,000 OXT from those wallets.

OXT utility remains low
According to Orchid's website,
During normal market operations on Orchid both users and providers stake OXT. Staking locks up OXT on the network to incentivize good behavior and network growth over the long term.
Staking is a core part of Orchid's network operations. However, looking at their Registry contract, only 12 unique addresses (out of 5,658) are staking a total amount of 1.5M OXT.
Network Growth
The network growth over the past 2 weeks is likely due to the Okex promotions that are still ongoing. Network growth needs to sustain or it's likely that price will retrace.
So what's next?
Remember that crazy volume on Coinbase Pro?
We could possibly see another leg up as the crowd is attracted by the trading volume but current on-chain metrics suggests that it should retrace. It's also important to note that with seed investors still up 5x from their buy in price, there remains significant sell pressure on the price.
Thanks for reading!
If you enjoyed this insight please leave a like, join discussion in the comments and share it with your friends!
Never miss a post from Sanfam!
Get 'early bird' alerts for new insights from this author