LINK breaks ATH: Episode 2
Yesterday ChainLink set it's new all time high at 4.89 USD.
Previous ATH taken just a couple of weeks ago and also been a noticeable event.
Dino posted a great LINK overview that day.
Am wondering is this top different from previous and price trend may revert? ↘️
Or is it basically similar and trend may continue building new tops? 🔼
Comparing one by one.

1. LINK hype.
1.1. Emerging trends
ChainLink appeared in Santiment Emerging Trends around previous top:
This time as well:
Similar to the previous top here 🔼
1.2. Social volume
Previous top and this top:
"Sanbase has recorded more than 1100 new mentions of 'LINK' or 'Chainlink' in the past 24 hours: a 4-month high for the coin" - said Dino that time. Still valid for this top as well 🔼
2. Network activity
Previous top and this top:
"As tops begin to form, we'll often see a notable divergence between the coin's price action (trending up) and it's on-chain activity (trending down)...
...As the network's on-chain activity and speculative interest starts to decline, the price is no longer able to sustain its upward momentum and begins to correct shortly afterward.
We're seeing a similar pattern taking form over the past few days - LINK's daily active addresses peaked on February 12th, and have been trending downwards since despite the coin's price charting higher highs" - wrote Dino that time. Still applicable for this top 🔼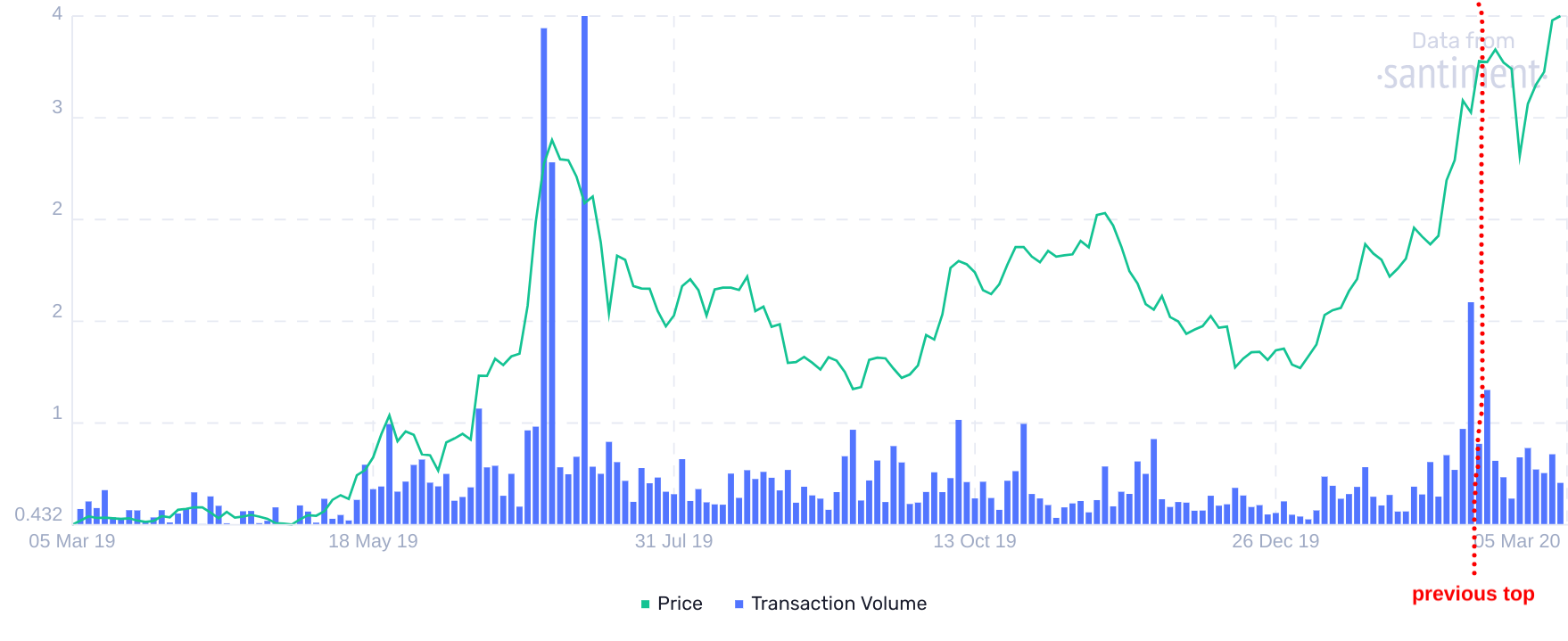 "It's not just its daily active addresses that have been surging lately: LINK's on-chain transaction volume has also been picking up steam, with a massive spike on February 12th (49.2m), further reminiscent of its 2019 top" - this point doesn't look valid for yesterday's top. Price / TV divergence detected ↘️
"LINK's also experienced a notable bump in Token Age Consumed indicating that some previously idle coins have started moving again" - not valid any more. Less coins are were moving ↘️
"...there's also been an uptick in the percentage of recently active LINK coins across the board. This further validates the fact that some of the previously dormant coins are on the move, which could prove to have an adverse impact on an asset's price." - still valid picture.
This metric doesn't confirm two previous. As it did three weeks ago. ↘️?
"Forming tops are often accompanied by an uptick in the amount of coins being moved to exchange wallets, as HODLers look to cash in on the pump.
For LINK, such incline has been observed on several of our charts in the past week. ... A total of 25.92m LINK (~$114m at the time of writing) has entered centralized exchange wallets through deposit addresses on February 12th:" - it's about previous top.
Similar picture yesterday 🔼
Top holders movements a week prior to latest top can be found in Sandata:
The first address in the list above belongs to Okex exchange. It increased LINK holdings in hot wallet.
The second address activity looks like this:
It's last two transactions made in some loss some why. But perhaps still in profit and holding.
Third address:
Five days of increasing LINK position up to 1.1M (4.6M USD!) tokens and holding.
Fourth address:
Sold 2/3 of his LINK (one million tokens) on March 3rd. Still holding.
Some sells preceded previous top too.
4. Whales on the fence
"As you can see, the big players have been confidently accumulating LINK throughout the last 6 months. However, we are now starting to see the first notable dips in quite some time...
...And while this could prove to be a sign for concern, it's worth noting that other major LINK holders have not mirrored this behavior just yet." - that was about previous top.
Now we can surely say that accumulation seems even more confident after first top. No dips 🔼
"Several major LINK cohorts - like addresses owning between 100k and 1m LINK - have not significantly reduced their holdings in the past several weeks" - seen Dino last time. Now they did reduce holdings ↘️
"Similarly, the cumulative balance of addresses holding between 10k and 100k LINK has been plateauing around 80M for around two months now" - was seen last time. Now it's not valid again ↘️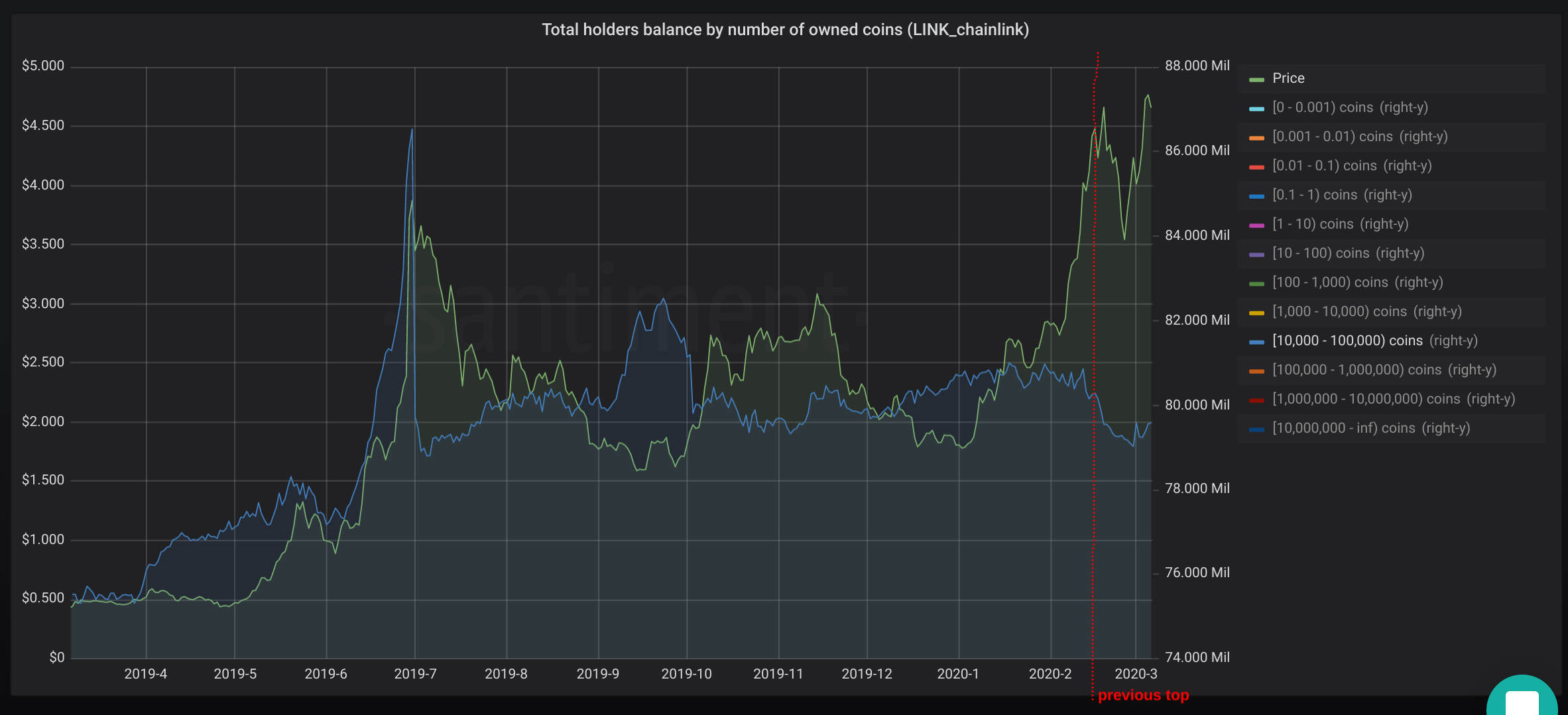 Previous report wrapped up with this:
"Both of these cohorts dumped their holdings significantly prior to and during the 2019 top. If history's to judge, I'd be keeping an eye on their behavior over the next few days; if they start offloading their bags, it could be lights out."
Well, now they did. Lights out?

Or see you in the next episode!
LINK
Thanks for reading!
If you enjoyed this insight please leave a like, join discussion in the comments and share it with your friends!
Assets from this insight
ChainLink
LINK