Let the FOMO game begin
We've noticed numerous divergences in the market that have led to a temporary pause in ETH's growth. These divergences suggest that the market's appetite for risk has been relatively low, with some participants anticipating a drop, while others were waiting for the break of 32k in BTC and 2k in ETH.
A similar pattern was observed in the "wealthy holders behavior map," where whales were seen reducing their BTC positions until recently (chart below). However, the situation has begun to change following the break above 2k in ETH and the successful implementation of the "Shappela fork." You can see it on the trading volumes (above) and those BTC holders with the balances between 1000 and 10000 BTCs (below).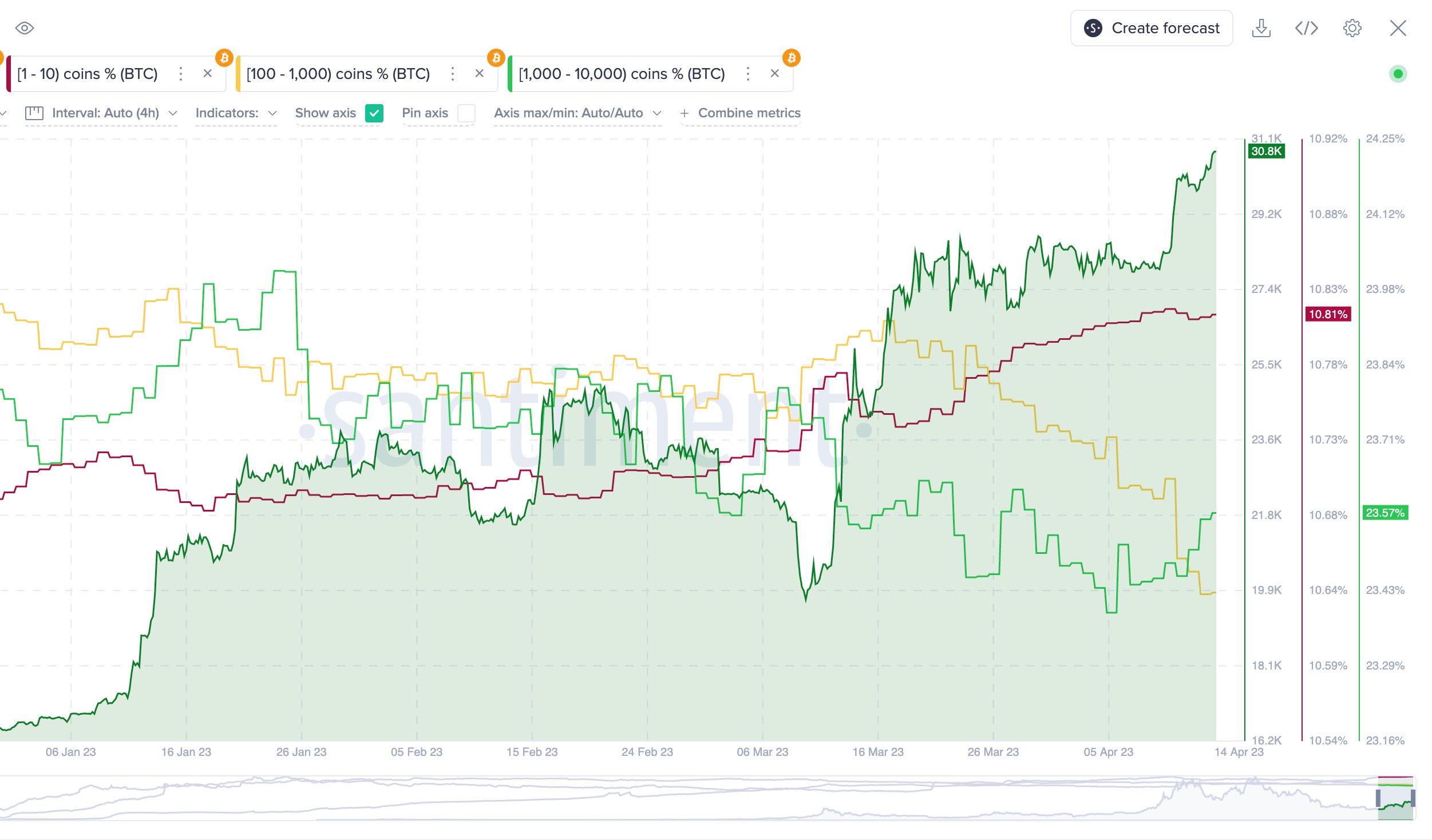 As the market shifts, it's essential to be vigilant and watch for signs of FOMO. Recognizing FOMO can help market participants choose between two potential strategies: "go with the flow" (a short-term preference for "long" positions) or "go against the crowd" (a short or mid-term bet on "short" positions).
Indicators of FOMO include:
- A significant increase in retail accumulations
- A decrease in stablecoin holdings
- A spike in general network activities
If these indicators are present, along with increased funding rates and a consensus among video (YouTube) "influencers" that this break represents a confirmed path towards new all-time highs (ATH), it may signal that we are approaching a market top.
At Santiment, our behavior analytics approach allows us to capture these market nuances and provide informed insights, without explicitly predicting market direction. Instead, we offer hints towards possible trends, while acknowledging the potential for unexpected market shifts.
Thanks for reading!
If you enjoyed this insight please leave a like, join discussion in the comments and share it with your friends!
Never miss a post from socialtrends!
Get 'early bird' alerts for new insights from this author