Last Week in Crypto, As Told by Santiment Data
Each day, our Top Social Gainers tool calculates the top 10 emerging words on crypto-related social media.
It does this by gathering data from 100s of different crypto subreddits, Telegram groups and Discord servers, private trader chats and other sources.
With the help of our incredible community, we've been analyzing these daily lists, putting them in proper context and finding common patterns. We publish our analysis each day on our main Insights page and our Community Insights Telegram group.
Here are some of the most interesting stories in crypto that we've come across last week:
1. Are Binance AMA pumps a 'thing' now?
On Friday, March 15th, both 'Neblio' and 'Eddy' made our top 10 list.
The reason? Neblio's cofounder and lead developer Eddy was the star of the most recent in a series of Binance-hosted AMA (Ask Me Anything) sessions, featured on the main Binance Telegram channel.
Among other things, Eddy answered questions on differences to Ethereum, recent Tachyon network upgrade, the project's 2019 roadmap and more.
Binance recently announced it will be hosting a series of community AMAs with various projects it considered of note.
Much to no one's surprise, its first AMA, hosted on February 27th, featured none other than Tron's cofounder and BitTorrent CEO, Justin Sun. At the time, the AMA also made our top 10 list:
Neblio's AMA was noteworthy for another reason tho - the price of NEBL spiked right around the start of the AMA, and then rallied again later the same day:
When we covered Neblio's appearance on our list, the coin was already up 8% for the day, leading us to ask - are Binance AMA pumps gonna become a 'thing'?
The AMA audience sure seems to think so:
Which lucky project will be featured in the next AMA? Seems like Binance is crowdsourcing that decision for the time being. Watch this space.
2. Who's sending millions of DENT to Binance?
Tucked in between Neblio and Eddy on our Friday list was DENT, an ERC-20 coin which was trending because of its recent 10% spike, recorded over the course of a few hours.
The rally was likely prompted by the project's announcement of a first-ever international phone call made with the Dent app:
Nevertheless, this got us taking a closer look into Dent's on-chain activity for the past few weeks, revealing a peculiar pattern that seems to have snuck under the radar until now.
According to one of our new metrics, it seems that more and more DENT has been making its way to exchanges, particularly since the beginning of the year:
The share of exchange-based DENT has almost doubled in the last two and a half months, mostly due to one particularly determined address:
If we zoom in on the top 100 transactions for the past 90 days, it becomes clear that this individual has been transferring hundreds of millions of DENT to Binance in steady intervals since the beginning of 2019.
Diving deeper into the transfers reveals a common pattern:
1. Dent moves from this contract to this address first.
2. Dent is then transferred to this address, hundreds of million or even billions at a time.
3. Finally, Dent is sent to the address in the screenshot above, mostly in identical, 20M rations. Once a certain (varying) amount is accumulated, Dent is finally transferred to the Binance1 exchange wallet:
The above happens pretty much every day for the past 75 days.
So we ran that intermediary address through our new Wallet explorer tool, which lets you see the historical balances of Ethereum and ERC-20 holdings for any address:
As expected, the address started accumulating DENT since the beginning of 2019. However, this wasn't its first rodeo. Seems like the address first dabbled in DENT at the start of July 2018 - July 6th to be exact. The day DENT got listed on Binance.
0xe503[..] received 20M DENT from that same address on July 6th:
During that first peak in December 2018, the address held roughly 1.5Bbn DENT, or around $1.5M . It's currently sitting at around 1.1bn DENT.
So what is this address and its sidekicks doing? Could this be orchestrated market making, or something else entirely?
We're still digging into these transactions to find out. You can help by sharing your thoughts and theories - and we'll include them in our follow-up post.
3. Buy the Samsung rumour, sell the Samsung news
Samsung drove the crypto crowd into a frenzy a few weeks back, after confirming that its new S10 phone will come equipped with a built-in crypto wallet.
The mobile giant was fairly stingy on details though, allowing for speculation to run wild. Naturally, a number of different coins got embroiled in S10 rumours, some justifiably, others not in the slightest - all pumping as a result.
The most prominent among them was Enjin, which first appeared on our daily list on February 26th:
Somebody sent a screenshot to Asia Crypto Today teasing Enjin's implementation in Samsung S10, and the crowd ran with it. It didn't take long for ENJ to reach an 8-month high $0.105:
As time went on, at least four more coins became beneficiaries of S10-related rumours, namely KNC, BNT, ICX and COSM. We even made a watchlist for them, and aptly named it 'The Samsung Effect'
That wobbly green line is the combined market cap of these 5 coins, spearheaded by ICX and ENJ as the biggest of the lot.
They all collectively peaked on March 10th, after Enjin confirmed a partnership with Samsung, tho the exact details were again sparse. The project's spokesperson said at the time: "While I can confirm that we have an official partnership with Samsung, I'm not at liberty to disclose any other information at this point."
Of course, that was more than enough to pump all of the coins even slightly associated with Enjin and/or Samsung S10:
Few weeks out, we can now safely say that the rally proved short lived, and most of the coins started heading south shortly after.
Enjin did manage to retain some of its new-found value at least, and is currently maintaining that $0.17 range. Nevertheless, the old credo applies: buy the rumour, sell the news.
4. Pump groups are alive and well: just ask MCO
This was a week of casual pumps and seemingly random uptrends. We've had plenty of breakout coins such as MDA or ARN make our daily top 10 lists recently, as everyone was trying to figure out the reason behind their rally.
Turns out that reason - for a number of them - was Palm Venice Beach, a 90k strong Telegram group whose sole objective is to shill coins through an age-old combination of uncorroborated rumours, stale news and just straight up make-beliefs, before moving on to the next one.
The clearest case in point this week was MCO, a crypto payment platform that offers a mobile wallet app and prepaid MCO Visa cards, which first popped up on our list on Tuesday, March 12th:
This was a day after the astronomic rise of GRS, as Groestlcoin announced its own, Mastercard-backed debit card.
In that sense, it wasn't all too surprising to see the crowd chasing similar projects hoping they can get in early. All they needed was someone to push them in the right direction.
In comes Palm Venice Beach (not to be confused with Palm Beach Confidential) with the bait: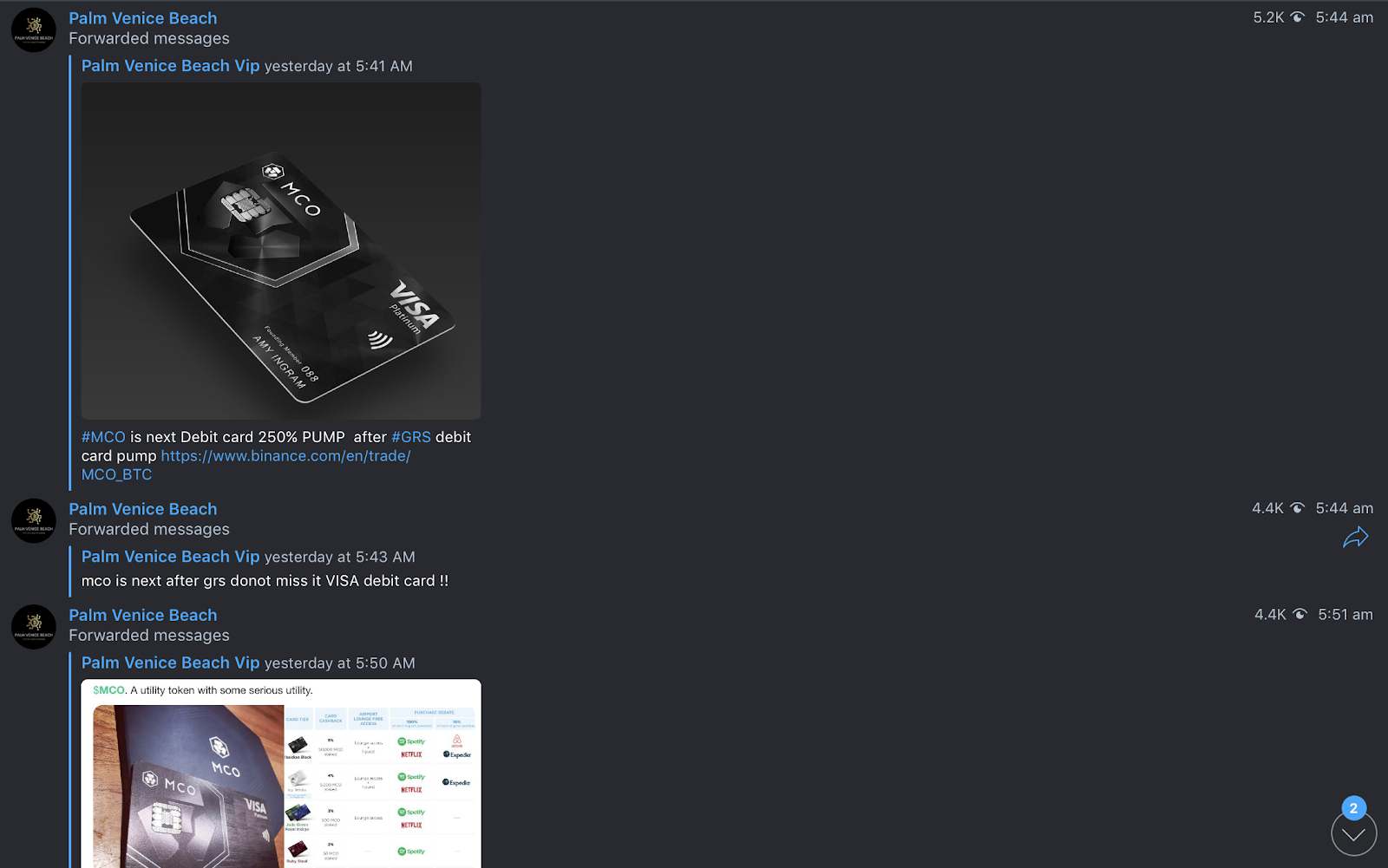 "MCO is the next Debit card 250% pump after GRS debit card pump" states the first in a list of MCO-related posts, forwarded from an affiliate Telegram group named Palm Venice Beach VIP. This one has 'VIP' in the title, presumably so people know it's extra legit.
Wasting no time, the group then spiced the 250% claim with whatever they could find to shill MCO. Whether it's rumours of a 'new card with mastercard':
or repurposing 5-month old news:
After setting the stage, PVB sat back and let the crowd do their magic - and the crowd obliged. The 'news' soon started to spread to other big Telegram channels:
al of which resulted in a legitimate, 100% organic MCO rally:
As we mentioned, this isn't the first time that Palm Venice Beach was a catalyst for a token's price rise. They were directly involved in at least a few more pumps (like ARN) that we've observed this week.
Suffice to say, buy signals like these heavily rely on duping the greater fool. Sure, sometimes you might get lucky, but most of the times you get dumped on. We'll keep track of PVB and its 'VIP' subsidiaries, and keep you updated on their efforts.
5. Binance, Bittrex, and the rise of IEOs
The BTT token sale was easily the most hyped and widely-anticipated ICO of the year. The coin skyrocketed as soon as it hit the exchanges, spiking over 870% in a matter of hours and leaving everyone wondering if ICOs are officially back.
There's only one problem - BTT wasn't an ICO at all.
Hosted on Binance Launchpad, the BitTorrent token sale was the first-ever IEO: Initial Exchange Offering. And while it's still early days for the concept (and the acronym), we've already witnessed two successful IEO (BTT and FET), with a third one (Celer) just around the corner.
All three token sales are featured exclusively on the Binance Launchpad, lending complete control and oversight of the process to the exchange. And while Binance has had the First Mover advantage, others are quickly joining the fray. Just recently, Bittrex announced - and quickly cancelled - its own "first-ever" IEO of RAID's XRD token.
Seems like IEOs are here to stay. But should they?
Our Discord trading channel was home to a very interesting discussion on the topic earlier this week. One of our community members described in depth why he thinks IEOs offer a significantly better mechanism to retail investors than ICOs:
Understandably, not everyone shares Ratchet's optimism, especially when considering the fact that the entire ICO process is essentially delegated to a centralized authority, with zero to no clear oversight. As dindustries explained:
This is only part of a broader discussion that was had on the benefits and drawbacks of IEOs, and STOs, and where they both fit in the wider crypto landscape. Check out the full exchange and join the conversation over on our Discord server!
That will do for this week's breakdown of the most interesting stories in crypto (according to us). Till next week, check out our daily analysis of top emerging stories in crypto over on our main Insights page or our Community Insights Telegram group.
Thanks for reading!
If you enjoyed this insight please leave a like, join discussion in the comments and share it with your friends!
Never miss a post from Ibis!
Get 'early bird' alerts for new insights from this author