Justin Sun buys lunch with Warren Buffet for $4.5M, splits cryptoverse
In case you missed it, last week Justin Sun made an incredible vague announcement of an announcement (which was still enough to pump both TRX and BTT btw), claiming that the project's been working on "something huge and amazing", and estimating about a 70% chance of whatever he's talking about actually happening.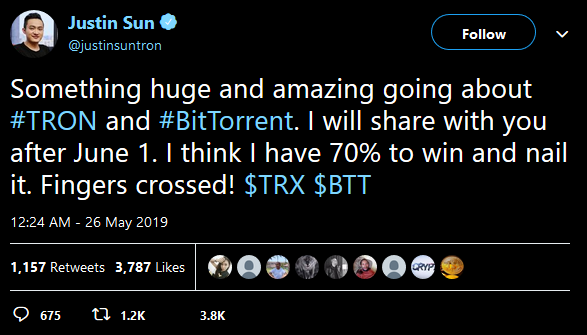 Well, we now know what that "something" is, and it's...quite something.
Earlier today, Tron's founder and BitTorrent CEO revealed that he has paid $4.57M to win an eBay charity auction. The grand prize? Lunch with Berkshire Hathaway CEO Warren Buffett.
Sun reportedly placed a record-breaking bid to win the charity auction, which has been held by Warren Buffett for the past 20 years.
According to some outlets, the winner also gets to bring along seven of his friends to have lunch with Buffett at an NY steakhouse. Justin says he'll invite various blockchain leaders to meet with an outspoken critic of cryptocurrencies who just recently called Bitcoin 'probably rat poison squared'.
As with virtually anything Justin Sun has ever done, the announcement instantly split the community and birthed two strongly opposing views. Some in the cryptoverse dubbed Sun 'desperate', and predicted that Buffet will not only remain unswayed about crypto, but will probably humiliate Justin in the process:
As an addendum to the anti-Sun crowd, there were also those that saw this as a colossal waste of money that should make any Tron investor furious:
And then, there were those that were varying degrees of excited or outright bullish about the prospect of Warren Buffett rethinking his position on crypto:
Regardless of the lunch's outcome, the announcement certainly worked as planned, swiftly pumping the coin to an intraday-high $0.0387. Unfortunately for Sun, the rally was soon followed by a market-wide retraction which caused Tron to lose most of its weekly gains. After another major dip just an hour ago, the coin's currently -12.4% for the day.
Thanks for reading!
If you enjoyed this insight please leave a like, join discussion in the comments and share it with your friends!
Never miss a post from Ibis!
Get 'early bird' alerts for new insights from this author