Icon (ICX) Showing Signs of Market Decoupling for First Time Since Early February
With markets looking up thus far on a cautiously optimistic Monday with traditional US markets edging up, and crypto markets scaling up a bit more profoundly, a project has emerged as one of the front runners for the best daily price performance. Currently ranked as the 44th leading market cap project in cryptocurrency, Icon (ICX) has seen its share of positive news as of late that is opening doors for a potential increase in demand for utility and staking. For starters, the South Korean government just approved a regulatory framework for the project in preparation for one of the country's key banks to launch crypto services.
Icon's MyID Alliance was also selected as an Innovative Financial Service by the South Korean FSC recently, and the app is set to launch in April.
From a technical standpoint, should Bitcoin (BTC) and the rest of the crypto markets stay somewhat stable this week in spite of pandemic fears, there is a decent chance we could see another surge for ICX, based on its historical volatility during uptrends. If the past nine hours are an indication of a continued decoupling, this surge could be of the multi-day variety and at least a substantial fraction of the 11-day stretch that began a bit over two months ago that caught traders completely off guard. From January 24th to February 3rd, ICX saw its price rocket from $0.1492 to $0.5204 (an approximate 249% increase). This was by far one of the best performing stretches of any project since the great crypto bull run in late 2017.
Currently ahead of both BTC's and ETH's percentage returns over the past week, Icon has seen a push above the altcoin pack over the past eight hours. The price is currently up 9.8% over the past 24 hours. This has caught the attention of some traders who likely remember what happened two months ago and desperately don't want to miss the boat (or should we say, rocket) again.
From a sentimental standpoint, our positive vs. negative sentiment metrics are picking up an increasingly positive outlook on the project via Discord (pictured below). With an active Twitter handle that regularly keeps its followers updated and recently has announced news such as the aforementioned MyID app collaboration, the addition of public representative Mounia Rabhi and key top journalist Layah Heilpern, and the project's recent integration with Dapp.com, investors are well informed with what new developments are happening with Icon.
However, in spite of an increasingly positive vs. negative sentiment ratio, when adjusted for actual social volume, this increased optimism is barely making a blip on the radar. In other words, the ratio of people becoming positive about ICX is increasing, but the overall discussion revolving around the project is not... at least not yet. Often times, discussions related to a project increase after a minor price pump is established. And with a small decoupling under way, it's clear that the potential for a pump is there.
In regards to why a pump may be showing signs of a beginning, it may very well simply be related to the excitement generated by the South Korean banking collaboration and MyID app news. We can also look at factors such as the development activity tracking metric, and how Github submission rates for ICX have been fluctuating over time. You can read more about how we measure development activity using Github tracking here. Below is a chart of the project's entire development activity chart since its first full month post-ICO in November, 2017.
The team was actually most active over its two and a half year history back in September, 2019. This is significant, considering this timeframe was in the midst of a continued slide in ICX's price where most altcoins were generally being exited out of. Many projects tend to be most active during uptrends in price, which many equate to projects simply trying to capitalize on temporary increased interest. But based on development activity rates continuing to increase over time, and not having any notable correlation with price fluctuations, this adds a degree of confidence that insider pumps are not a factor with this project, and they use the windows of time where there is little market interest to improve and innovate the project for the long-term.
Lastly, we can use our Sandata tool to check in on what users are saying about ICX on various platforms, included with timestamps and estimated positive vs. negative scores based on keywords included in the content.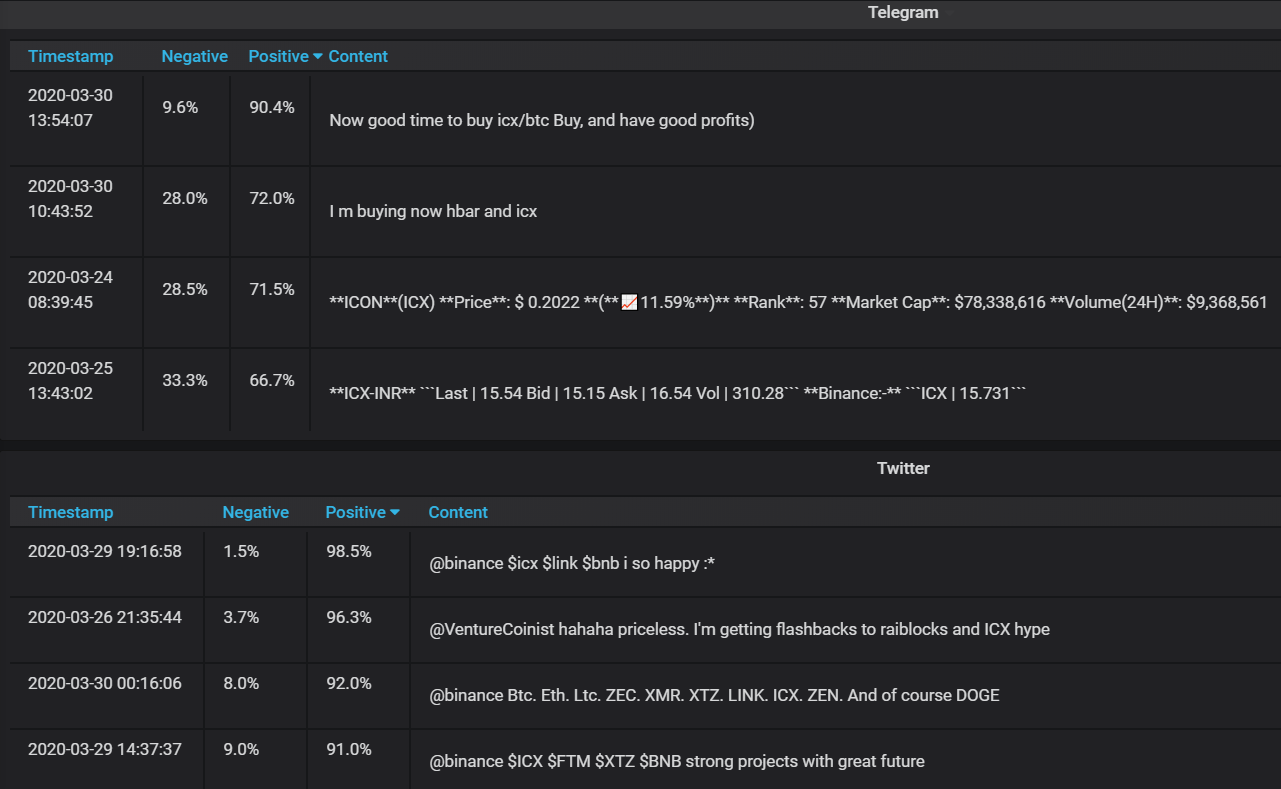 It's clear that the comments that occured on the day of this writing (March 30, 2020) are very likely buy suggestions based on the price jump. But we can also see that there were overwhelmingly positive comments leading up to the price jump we're seeing today. For our Sandata members, this can be a tremendously powerful tool to aggregate comments and sentiment based on actual context from various platforms.
Icon's ability to have another jump similar to the 249% spike we saw in February in just a week and a half is almost certainly a pipedream. However, it does seem to be poised for a break away from BTC and the rest of the altcoin pack for the short-term, and knowing ICX's propensity to make notably large moves when it does break free, this is certainly a project to keep an eye on over the next week or so. Just keep in mind that with the world being in the fragile state it's currently in, any potential pump can be negated quickly with further crypto market instability.
To become a Sanbase Pro or Sandata Premium subscriber and use these tools pictured above with full historical data, we highly recommend you visit our landing page and learn about what tools would be the best fit for your trading research and investment strategies. We have experts available to talk to you about our options on Intercom as well. We look forward to hearing from you!
Assets from this insight
ICON
ICX

Bitcoin
BTC

Ethereum
ETH