How to trigger a Binance AMA pump, feat. Wabi
The project formerly known as WaBi (recently rebranded to Tael) becomes the latest recipient of an infamous Binance AMA pump.
Over the last two months, Binance has hosted a series of project AMAs on their main English Telegram group, highlighting some of the coins listed on their exchange and giving away a variety of project-related goodies.
Next up is Wabi, whose co-founders are planned to address the Binance community this upcoming Tuesday (April 16th):
We've covered this Binance AMA Effect before - it seems like any time one is hosted, the project experiences a surge in popularity on crypto social media, ending up on our Top Social Gainers list in the process. For some of them, the AMA hype also translates to a price rally, as was the case with Neblio not that long ago:
Now, it seems the projects too are starting to pick up on this correlation. Not leaving anything to chance, Tael even stepped in to help with the pre-AMA pump, teasing a big partner reveal during the event:
As a result, the coin is up 69.7% since yesterday, currently sitting at a 9-month high $0.42. It has also gained plenty in social volume, recording 470+ new mentions over the last 24 hours: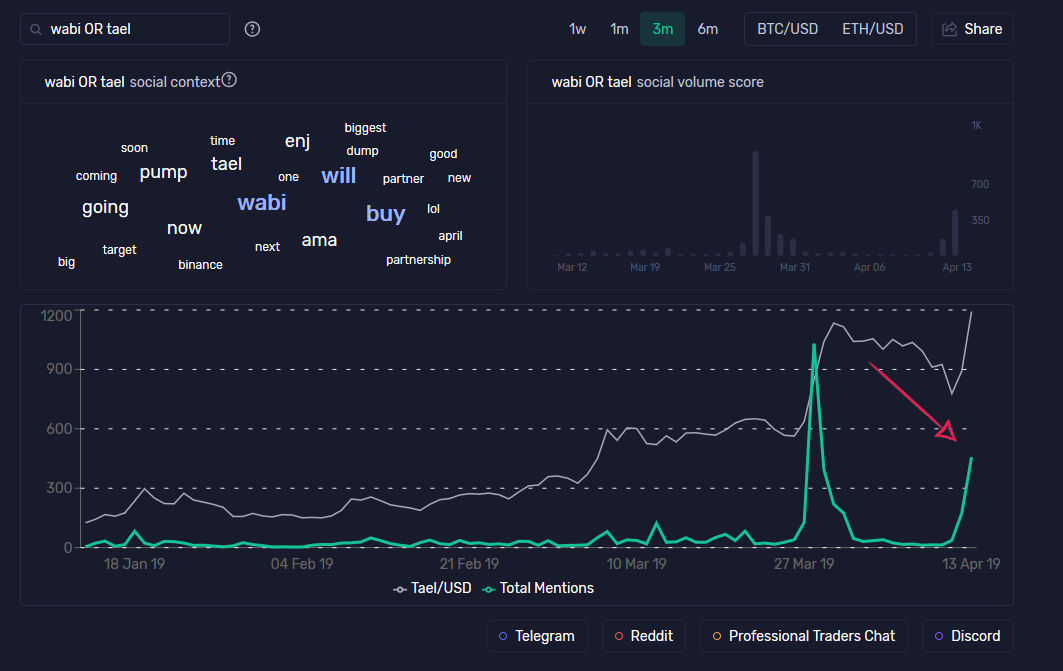 Should the gambit prove successful, Tael's 'strategy' might provide a working blueprint for future Binance AMA recipients. Who knows - we might even begin to see projects time big reveals and project announcements with their ask-me-anythings, effectively making Binance AMA pumps a self-fulfilling prophecy.
Assets from this insight
Taelpay
WABI