How to Identify a Price Top using Sanbase (feat. MTL)
Takeaways:
MTL's recent on-chain and social data flashed a number of clear 'TOP' signals before the price dump
Extreme social volume is often accompanied by multiple 'bearish' on-chain patterns
Metrics used: Emerging Trends, Daily Active Addresses, On-chain Transaction volume, Token Age Consumed, Exchange Flow Balance
If you've been reading our insights for a while, you know that we're very comfortable with calling price tops whenever we see a coin's name on our list of Emerging Trends.
Every hour, Emerging Trends calculates the 10 words that have gained the most new mentions on crypto social media compared to their previous 2-week average. The data is collected from more than 1000 social media channels related to cryptocurrencies, including Telegram chats, discord groups, crypto subreddits and others. This pretty much makes Emerging Trends a very solid proxy of the 10 biggest stories developing inside the crypto community.
The latest example of the Trends' effectiveness came earlier today, in the form of MTL, the native coin powering Metal Pay, a digital money remittance service. The coin's ticker first entered the list at #9, climbing quickly to #6 over the next few hours: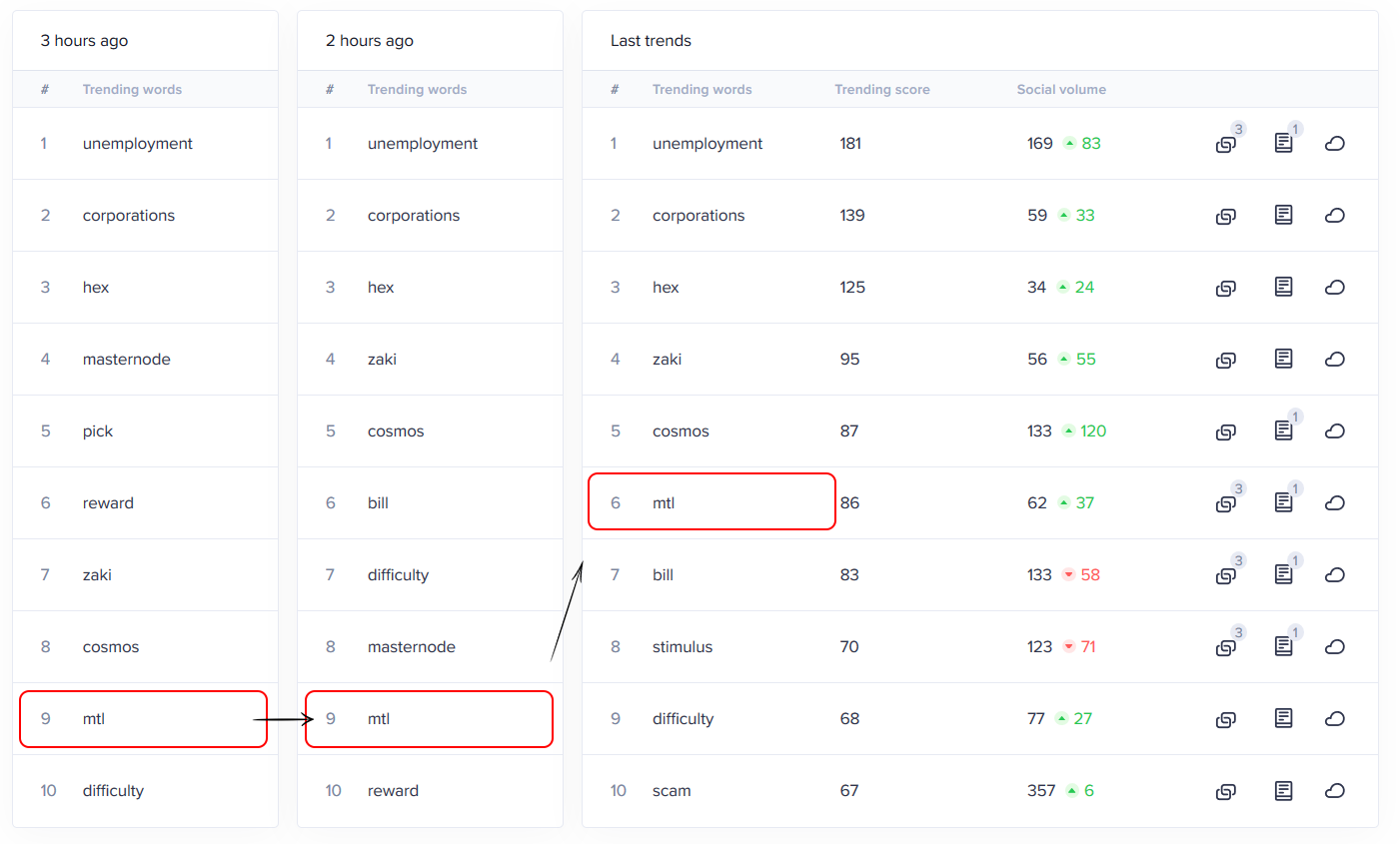 So why the sudden and increased interest in Metal's digital asset? If you guessed 'pump time', you're on the money. In the last 2 days alone MTL gained a whopping 83.4%, ballooning the coin to a month-high 0.34:
The reason for the pump? A widely-publicized partnership between Metal Pay and Justin Sun's Tron Foundation:
As announced yesterday, Tron's native coin has been fully integrated into Metal Pay's mobile application, allowing the app's users to buy or sell TRX via debit card or through a linked bank checking account. In addition, TRON users will also be able to receive up to 5% cashback in MTL tokens on eligible transactions for sending and receiving USD using the Metal Pay app.
The news quickly made waves throughout the cryptoverse, bumping new mentions of 'MTL' on crypto social media to a 7-month high as the coin's price rallied higher despite market-wide consolidation:
The MTL sentiment has been overwhelmingly bullish over the past 48 hours, confirmed by both hard data and anecdotal tweets.
On the one hand, our sentiment algorithm captured a notable spike in positive mentions of 'MTL' on multiple crypto channels, particularly Telegram and Twitter:
On the other, finding direct proof of this wasn't difficult. There's been dozens of tweets over the past 24 hours praising the Metal-Tron partnership, and hyping MTL's short and long-term potential:
As for Telegram, our Social Data Feed lets you view all new MTL-messages captured by our system. Here's just a small snippet of the crowd's reaction to MTL's pump:
Safe to say the hype was nearing its peak, which has proven to be a reliable top indicator hundreds of times in the past - particularly in case of mid and low-cap coins.
In my experience, extreme social volumes during a rally are often followed by quick price retractions, usually enveloping over the next few days. In the case of MTL, the price response was near-instant: while I was still researching the pump, the coin has already dumped 17.3% compared to its morning high, and is currently hovering at $0.295:
It's also worth noting that the extreme social values are often accompanied by elevated activity on the blockchain. This case is no different - in the last 24 hours, both the amount of MTL's daily active addresses and its on-chain transaction volume mushroomed to 6-month highs, towering over the network's pre-pump levels:
A price dump will often be preceded by a divergence in the coin's price and on-chain activity. In other words, if the price tries to reach new highs but the network's activity is already in a decline, the rally can often prove unsustainable.
We can see this divergence developing if we zoom in on MTL's recent on-chain transaction volume. As you can see below, the value transfer on the network has peaked right before MTL's latest top and has since retreated back to its pre-pump levels:
As a result, the price managed to push for just a second longer but soon proved unable to continue its upward climb.
Another tell-tale sign of a coming correction was this spike in MTL's token age consumed, indicating that a fair amount of previously dormant coins were on the move:
The premise behind Token Age Consumed is that long-time HODLers and veteran project supporters rarely move their coins without extensive understanding (and sometimes inside knowledge) of market conditions - so when they do so during a rally, it's often a worrying sign for the coin's short term price action.
Ok, one more top indicator for the road - there was a massive spike in MTL's Exchange Flow Balance right before the top, signaling a large inflow of MTL to exchanges, and a rising sell pressure as holders became eager to cash in on the pump.
We have seen - and written about - this same setup dozens of times now, with impressive accuracy. So if you still have any doubts about the power of social and on-chain metrics, I urge you to try out Sanbase Pro for 2 weeks for free and play around with these and lots of other indicators, tools and pre-made market templates.
Stay safe out there!
Assets from this insight
Metal
MTL