Here's What November's Most Active ERC-20 Dapps Have Been Working On 🏗️
Each month, we shine a spotlight on the 10 ERC-20 projects with the highest-recorded developer activity for the past 30 days, as calculated by Santiment.
Development Activity is an often-underrated indicator of project success, as it demonstrates the month-to-month commitment to creating a working product, continuously polishing and upgrading its features, and staying true to the long-term roadmap.
In this report, we are focusing only on 'pure ERC-20', i.e. those projects that are (currently) committed to developing on Ethereum, and have as of yet no working mainnet or an imminent token swap.
You can check out the latest dev activity 'power rankings' for all ERC-20 assets on Sanbase, by filtering the ERC-20 projects by Dev Activity (30d).
Here's what November's busiest ERC-20 dapps have been working on:
1. Gnosis
"In November, we shared our most exciting news to date: Announcing GnosisDAO.
GnosisDAO is the prediction market-driven collective, stewarding the Gnosis ecosystem through futarchy: governance by prediction markets. After initialization, GnosisDAO is to have effective control over 150K ETH and 8 Million GNO Tokens, with the GNO Tokens vested over 8 years. In the GnosisDAO governance process, the final phase opens proposals to two signaling methods using GNO Tokens.
Anyone can start participating today by joining the Gnosis Forum."
2. Status
Here's an excerpt from Status' recent community update:
"With the release of v1.9, Status introduces a few new features to make interacting with your community more enjoyable.
V1.9 introduces status updates, link previews, local notifications on Android (beta), and more to brighten up your Status experience.
Update in the App Store or Google Play if you do not have auto updates enabled. For the full changelog, see Github.
Added
Profile status updates
Link previews in chats (YouTube)
In-app Push Notifications for transactions (beta) - Android only
Onboarding into public chats
Changed
Add backwards compatibility for ENS Usernames
Account cards design to accomodate high value accounts
Rename Status account to Ethereum account for first account on onboarding
Remove manual fetch 24h in bottom sheet
Pinch to zoom on images
Fixed
Personal sign method
Slow asset list
Loading of older transactions (< April)
Loading of message history after rejoining a public chat
Unread message counter update when other user replies to own message
App crash on navigation from and to generate keys in onboarding"
Other notable updates from the Status team:
3. Decentraland
"Decentraland kicked off the final Game Jam of 2020 on November 23. Creators are currently competing for a total prize pool of MANA and LAND valued at ~$20k USD. Behind the scenes, development of a number of new features dropping this month has continued at pace – just in time to support Xmas activities as well as an exclusive series of performances from DJ and dance music producer 3LAU:
Voice chat – a game-changer for the virtual world, significantly enhancing
communication between visitors
In-world Builder – allowing users to build scenes inside the world and in the first person
Naming – guests are now free to use any available name they want
Performance tweaks – part of continued efforts to radically improve the overall user
Experience
More major announcements can be found at blog.decentraland.org and on Twitter
@decentraland. Events in the virtual world are updated daily at events.decentraland.org"
4. Chainlink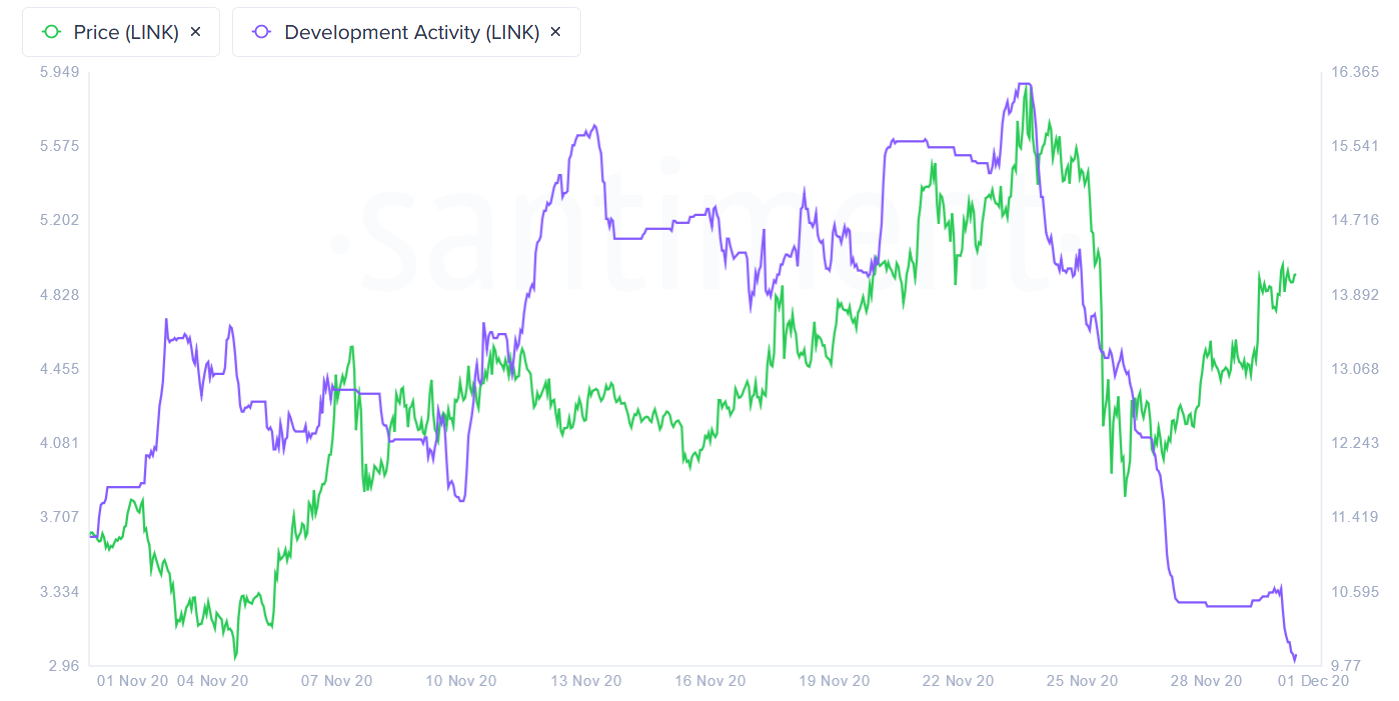 Here's an excerpt from Chainlink's recent community update:
We're announcing the Chainlink Builders Program to recognize and thank developers in the Chainlink community for building, documenting, and helping others.
The Builders Program has three tiers of badges that community members can earn and collect. The program uses the proof-of-attendance protocol POAP to help track badges that are redeemable for swag, exclusive NFTs, and other community-based rewards.
Earn Tier 1 badges by completing the following tasks:
Use Chainlink in a hackathon
Write a Chainlink-related technical blog post
Build a testnet smart contract using Chainlink
Ask a legitimate technical question on Discord*
The Builders Program will also sponsor intermittent challenges in collaboration with Chainlink ecosystem projects. These challenges will be announced in the Chainlink developer Discord and on Chainlink social media channels.
Notable Chainlink partnerships in November:
5. Loom Network
Here's an excerpt from a recent Loom community update:
Loom to integrate zkRollup into the Loom Protocol
We believe that building a new Loom protocol based on zkRollup is the best way to reduce the environmental impact of our blockchains, while at the same time improving both the performance and security of the Loom protocol.
the zkLoom protocol architecture offers a number of advantages over the existing Loom protocol:
Transactions on a zkLoom blockchain are verified on Ethereum, making it practically impossible for a malicious validator to steal funds or cause an invalid state transition.
Funds transferred by users from Ethereum to a zkLoom blockchain can be recovered even if all zkLoom validators go offline, or simply refuse to process transactions.
Users no longer have to place their trust in validators, instead they can rely on the security guarantees provided by Ethereum.
The process of upgrading Basechain to the zkLoom protocol will require a number of steps. The first step consists of deploying a new LOOM token contract to Ethereum mainnet, and performing a token swap from the existing LOOM token to the new one.
The token swap is currently expected to take place on January 15, 2021. For more information on the upcoming token swap, read this post.
6. Maker
Here's an excerpt from Maker's recent community update:
"November saw the Maker Protocol hit the incredible milestone of 1 billion Dai generated! This achievement occurred just one year after the launch of Multi-Collateral Dai. Dai interest and adoption continue to accelerate. Dai use cases are on the rise, too, and the Maker community has stepped up this month with new tools and documentation to facilitate further growth and, ultimately, full decentralization.
Here are the latest figures from daistats.com as of November 30, 2020, 12:10 pm PT.
Total Dai: 1,043,499,772.77
Top 5 Dai Generators:
Dai from ETH-A: 402,318,301.15 (38.55%)
Dai from USDC-A: 400,783,709.37 (38.41%)
Dai from WBTC: 125,077,236.09 (11.99%)
Dai from TUSD: 51,203,324.45 (4,91%)
Dai from PAX: 20,259,076.8 (1,94%)


Dai Savings Rate: 0%
Dai in DSR: 367,704,895.93
Vaults Opened: 17,590
Governance Updates
The Maker community has prepared a (very) detailed Collateral Onboarding Handbook—a series of guides covering all aspects of the collateral onboarding process.
The Maker community now hosts weekly governance Q &; A sessions. All are welcome to attend and learn more about how Maker governance works.
To stay current on governance, risk, and community issues, bookmark the MakerDAO Public Events Calendar. "
Community Highlights
ICYMI: The Redesigned MakerDAO Community Development Portal is Live. Take a look to learn how to increase your knowledge of Maker, apply for a grant, join the team, and more."
7. Synthetix
"Synthetix has recently taken some major strides forward in reaching our 2020 goals. Here is a list of highlights from November
Synthetix is the derivatives liquidity protocol for developers. Our vision is for developers to leverage Synthetix's ability to tokenize assets across industries to gain access to important markets inside and out of the cryptocurrency ecosystem, unlocking a new world of highly accessible, unstoppable financial tools.
Expect much more from the Synthetix community soon. Stay up-to-date on Synthetix by following us on Twitter or join the community on Discord."
8. Aragon
Here's an excerpt from Aragon's recent community update:
"The landscape and technology has changed a lot since 2017, so it's time for ANT to get an upgrade. You can now migrate your ANT to ANTv2: a new version of the token that is 3x cheaper to transfer and supports gasless transfers!
Why upgrade?
Save big on gas fees: Save about 66% on gas fees when using ANTv2 compared to ANTv1.
Paving the way for meta transactions: ANTv2 opens the door for the Aragon Network and other services to cover the gas costs incurred for using your ANT.
ANTv2 will also support voting, but all the logic doesn't need to be on-chain like ANTv1 — that's what makes it so cheap to transfer. Thanks to our adoption of off-chain voting, ANTv2 is extremely lightweight.
ANTv2 is not a different token, but just a new version of ANT. If you have ANTv1, you will be able to easily upgrade it to ANTv2. Read more about ANTv2 here."
Other notable Aragon updates include:
Proposal to deploy an upgraded instance of Aragon Court as Aragon Protocol using ANT as its staking token has passed on November 11th, with 106.59k ANT voting YES for 95.6% support.
Proposal to merge ANJ with ANT has passed on November 25th, with 142,650 ANT voting YES for 96.3% support. New ANT will be minted to offer a conversion price of 0.015 ANT/ANJ to $ANJ tokenholders who take the one-way conversion offer and DO NOT lock and activate the ANT they receive.
On November 24th, Kraken has listed ANT on November 24th at 13:30 UTC, with new trading pairs created for USD, EUR, XBT & ETH.
9. Ocean Protocol
Here's an excerpt from Ocean's recent community update:
"Ocean has been following a journey to full decentralization since its inception several years ago. We're pleased to announce a key piece of that puzzle: community-led funding in the form of a grants DAO that we call OceanDAO. It closes the loop on a "snowball effect" feedback cycle where the health of OCEAN and the Ocean ecosystem rises as the usage of Ocean goes up.
OceanDAO is a grants DAO to help fund Ocean community projects, curated by the Ocean community.
OceanDAO is a great way to get involved:
As a project: If you're looking for funding to build something, do outreach, or unlock data
As a curator: If you're an OCEAN holder & want to help steer the future of Ocean, you can make an impact by learning about proposals and voting.
Funding Round 1 has these actions and dates:
🐡 Project proposals — post a proposal following this template, to OceanDAO Discourse.
Proposals open on November 30th at 12:00 pm GMT
Proposals deadline on December 14th at 23:59 GMT
🐟 Discussion — at OceanDAO Discord and Town Halls
🐬 Voting — vote on Ocean Snapshot. 1 OCEAN = 1 vote."
Voting opens December 15th at 12:00 pm GMT
Voting ends December 21st at 23:59 GMT
🐙 Grants — Each winning project will receive 10000 OCEAN from OceanDAO. There will be 5 winners: the top 5 highest voted proposal"
Other notable updates:
10. Golem
"November was a big month for Golem and it's community! The team initiated the long anticipated GNT to GLM token migration (which can be tracked here.
The goal of the migration is to have the Golem Network Token be ERC20 compliant, which the old GNT (while still on Ethereum) wasn't fully compliant.
With the shiny new ERC20 token, GLM, the team can unlock features on mainnet for Golem such as; Layer 2 scaling, DEX trading and potentially DeFi applications.
The latest release—Alpha 3—is out just now and to go along with it the team also announced it's coinciding Hackathon with $30k USD worth of prizes up for grabs for developers! More info here - https://blog.golemproject.net/golem-online-hackathon/"
Thanks for reading!
If you enjoyed this insight please leave a like, join discussion in the comments and share it with your friends!
Never miss a post from Ibis!
Get 'early bird' alerts for new insights from this author