Here's what March's busiest ERC-20 Dapps have been working on 🏗️
Each month, we shine a spotlight on the 10 ERC-20 projects with the highest-recorded developer activity for the past 30 days, as calculated by Santiment.
Development Activity is an often-underrated indicator of project success, as it demonstrates the month-to-month commitment to creating a working product, continuously polishing and upgrading its features, and staying true to the long-term roadmap.
In this report, we are focusing only on 'pure ERC-20', i.e. those projects that are (currently) committed to developing on Ethereum, and have as of yet no working mainnet or an imminent token swap.
You can check out the latest dev activity 'power rankings' for all ERC-20 assets on Sanbase, by filtering the ERC-20 projects by Dev Activity (30d).
As always, we asked all of this month's top 10 most active ERC-20 dapps what they've been working on for the past month. Here's what they told us:
1. Gnosis
"In March, we focused on preparing new releases for all three of our interoperable product lines:
Prediction markets: Sight beta prediction market platform is focusing on user experience, transitioning to tiered KYC to make onboarding easier, and incorporating our new Contract Proxy Kit to bundle Sight transactions.
Trading protocols: The dFusion protocol team is working on exposing a subgraph via a CLI, automated liquidity provision scripts, and adding event streaming support to eth-contracts. Additionally, parts of the team are building an open source solver for the protocol's optimization problem as well as a tool to monitor ERC-20 balances per address.
Wallet solutions: Exciting new features for the Gnosis Safe Multisig are live including NFT (ERC-721) support, native Ledger and Trezor hardware wallet integrations, and smoother onboarding with Onboard.js. Learn more about the new features and upcoming releases here.
We're looking forward to sharing several announcements in April, as well as providing an update on our work developing the OpenEthereum client and a new Gnosis developer portal."
2. Status
"We continue to #buidl despite these hectic times. Here's our March update:
Status mobile app - we've been working on v1.2 incorporating Waku, which hits app stores soon. V1.3 is on the horizon, with group chat, dark mode, and a more future-proof webview implementation. We now have a stable set of specifications for the Status app that correspond to Status v1: https://specs.status.im/.
Embark - Subspace v2.0 landed, with a new set of components to simplify the usage of Subspace within React projects.
Research - we investigated discv5's ability to function efficiently on resource-restricted devices, and did some work on mapping components for the Status app.
Keycard - Keycard integration into the Status app gets ever closer, with Keycard in-app ready in nightlies. Expect to see Keycard in the app somewhere from v1.4 onwards. This month we did further work on Keycard for payments, check out the awesome demo video here, along with the proof of concept post with more info.
Nimbus - we've merged BLS changes and are now fully compatible with spec version v0.10.1 - we're nearly ready for long-standing multi-client testnets. We've built a JSON-RPC service that can be used by Beacon explorers to connect to Nimbus, allowing us to monitor the health of a node. We continue making progress with interoperability, with interop between go-ethereum, discv5 and Lighthouse testnet bootnodes possible. Nim Libp2p continues to stabilise. One of our March targets was completely dropping the go-daemon, which has now been achieved :)"
3. Aragon
"The Aragon community had an eventful March 2020, despite the global slowdown due to the SARS-CoV-2 pandemic #StayHome #MaskOn #WashYourHands
Here's what we've been up to:
Also in March, the Aragon dev community chat officially moved to Spectrum. Stop by with any questions or feedback you might have about how to build cool dapps with Aragon!"
4. Band Protocol
"During March, Band team has focused on the testnet rollout and multitude of improvements over its new Cosmos-SDK based blockchain for cross-chain data oracle protocol, BandChain.
Notable developments include (1) integration of the newly released Cosmos IBC standard so other Cosmos-based blockchains can start interoperating with BandChain, (2) improvement on the block explorer, (3) added support for multiple EVM-based blockchains including Ethereum, Matic and Fantom, and (4) improved Oracle-WASM standard and toolkits for allowing developers to create customized oracles that tailor toward their unique requirements.
The team will be co-hosting the Cross-chain hackathon alongside Cosmos and Agoric (the team that designs Cosmos IBC). Developers can now start using Band Oracle to build DeFi and betting apps on Cosmos as soon as mid-April 2020 and win up to $10k prize from the event. Join here: https://gitcoin.co/hackathon/onboard/cross-chain/."
5. Augur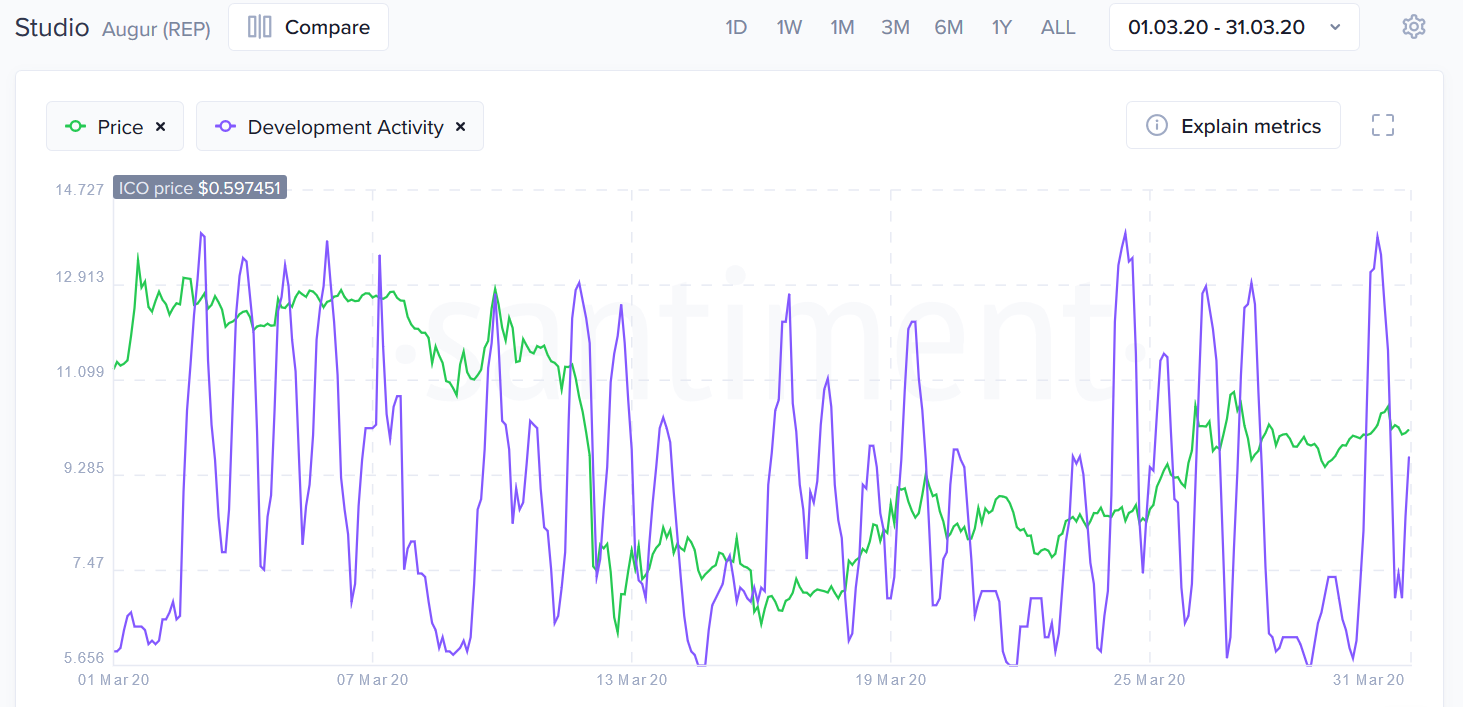 "We're pleased to announce new details about the Augur v2 release timeline! After over a year and many thousands of commits, and tens of thousands of code, the team will be working on finishing issues for Release Candidate 1 by April 15th, and is scheduling release candidate 2 for May 15th.
Hitting these deadlines, plus a successful launch of Uniswap will out v2 on path for an early June launch. More details available here: https://www.augur.net/blog/augur-v2-deployment-details/
Also, a reminder that bug bounties are live, including bounties related to market creation templates. For information on how to participate in the Augur v2 bug bounty program, see: https://www.augur.net/blog/v2-bug-bounty/"
6. Chainlink
Here are a few recent integrations announced by Chainlink:
"Fantom is excited to integrate Chainlink as the official oracle solution recommended for use by all Fantom developers! After extensive research, we've identified Chainlink as an extremely secure and reliable decentralized oracle solution across every dimension of our evaluation. Because security and performance are the critical features of any Fantom application, we are integrating Chainlink as the default oracle solution to ensure that all Dapps built on Fantom can access Chainlink's proven, secure, and high performing oracle infrastructure."
"This deep partnership serves as a key way to further Celsius' overall decentralization through the use of Chainlink's world-class decentralized oracles. It enables Celsius to move towards a new level of security and reliability using Chainlink's unique approach to decentralization. Chainlink will also use Celsius' highly secure and innovative treasury management solution for its BTC and ETH cryptocurrencies."
"Integrating Chainlink's world-class oracles strengthen the Kava DeFi platform with secure price data, now made available for the first time to all Cosmos chains. Kava's scalability combined with Chainlink's oracles provide the Cosmos ecosystem with the highest-quality data to make secure, truly reliable Decentralized Financial Products."
7. Kyber Network
"We are making good progress on our Katalyst protocol upgrade and KyberDAO launch ( https://blog.kyber.network/katalyst-kyber-protocol-upgrade-and-2020-plans-20427ef47ac6 ).
We successfully deployed Katalyst on the testnet and made sure critical functions are working as intended. Most of our staking documentation is already completed, including our staking API ( https://github.com/KyberNetwork/developer-portal/blob/stakingSection/README.md ), giving developers the tools to build interfaces or services that support KNC staking.
In addition, we are working on a few exciting new features, one of which is reserve routing, which allows takers (e.g. end users, DApps) to spread their trade across different Kyber reserves via a fully on-chain mechanism, further ensuring the best price.
Security is our utmost priority, thus we are undergoing a series of comprehensive smart contract audits for both the protocol and the KyberDAO.
Lastly, the KyberSwap exchange team rolled out a number of highly-requested features and updates: mobile app optimisation, Limit Order UI/UX revamp, 2 fiat to crypto on-ramp solutions, portfolio dashboard, smart notifications, and a Torus wallet integration.
Amidst all this development activity, Kyber Network did a record USD $196M in trading volume in the month of March."
8. OmiseGo
"Blockchain Team Update: OMG Network V1 Is Now on the Ropsten Testnet!
Our last environment, named pre-Lumphini (v0.3), was deployed in the middle of the audit process. Since then, we made significant changes to the structure of our contracts, transaction formats, and minor changes to our API. This has led us to OMG Network V1 Testnet on Ropsten.
The Ropsten testing environment is the closest you can get to being on Ethereum Mainnet. It is a testnet that runs the same consensus mechanism and behaves much like the Ethereum Mainnet. It is supported by both Geth and Parity – two different implementations of the Ethereum node software that both support Mainnet.
It has a Proof of Work (PoW) consensus mechanism, so ETH can be also mined just like on the mainnet. The PoW consensus mechanism results in the most similar transaction behavior to Mainnet.
Ropsten is, in its own right, a true and functioning blockchain. It has its own mining pools, own software, a realistic consensus mechanism, etc."
9. Raiden
"In March, the Raiden team has continued to refactor the Scenario Player to enable more robust end to end testing. The team also switched to Matrix' Split Mode in order to meet the performance requirements. This ultimately led to a new Release Candidate that the team has started testing before moving on to mainnet testing of the Alderaan release.
The Raiden Light Client team fixed a bunch of usability issues as a consequence of doing a workshop at EthCC. Furthermore they have integrated the Raiden Hub for easy testing and lastly, a PoC was reached that showcases receiving and mediating of transfers through the light client along with fast transfers using WebRTC."
10. Aelf
"The last 30 days have been some of the busiest in aelf's history. Building on from the partnerships and awards announced in Q4 2019, aelf has released their Economic & Governance Whitepaper, the Mainnet Launch Roadmap, and most recently, upgraded their blockchain to V1.0.0 Preview 1. This upgrade includes complete functionality and all features required to proceed with the Mainnet launch."
--------------------
Check out Sanbase for more information on development, social, and on-chain activity of all ERC-20 coins, as well as ETH, BTC, XRP, EOS and more!
Thanks for reading!
If you enjoyed this insight please leave a like, join discussion in the comments and share it with your friends!
Never miss a post from Ibis!
Get 'early bird' alerts for new insights from this author