Here's What January's Busiest ERC-20 Dapps Have Been Working On 🏗️
Each month, we shine a spotlight on the 10 ERC-20 projects with the highest-recorded developer activity for the past 30 days, as calculated by Santiment.
Development Activity is an often-underrated indicator of project success, as it demonstrates the month-to-month commitment to creating a working product, continuously polishing and upgrading its features, and staying true to the long-term roadmap.
In this report, we are focusing only on 'pure ERC-20', i.e. those projects that are (currently) committed to developing on Ethereum, and have as of yet no working mainnet or an imminent token swap.
You can check out the latest dev activity 'power rankings' for all ERC-20 assets on Sanbase, by filtering the ERC-20 projects by Dev Activity (30d).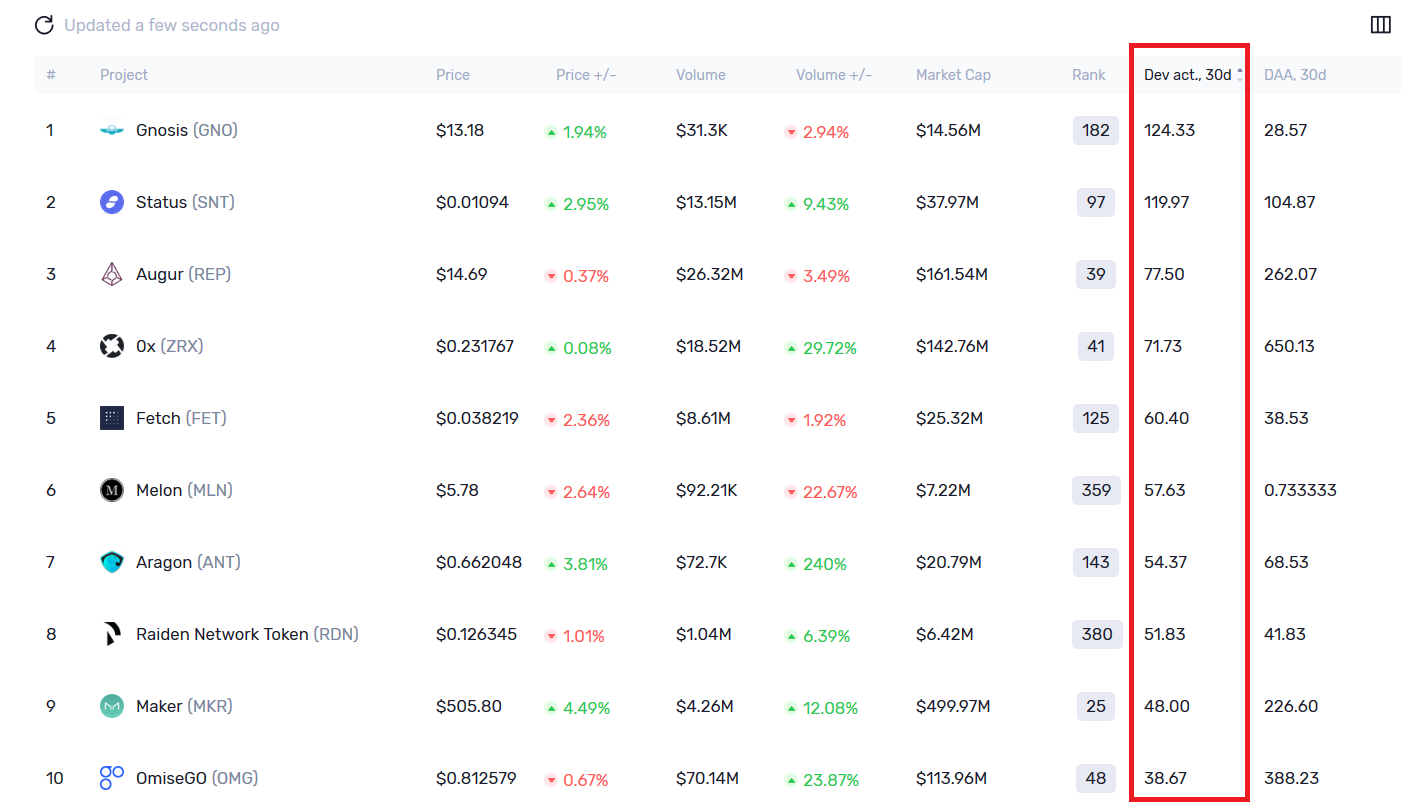 As always, we asked all of this month's top 10 most active ERC-20 dapps what they've been working on for the past month. Here's what they told us:
1. Gnosis
"In January, we were busy working on all three of our interoperable product lines:
Prediction markets: The Sight prediction market platform now supports scalar markets, meaning you can take a position within a range of potential outcomes. Check out the live markets here: https://sight.pm/#markets.
Trading protocols: The smart contracts for our upcoming, new DEX protocol have been audited, and now we're running a public bug bounty program with up to $50K for every bug you report. Additionally, all main data and events on the new DEX protocol have been indexed on the Graph, making information about trades, open orders, and batches easily accessible.
Wallet solutions: In the Gnosis Safe Multisig, you can now create an address book to turn Ethereum addresses into human-readable names throughout the interface. Transaction cancellations are also now a lot more intuitive, and ERC-721 (NFT) support is a lot closer."
2. Status
"Another busy month for our team, here's what we achieved in January:
Status v1 - we put our mobile app Release Candidate out into the world for testing by our amazing ambassadors. We've been working around the clock to squash bugs and move closer to v1 release.
Keycard - work is ongoing to integrate Keycard within the Status app, to give users a seamless way to onboard into crypto and sign transactions securely. We're also working on a proof of concept for a fully decentralized payment network - more coming soon in the next months!
Embark - January saw our release of v5.1, with two new configuration settings for smart contracts (interfaces & libraries).
Vac - We're solving the Whisper scalability issue with Waku, in preparation for scaling the v1 app."
3. Augur
Here's an excerpt from Augur's latest github release:
"Augur App v1.16.7
🤓 Reduce the amount of requests that go to Ethereum nodes
😢 Removing Alchemy URL for Mainnet from Augur App
🐛 Update UI to handle breaking Metamask changes due this week.
🕐 Move market cut-off date to Feb 8, 2020 UTC+0"
Also from the Augur weekly blog:
"The Forecast Foundation is excited to announce the launch of the public Augur v2 bug bounty program. Security is the number one priority in the Augur contracts, and now we're seeking help from the community in finding bugs and vulnerabilities prior to deployment.
The most critical and high-level class of bugs and vulnerabilities we're interested in are:
Loss of Funds
Manipulating Open Interest
Forking State"
4. 0x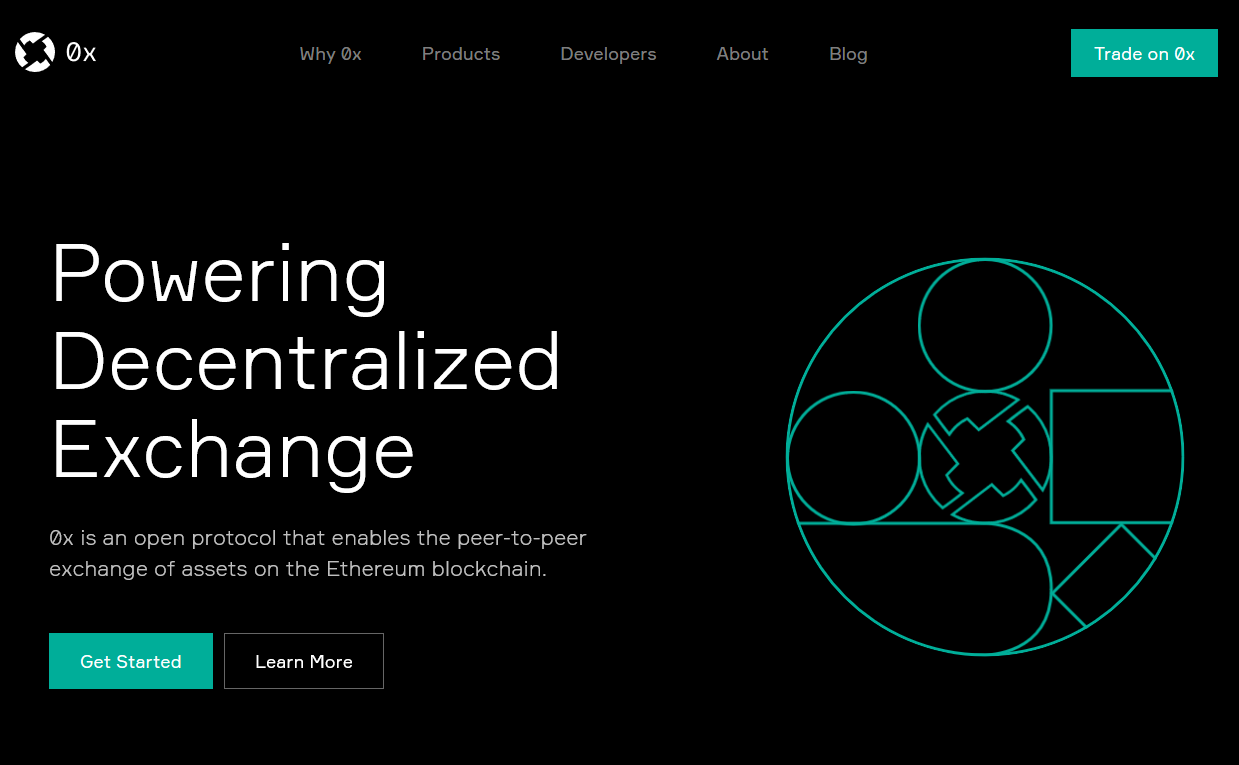 Here's an excerpt from 0x's latest community update:
"We are starting the year (and the decade) with a bang! Today we are excited to introduce 0x API. We designed the 0x API to make it easy for DeFi developers like you to tap into both off-chain and on-chain DEX liquidity in a fast, reliable, and easy to use way so you can focus on what matters: your product.
With a simple GET call, you can use 0x API to fetch the best price available in the DEX ecosystem for any token. Under the hood, we aggregate liquidity from 0x Mesh and other decentralized exchange networks like Kyber, Uniswap and Oasis, and use smart order routing to find the best prices for you — saving you time and connecting you to more liquidity than any single source can provide. As we build more bridge contracts and more liquidity becomes available, the 0x API automatically upgrades without any additional work on your end.
With 0x API you can:
Get the best rate in the DEX ecosystem for your desired swap with a simple GET call.
Easily execute a swap in your smart contracts with a transaction constructed on your behalf.
Contribute to and access liquidity on the 0x Mesh network through a REST API endpoint.
Abstract away protocol fees and complete transactions on behalf of your users.
Reduce your product development and go to market time."
5. Fetch
"Following the launch of the Fetch.ai mainnet in December, the team has carried its momentum into the New Year.
This month we have focused on delivering core network upgrades as well as a variety of cool new features such as our testnet token tap (https://explore-testnet.fetch.ai/tokentap) and our testnet wallet (https://testnet-wallet.fetch.ai/)."
6. Melon
"The Melon repositories have been quite active since the Avantgarde team started development in October 2019. Avantgarde Finance was been appointed as the lead developer for Melon for the next 3 years by the Melon Council DAO in September last year.
From a protocol perspective, the team has been working on various code and tests suite improvements, the addition of a few features and the integration of new DEXs. The new protocol version is being audited at the moment and the network should be upgraded in February. A new Typescript library was developed to make the process of interacting with the Melon smart contracts easier for external developers.
From a frontend perspective, the Avantgarde team has been working on a brand new user interface. The new Melon Manager Interface, that shall also be released in February, is entirely browser-based and offers a much easier experience for fund managers and investors. It leverages The Graph protocol as all historical data is retrieved through the Melon Subgraph."
7. Aragon
Aragon lets people create and manage a decentralized organization on Ethereum, and create global, bureaucracy-free companies and communities
"The Aragon community had an exciting month of January, shipping new products and a number of important updates:
Want to help contribute to any of these projects, or start your own Aragon project? Join us by checking out the Aragon Developer Portal and "good first issues" in the Aragon GitHub organization, and dropping into the #dev channel on Aragon Chat. If you want to work on projects like these full time check out job openings in the Aragon ecosystem."
8. Raiden
"In January, the development team focused on improving the communication (transport) layer of Raiden and finding ways to speed up synchronization times by introducing a number of optimizations to the Raiden client.
Additionally, a new version of the Raiden services (v0.6.0) was released after making a series of small but significant changes. Changes include: specific error messages for common errors, faster and more reliable path validation inside the Pathfinding Service, more secure database usage which should prevent data inconsistency and the option to monitor CPU resources with Flame Graphs.
An improved handling of protocol messages was introduced. Besides that, the Raiden client, services and light client were upgraded to the latest version of the smart contracts (v0.35.0)
Development of the light client progressed. Last but not least, the team is constantly working on refactoring, testing and bug fixing in preparation for the Alderaan release milestone.
If you want to learn more, have a look at our latest Raiden Pulse update or follow us on Twitter!"
9. Maker
"Maker's milestones this month include:
Expanding the Maker Keeper Framework with Cage-Keeper and Chief-Keeper
Improving the testing infrastructure for the Maker Protocol
Publishing integration guides with code examples
Our libraries and front ends are more resilient than ever thanks to considerable amounts of test work into frontends and js libraries, lots of post-launch tech-debt solved.
Optimizations and UX improvements across Oasis.app
Working on new features for Oasis Trade"
10. OmiseGO
"We hit a major milestone this month by completing the audits of the contracts in our plasma framework. We engaged two auditors to find issues in our implementation and check the voracity of our contracts. All issues have been resolved, the audit reports are ready, and we've released these results to the public subsequently.
Completing the contract audits was big for us, however, these are just one component in a much larger system, so there's still plenty of work for us to do. The two big pieces that we are running now, involves the child chain and watcher. Our focus now moves towards making sure that we have all the production readiness put in place to operate those two services. Next, we'll be securing our deployments, improving resiliency, and doing more validation and testing.
We are taking a responsible path to releasing these public services. Just as recommended by the audits, we will be taking a step by step approach to slowly bring in load into the system.
We focus on delivering a fully developed and solid product. When dealing with finances there's such a high risk involved so with the OMG Network there is zero tolerance when it comes to shortcuts with security." -Alexei Schaller, Commercial Units for the OMG Network
Check out Sanbase for more information on development, social, on-chain and price activity of all ERC-20 coins, as well as ETH, BTC, XRP, EOS and much more!
Thanks for reading!
If you enjoyed this insight please leave a like, join discussion in the comments and share it with your friends!
Never miss a post from Ibis!
Get 'early bird' alerts for new insights from this author