Has Pepe Finally Lost a Pep in its Step?
From April 29th to its peak a week later on May 5th, PEPE's ascension up the crypto market cap ladder was immaculate, rising in price by an approximate +1,200%. The meme coin has been the talk of crypto over the past two weeks, as traders have tried to time the dip buys to ride the asset's market cap back up to prominence.
But thus far, the dip buy efforts haven't been too effective, and the all-too-familiar story of large addresses selling the top while the small fish hold the bags is unfolding once again. Almost as quickly as prices ascended, we have seen PEPE drop about -67% from its May 5th top at the time of this writing.
Santiment's metrics tend to be quite valuable for these small market cap assets that have polarizing views, and timing the next top or bottom may come down to seeing when the crowd becomes disinterested (which will eventually happen).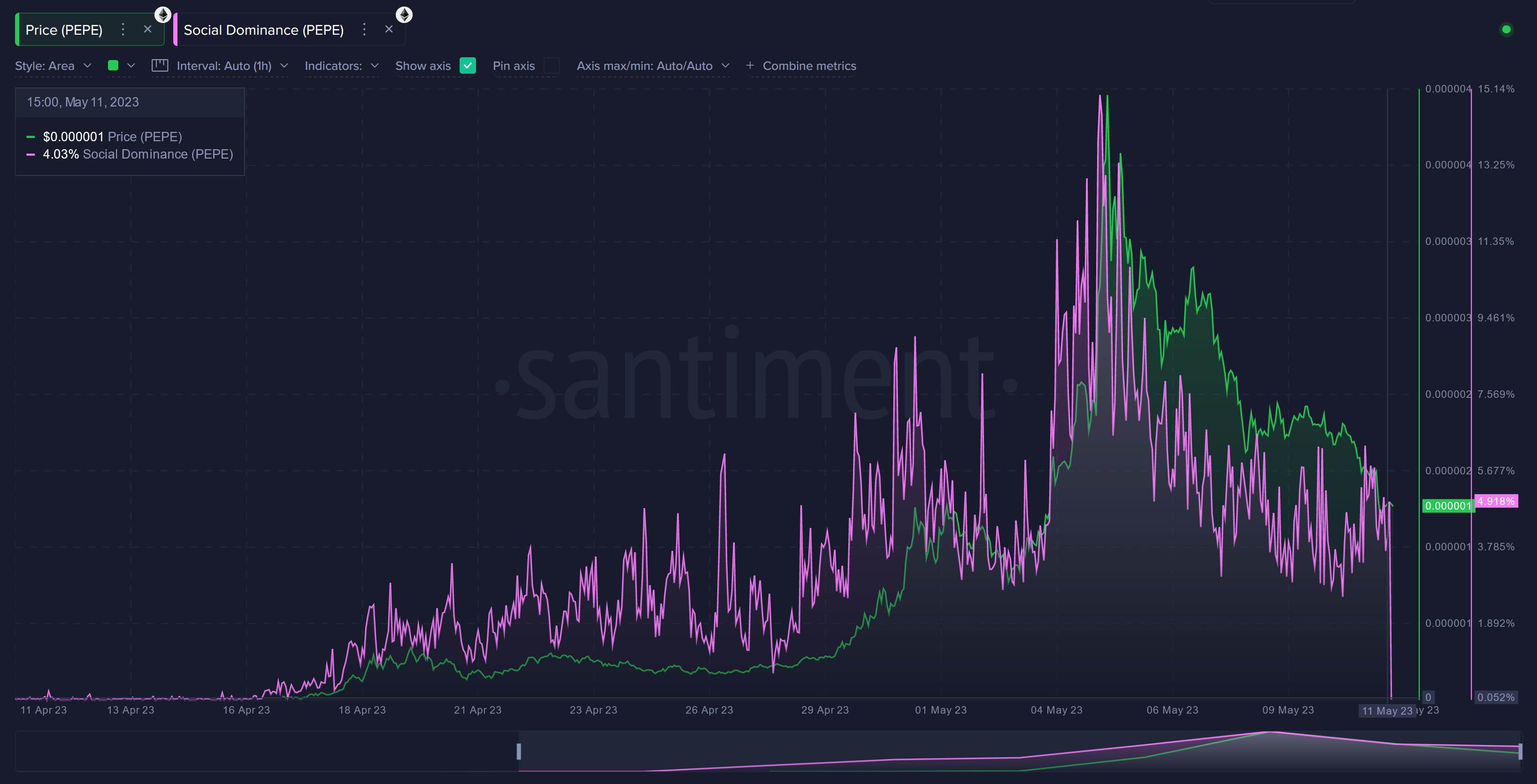 As shown in the above chart, Santiment's social dominance metric perfectly ended up foreshadowing the time to get out right before the price top hit a few hours later. One of the most reliable signs that it's time to take profit on an asset is when the mainstream trading crowd begins to get euphoric and discusses an asset that is on a major rise like PEPE was. It is still making up about 5% of discussions compared to top 100 assets. And seeing it get down to the 1-2% range would be a good sign that traders are beginning to stray away and look for pumps from other altcoins.
We can see that the amount of unique addresses for PEPE is almost a mirror image to its social dominance. Look at how the amount of active addresses soared exponentially in the hours right before the May 5th top.
And as far as trying to time a dip buy, looking at the largest addresses with 100M PEPE or more (which isn't a ton in USD, but they are the highest tiers we can view when the price is so microscopic), we see that they also began reversing course right on the May 5th top. Hmm, what a coincidence! If you start seeing these lines moving up again, there is a much larger probability of PEPE going for its 2nd round of pumping (though probably a more minor one).
And seeing how the average PEPE traders are performing can also be quite telling. Just in the past 24 hours, the 30-day MVRV (which is the longest relevant timeframe with the asset only being around for a month or so) shows that traders are essentially back to break-even. If it gets into negative territory, that would begin to look like a juicy setup because traders will be in the red and in the 'opportunity zone'.
Trading and transaction volume looks about as expected with everything fading pretty significantly since the May 5th top. However, things have begun to rebound again with these metrics in the past 24 hours.
And finally, one of the best mid to long term leading indicators would be mean dollar invested age. The average amount of days in which PEPE has been sitting in the average wallet is about 5 days currently. On May 5th, this number actually went under 2 days. Typically, before a bull run or mini pump begins, it's preceded by some dormant addresses starting to move. With such a young coin, take the definition of "dormant" with a grain of salt. But regardless, look for a dip in this line to be a good sign that stagnant addresses are getting ready to make pump moves once again.
All in all, meme coins have to be taken for what they are. They're controlled by speculation and crowd expectations. In these fresh, new assets that fit this description, you'll likely want to watch when the crowd gets too emphatic that one price direction is going to happen.
When everyone on your Twitter, Reddit, Discord, or Telegram communities are proclaiming that it's time to buy the dip, well, that means that it's not yet time. But if you start seeing nothing but jokes making fun of all the traders who are "still stubbornly diamond-handing PEPE", then the FUD perpetuating and the jokes may actually soon be on them for missing out on the asset that everyone is writing off.
-----
Disclaimer: The opinions expressed in the post are for general informational purposes only and are not intended to provide specific advice or recommendations for any individual or on any specific security or investment product.
Thanks for reading!
If you enjoyed this insight please leave a like, join discussion in the comments and share it with your friends!
Never miss a post from brianq!
Get 'early bird' alerts for new insights from this author