Ethereum Enjoying its Time Under the Radar
Ethereum has been rather quiet ever since correcting from its $2,132 peak that it rose to on April 16, 2023, just over 3 months ago. The psychological support level of $2,000 is rather obvious, with many traders suddenly becoming more optimistic about the #2 ranked asset whenever it creeps above... and more skeptical when "struggling" to get above this threshold.
Like many assets, ETH has moderately gained on Bitcoin's price after BTC dominated throughout June following the massive bullishness of Blackrock and other ETF's being introduced. The +4.8% swing against BTC is hardly something for traders to be excited about, though.
Traders have been so bored by Ethereum's middling price action, in fact, that the percentage of discussions about the asset is right about at its same 2023-low level that it saw back in mid-May. Is this cause for concern? Not particularly. In fact, we have had several backtests show that many altcoins thrive best when traders are distracted by the other shiny assets on the block at the time. And right now, that shiny asset is XRP.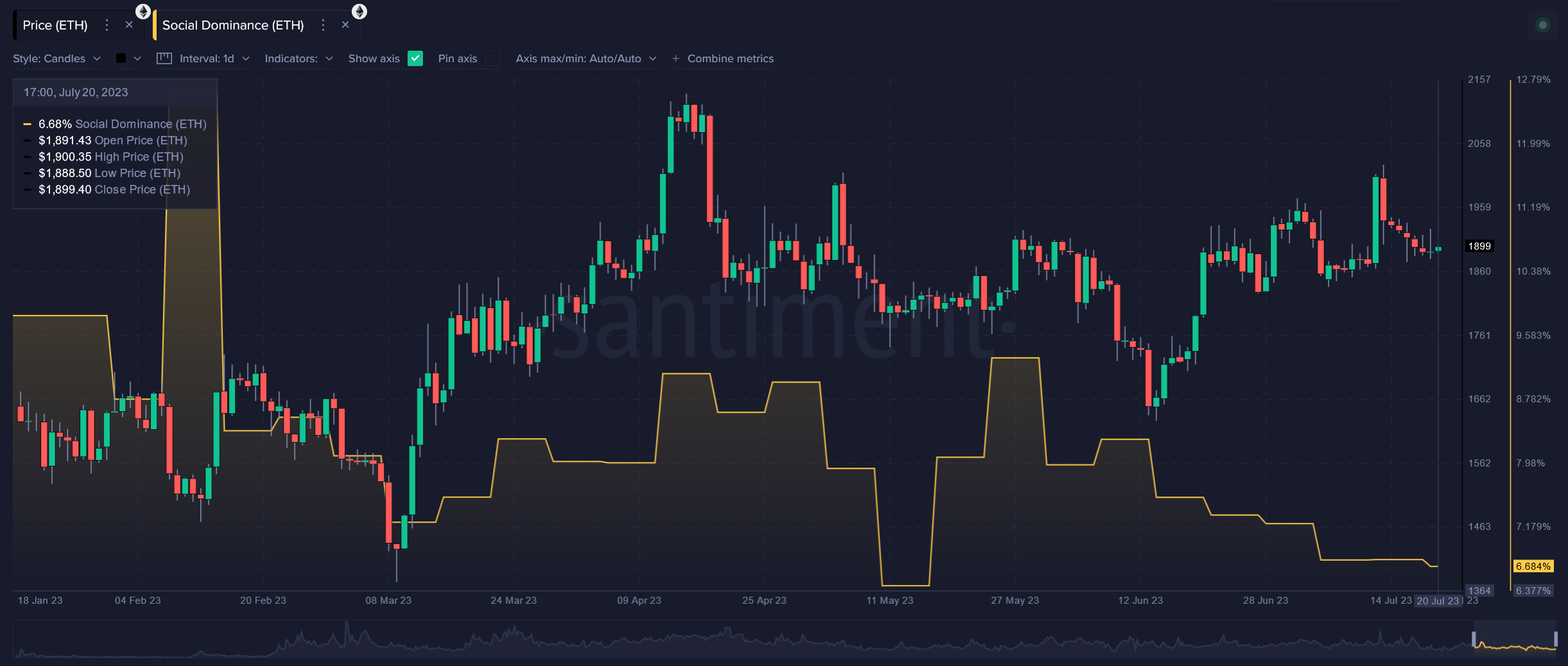 One key sign of a potential upcoming price bottom would be when traders begin making a higher level of transactions while at a loss, compared to when at a profit. Right now, we can see that the ratio of on-chain transaction volume in profit to loss is still favoring profit takes. But not by a large margin by any means... and if ETH drops a bit more from here and threatens the $1,700-$1,800 level again, panic sells would come pouring in to justify the buys.
When it comes to trader behavior, we also have to be mindful of how thrilled vs. worried the short and long term ETH traders are at the moment. Currently, addresses that have been active in the past 30 days have an average return of -0.35%. This is essentially break-even. However, long-term traders who have been active over the past 365 days are up an average of +14.9% on their returns. We see the best and most justified opportunities when both of these percentages are well into the negatives. That said, this is far from being a poor time, with both being relatively close to neutral.
We also can continue to be satisfied with the fact that Ethereum coins are overwhelmingly being kept in self custody. With less than 7% of coins on exchanges, the likelihood of huge sell-offs occurring remains lower than usual. This should be considered one of the best long-term bodes of confidence for the asset that had a somewhat disappointing halving (as far as price is concerned) in September, 2022.
The Ethereum crowd is almost eerily quiet right now. And we often see good things happen when the community is looking at other top market cap assets like XRP and even LINK (though obviously not as large). Patience tends to reward, and we see no reason why ETH can't make a move to get back above $2,000 sometime in August, or even before the new month hits.
-----
Disclaimer: The opinions expressed in the post are for general informational purposes only and are not intended to provide specific advice or recommendations for any individual or on any specific security or investment product.
Thanks for reading!
If you enjoyed this insight please leave a like, join discussion in the comments and share it with your friends!
Never miss a post from brianq!
Get 'early bird' alerts for new insights from this author