ENJ - Time to chill sir
Assets covered: ENJ
Metrics used: Price, Daily Active Deposits, , Social Volume, Coin supply on exchange
Summary:
ENJ's been getting some attention lately following two recent announcements:
- NFTs unlocked for the Minecraft community
- Enjin being the first gaming token approved in Japan and listed on Coincheck.
Let's take a look at how things are now.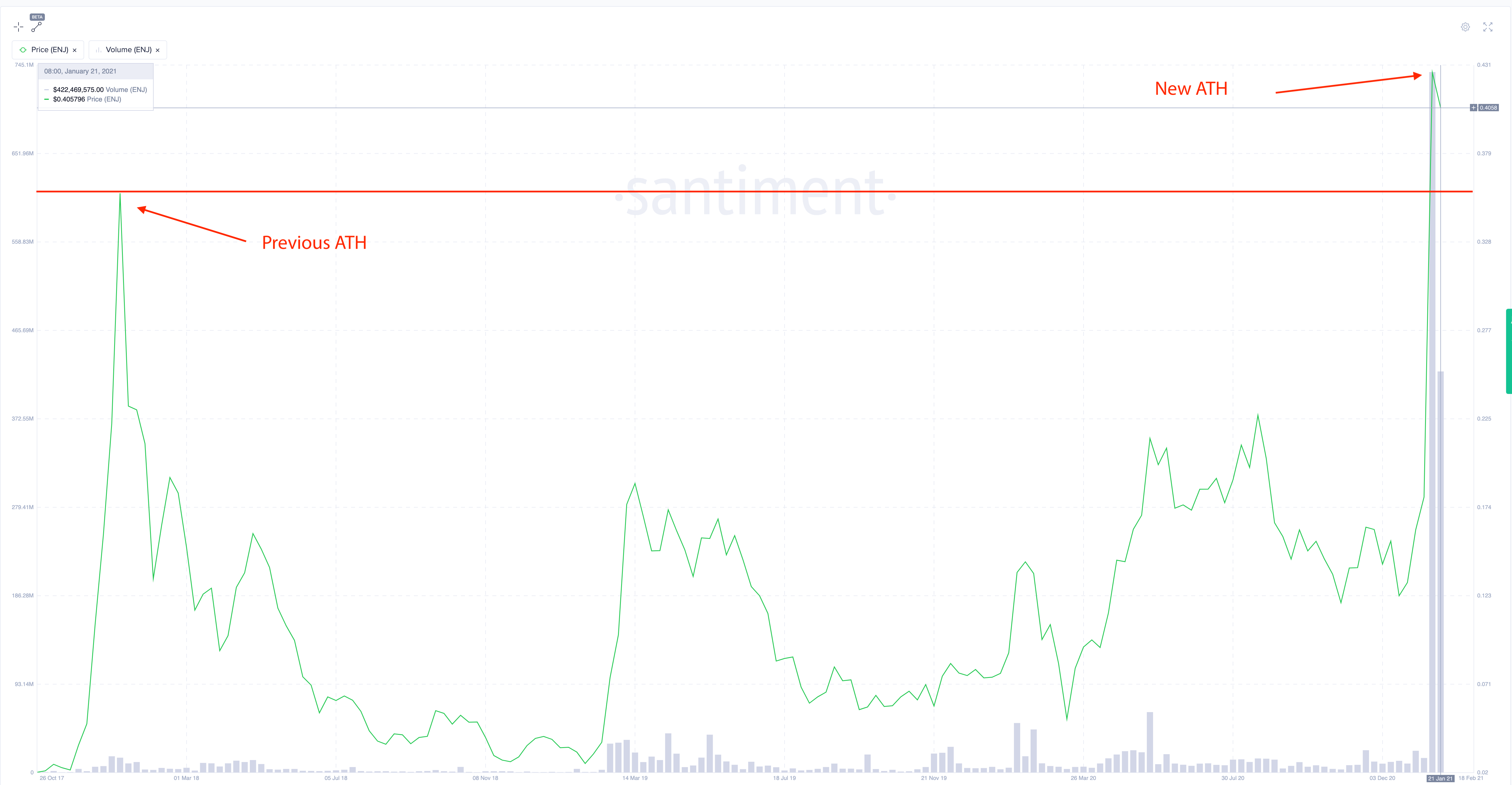 ENJ's price has made a new all time high (ATH) in a parabolic move in just within 3 days, which also saw the largest volume all time. The FOMO is real.
Now that it's in price discovery, it's really any thing goes.... however, it's very likely that it still needs to come back down to previous ATH to retest and build that as a support area for continuation, else it's just a pump and dump.
ENJ mentions are at its highest in 1 year. No surprises here given the positive announcements made and parabolic price rally.
This shows the crowd's excitement and usually signals a correction soon after. Just as how it was in the past.
It's likely that this is a local top, after that we should see social volume normalize.
It also doesn't help when ENJ shows up as one of the topics of the day in Santrends.
Usually when a project appears here, it's one of the most talked about topic in crypto for the day. Which also means the crowd is in... which....means...the local top is likely in.
ENJ's MVRV 30D spiked high into the overvalued zone and is showing that short-term holders are on average +47% in profit, signalling that they are highly incentivized to offload some in the short term.
ENJ's Daily Active Deposit is showing a high spike following the parabolic price move, indicating that many people are starting to take profits at these levels, which should translate to increased sell pressure in the short-term.
Besides increase in number people depositing ENJ into exchanges, we are also observing huge amounts of ENJ being deposited as the Coin Supply on Exchanges saw one of the largest increase in 1 year.
This further confirms the sell pressure present at the moment.
Going forward
While the news is exciting and all, with such a parabolic move, it's entirely normal to top out in the short-term and have a correction to normalize things.
This, coupled with onchain and social metrics showing signs of a local top, it'll be a little difficult for ENJ to continue pushing through for now.
Assets from this insight
Enjin Coin
ENJ