ENG token swap and its Binance pump
The Enigma project appeared on Emerging Trends radar recently.
No wonder, it's social volume boomed x10 last day: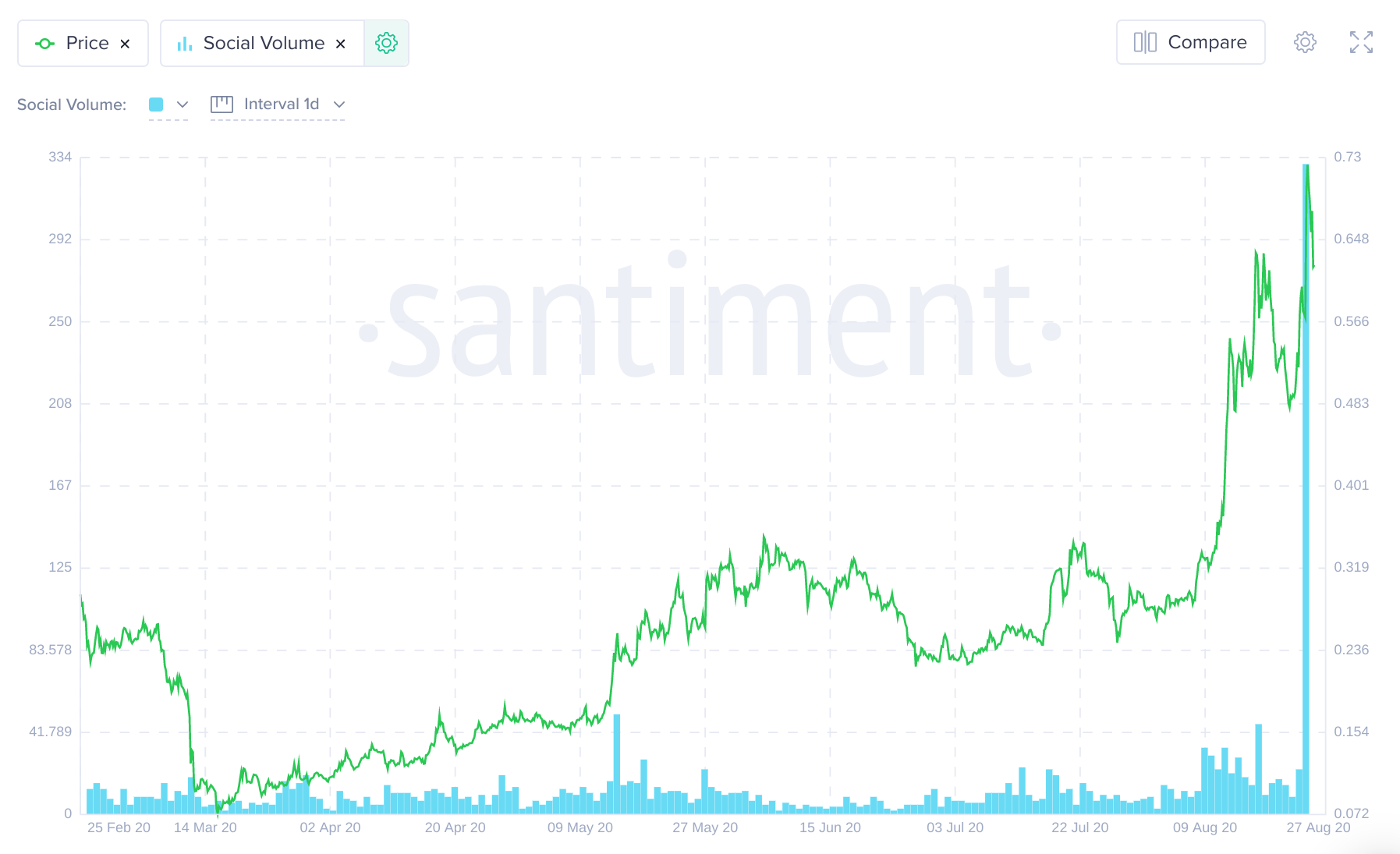 On a large scale this is the most intensive buzz around Enigma since crazy January 2018:
With social context looking pretty bullish:
What's up with Enigma and where is it going? Let's see.
First, what is this project doing?
Enigma raised $45 million during its 2017 ICO. The startup did not register its ENG tokens as securities, nor did the ICO qualify for an exemption, said an official press release.
The San Francisco and Israel-based startup agreed to pay a $500,000 penalty, return funds to investors via a claims process, register its tokens as securities, and file periodic reports with the SEC.
In February 2020 Enigma launched the Secret mainnet (Cosmos-based), being it's 'core contributor'. ERC-20 ENG tokens became useless. But still tradable and swappable to SCRT tokens via official swap tool https://secretswap.io/. Until the end of 2020.
Santiment has a pleasure to be connected with one outstanding anonymous oracle saying back in July 2020:
...keeping eye on ENG for a high risk high reward play. Betting that Binance will support ENG swap to SCRT tokens (sudden announcement should pump it high). Other than that, ENG is a useless token as the Enigma team is working on SCRT. Very high risk.
This is exactly what happened next. Binance announced ENG to SCRT swap support and price pumped on it.
Want to work out how many ppl swapped, how much is still remaining, and what the large holders are doing. If this coin is going to be worthless, it doesn't make sense for large holders not to offload.
How many people swapped? 15M tokens from 150M of total supply are swapped according to ENG 'contract→burning address' transactions. It's just 10% of supply.
90% of ENG supply still remaining to be swapped.
Looks like they are decreasing ENG holdings. Mainly since June.
The Exchange Inflow and Daily Active Deposits are quite high, confirming funds generally being moved to Binance exchange:
Just to check, what's the flow of ENG to/from Bittrex, and exchange without ENG to SCRT swap support:
Yeah, minimum deposits and maximum withdrawals. People moving funds to Binance.
That's the story. A strong project keeps developing and shifting from Ethereum to Cosmos. A main token swap gate remains operational and open. Then Binance related news created some hype, price pumped, crowd got overexcited. You know what usually happens next in short term.
Long term there's a lot of ENG tokens still remaining unswapped to SCRT. Useless security tokens to promising Cosmos based ones.
Take care.
ENG
Thanks for reading!
If you enjoyed this insight please leave a like, join discussion in the comments and share it with your friends!
Assets from this insight
Enigma
ENG