Dealing with "bear markets". A way to "hedge", reduce the risk(s) and earn
Whether or not you believe we are officially in a bear market, there are some great ways to maintain your position for a potential recovery while mitigating your risk of further downside.

Hedging is a well known approach to "remove" the risk, yet, in crypto this hedging can (and probably should) be done in many different ways.
One of the possible ways described below.
What I wanted to test in this experiment (and also "journal" the results on sanr.santiment.net) is to deploy something which seemed to be logical for me in the current market environment
I was thinking along these lines
we are a bit more than 2 months into bear market
all previous pump attempts were rejected, crowd gets more and more cautious
means - there is a decent level of "concerns" in the market
in such an environment, if markets were to rise, both "majors" (BTC and ETH) would benefit the most
if markets were to continue to drop, altcoins like LINK, 1INCH, and BADGER would get hit harder than "majors"
So, let's see how it performed.
Running such experiments is now easier with the new SanR protocol (sanr.santiment.net)
I created 5 "signals" there on the 14-th and 15-th of July.
San.Rise for BTC and ETH
San.Set for LINK, 1INCH and BADGER
How did it perform?
As the market kept crashing, both BTC and ETH were (as expected) showing negative results. Yet, the "shorts" (San.Set) on all alts were doing well. All together we started to show positive results (around 18%), see the visual below:
After around one week market started to recover. Our performance initially suffered a bit, it went down to around 12%, see below: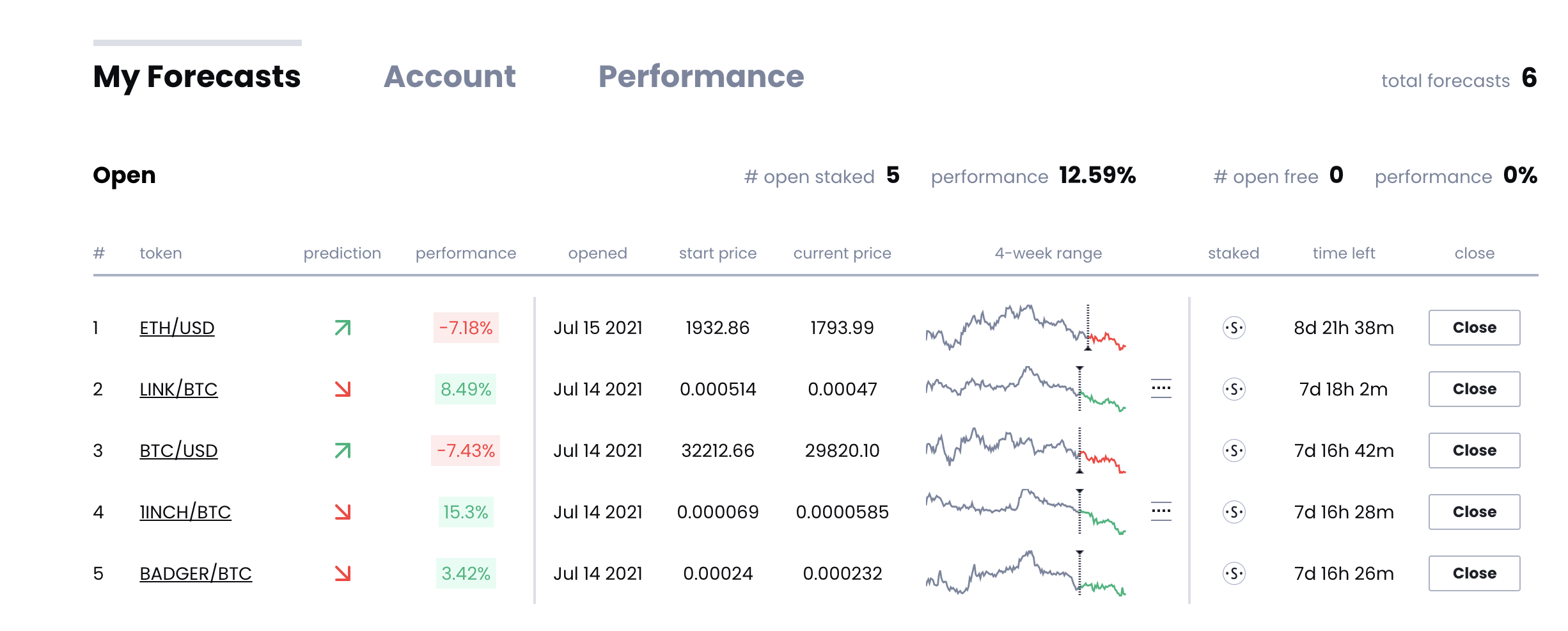 And then, exactly as expected, the performance grew rapidly to almost 30%. ETH and BTC did outperform alts. That is especially impressive result, taking into account that we had 2 longs vs. 3 shorts:
That was the time I was considering to close the experiment. But as it was the middle of EthCC in Paris with plenty of talks, meeting and parties, I had to postpone the writing till tomorrow. The final results are:
That was an interesting experiment, which showed that navigating the bear market can be as profitable as the bullish one. Also placing our newly developed SanR platform into action was a good test as well.
You can try to use it yourself - sanr.santiment.net
There are currently plenty of smart people there testing and trying out their skills in "sonaring" the market.
Here is the link to the account used for that particular experiment. More experiments and showcases are coming.
ETH
1INCH
LINK
BADGER
Thanks for reading!
If you enjoyed this insight please leave a like, join discussion in the comments and share it with your friends!
Assets from this insight