Crypto Assets Price Prediction Using AI : Buy or Hold or Exit
# Last Analysis #
Last analysis was done and posted on 13th December 2018.
[Crypto Assets Price Prediction Using AI : Buy or Hold or Exit](https://steemit.com/artificialintelligence/@prameshtyagi/4zsmqb-crypto-assets-price-prediction-using-ai-buy-or-hold-or-exit)
In that analysis - The BTC was seen undervalued with buy signal and ETH was fairly valued with exit signal. No analysis using this methodology was done since then.
# Current Analysis #
As market has gone up since then so I felt need to do the analysis again. Below is the result of the analysis: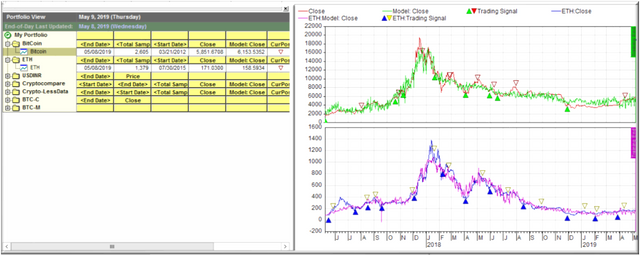 Modeled Price for BTC (6153) is higher than Actual Price for BTC (5851)
-> BTC is fairly valued
-> Current Signal is Exit which came on 13th April 2019.
Modeled Price for ETH(158.5) is lower than actual price for ETH (171)
-> ETH is largely overvalued
-> Current Signal is Exit which came on 11th April 2019.
BTC and ETH both are in exit signal based on this methodology. This methodology helps pick local trough and peak.
# Other relevant analysis by me #
Recently I did additional analysis using different approaches and same are listed below:
[Buy Signal Continues : Prediction Working](https://steemit.com/santiment/@prameshtyagi/buy-signal-continues-prediction-working)
[We are now in Bull Market: Death cross will be overcome soon](https://steemit.com/bull/@prameshtyagi/we-are-now-in-bull-market-death-cross-will-be-overcome-soon)
[Bitcoin Price Prediction : Can Go down to 2000 by Dec'19 before moving upto 200000 by Dec'23](https://steemit.com/bitcoin/@prameshtyagi/bitcoin-price-prediction-can-go-down-to-2000-by-june-19-before-moving-upto-200000-by-jun-23)
# Other important analysis by others #
[Modeling Bitcoin's Value with Scarcity](https://medium.com/@100trillionUSD/modeling-bitcoins-value-with-scarcity-91fa0fc03e25)
# Outlook #
For long term investor - the bull has started based on all the analysis. BTC as well as ETH are more or less fairly valued. So barring some trading related sideways moves - we are in secular uptrend for 2-3 years.
# Methodology #
Data from blockchain.info and Etherscan.io is used in the analysis. By using respective blockchain data the market price is modeled. Using Modeled price and actual price with some moving average based method the buy and exit (No Sell Signal) signals are generated.
[Link to first analysis-Artificial Intelligence Based Cryptocurrency Price Prediction and Trading Signal](https://steemit.com/ai/@prameshtyagi/artificial-intelligence-based-cryptocurrency-price-prediction-and-trading-signal)
Keep steeming.
Note - it is merely an analysis out of my interest. I take no responsibility for any loss anybody incurs as a result of following it.
Assets from this insight

Bitcoin
BTC

Ethereum
ETH