Chainlink hits ATH following Coinbase listing - Perhaps it's time to chill
The weekend saw Chainlink go on an impressive rally from $2.23 USD on Friday morning to an ATH of $4.42 USD (+50%) by Saturday late afternoon. ICO investors that paid $0.11 per token and hodl through the bear market would be seeing 3,900%+ gains now. Not bad indeed.
In our previous post, we mentioned a few catalysts that may keep the price action going. So far, Chainlink has managed to nail 2 out of 3 catalysts by partnering with Oracle and having a Coinbase listing.
The Coinbase listing have secured LINK as one of the tradable assets in the U.S for citizens after Binance's geo-fencing comes into play in September. It is likely by September we will see a decent portion of Binance's trading volume shift to U.S exchanges like Coinbase, Bittrex, Poloniex - with Coinbase doing the most volume. Perhaps Coinbase listings have regained their listing magic given the change in regulatory climate.
Below are some of the tokens being considered for listing (X = already listed) based on their previous blogpost:
Crowd's reactions
Social volume continues to make new highs with the latest rally, making it the highest so far this year. We also saw LINK trending for 3 days straight on our "Trending keywords" page. Usually when this happens, a local top in price is observed.
What the crowd is saying:
LINK connecting real world data to blockchain. Without LINK smart contracts are just "dumb contracts", they are useless. So every blockchain looking to add smart features to to its smart contracts will need to use projects like LINK. I think 30$ is a reasonable price.
Omg link pumping buy now
People who keep buying LINK are actually really generous people because they basically giving their money away to others.
Why is LINK mooning?
Onchain Activity
The day of the Coinbase listing saw an ATH in address activity:
Daily Active addresses - 10,000
Network Growth - 6,383 (63% of DAA) are brand new addresses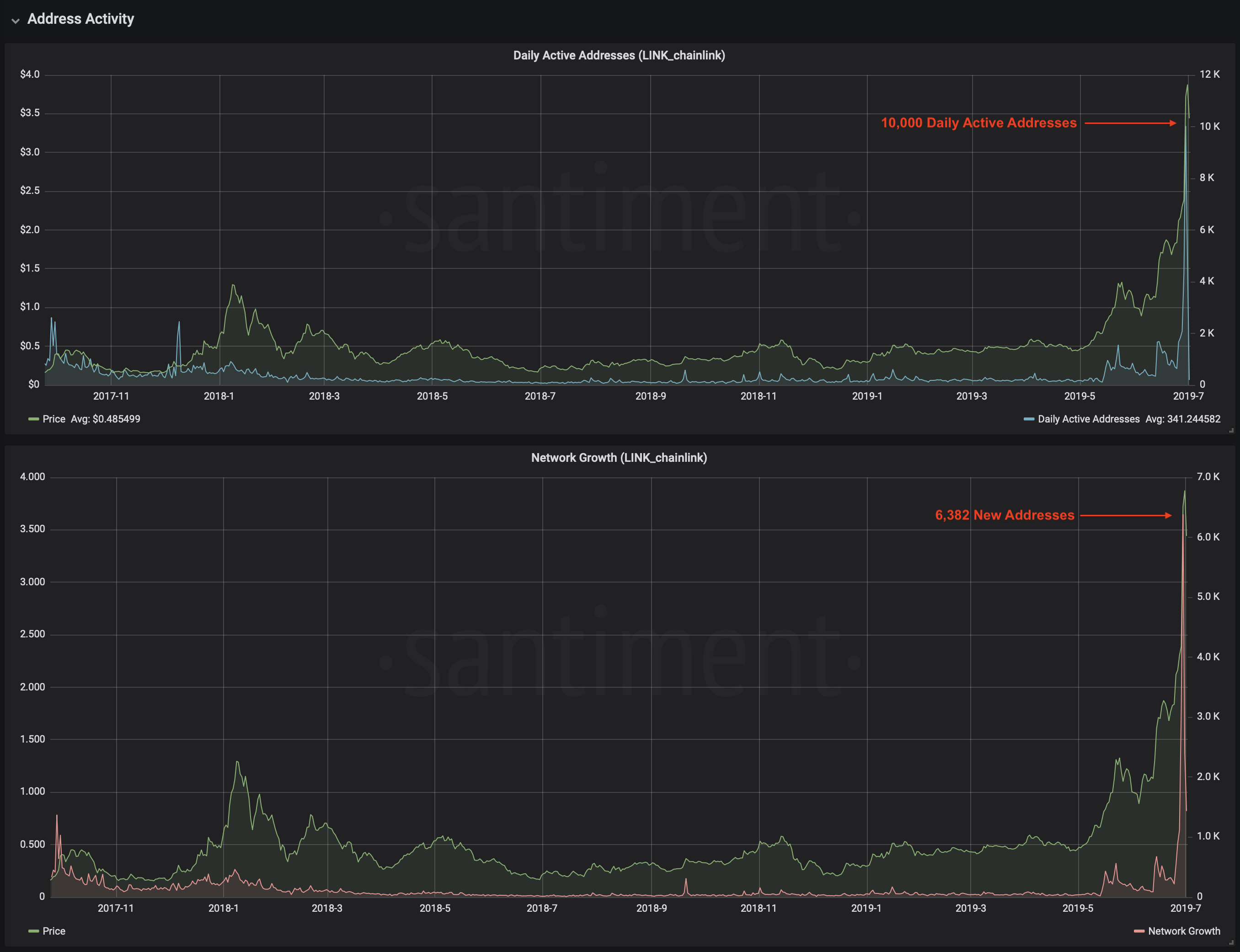 We are seeing around 6.6x more address activity than the previous two rallies in May and mid June. This may also indicate the level of crowd frenzy in speculating LINK and if there's no followup in address activity to match or surpass these levels, price is likely to level off eventually as no new speculators are coming in.
Token age consumed also spiked, indicating that large amount of dormant tokens have started to move. Could be ICO participant or a whale that accumulated LINK during the lows in 2017.
This coincides nicely with the large inflow of 24.8M tokens into exchanges as the price peaked.

Where to next?
Given the excitement levels and almost parabolic price run over the past month, I think it's fair enough to say that one can expect a healthy retracement in the near term. As to how far it'll go, largely depends on how emotional the crowd might get as price falls. It is likely that a number of people bought in during the Coinbase listing, these very same folks can easily become the sell pressure that pushes the price down.
Another thing to note is that the estimated circulating supply at the moment is around 364,409,568 LINK. The remaining supply of 635.59M++ LINK have not been distributed yet and below is a breakdown of the allocations:
Node operators 350,000,000 LINK
Team 235,590,421 LINK (30%)
Going forward, it is likely that the Node operators portion will eventually be released some time before or slightly after the reveal of which 50 nodes/startups will be co-developing chainlinks with Oracle.
This should see more LINK entering into the circulating supply and an increase in sell pressure. Chainlink will have to balance that up with overwhelming demand or be in an altseason to continue thriving.
Assets from this insight
ChainLink
LINK