BTC flirts with $9000, prompts Vegeta memes
Longs rejoiced as Bitcoin soared over 11% since yesterday to a new 2019-high $8907.17, before finally meeting some resistance and cooling off into the $8750 range.
Even with the retraction, the king coin is up 2.3% for the day and has gained more than 6% for the past week. And given its latest flirt with the $9k level, the crypto community seems very ready to bust out the "it's over 9000" Vegeta memes once again:
vegeta soon
incoming vegeta 9000 meme
somebody get the vegeta memes ready
bruh i wanna release my vegeta memes
Mentions of 'Vegeta' exploded on crypto social media today, with anxious memers paying close attention to BTC's price action and hoping for the right moment to strike: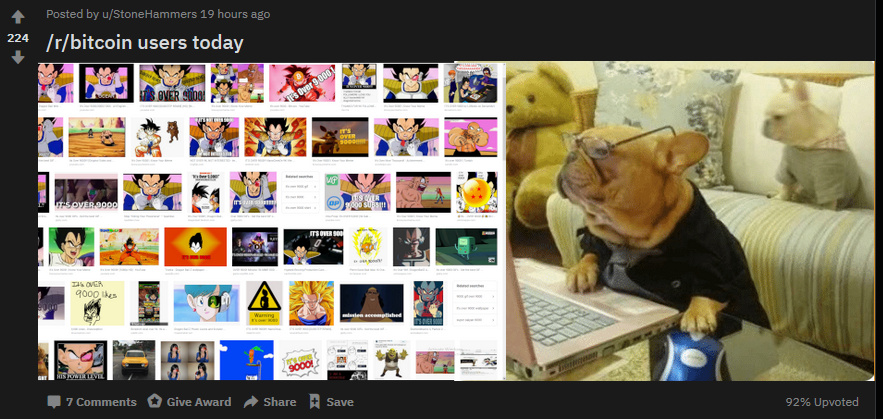 And while some are ready to flood the cryptoverse with a snapshot of everyone's favorite DB villain smashing his power meter, others warn of the dangers of invoking the Vegeta meme too early:
Memes aside, there's been plenty of speculation about the catalyst for the latest Bitcoin uptrend, with some pointing to the liquidation of 100s millions of $ worth of short contracts on BitMEX as the likely culprit.
Others believe it to be the compounding effect of bullish sentiment and news over the last few weeks, including a recent report that Fidelity is set to roll out BTC trading for institutional investors in the next few weeks.
As always, there's also a large contingent of market watchers that claims market manipulation and whale play as the reason for today's 11% upswing.
And while the market sentiment remains positive, there's far less Bitcoin chatter today than during the first leg of this rally, back on May 11-12th:
Could the market be getting a bit complacent about Bitcoin's gains? And is that 'good for bitcoin'? Watch this space.
Thanks for reading!
If you enjoyed this insight please leave a like, join discussion in the comments and share it with your friends!
Never miss a post from Ibis!
Get 'early bird' alerts for new insights from this author