BTC - Could 2019 repeat?
Assets covered: $BTC
Metrics used: Price, Volume, Social Volume, Social Dominance, Total Borrowed on AAVE v2, MVRV Long/Short difference, Dormant Circulation (5y)
Chart: https://app.santiment.net/s/TdOy30sO
BTC's been pretty resilient lately, attempting to make new local all time highs, inching closer and closer to hitting that $30,000 mark that folks are so keen on.
Let's take a quick look at how things now.
Price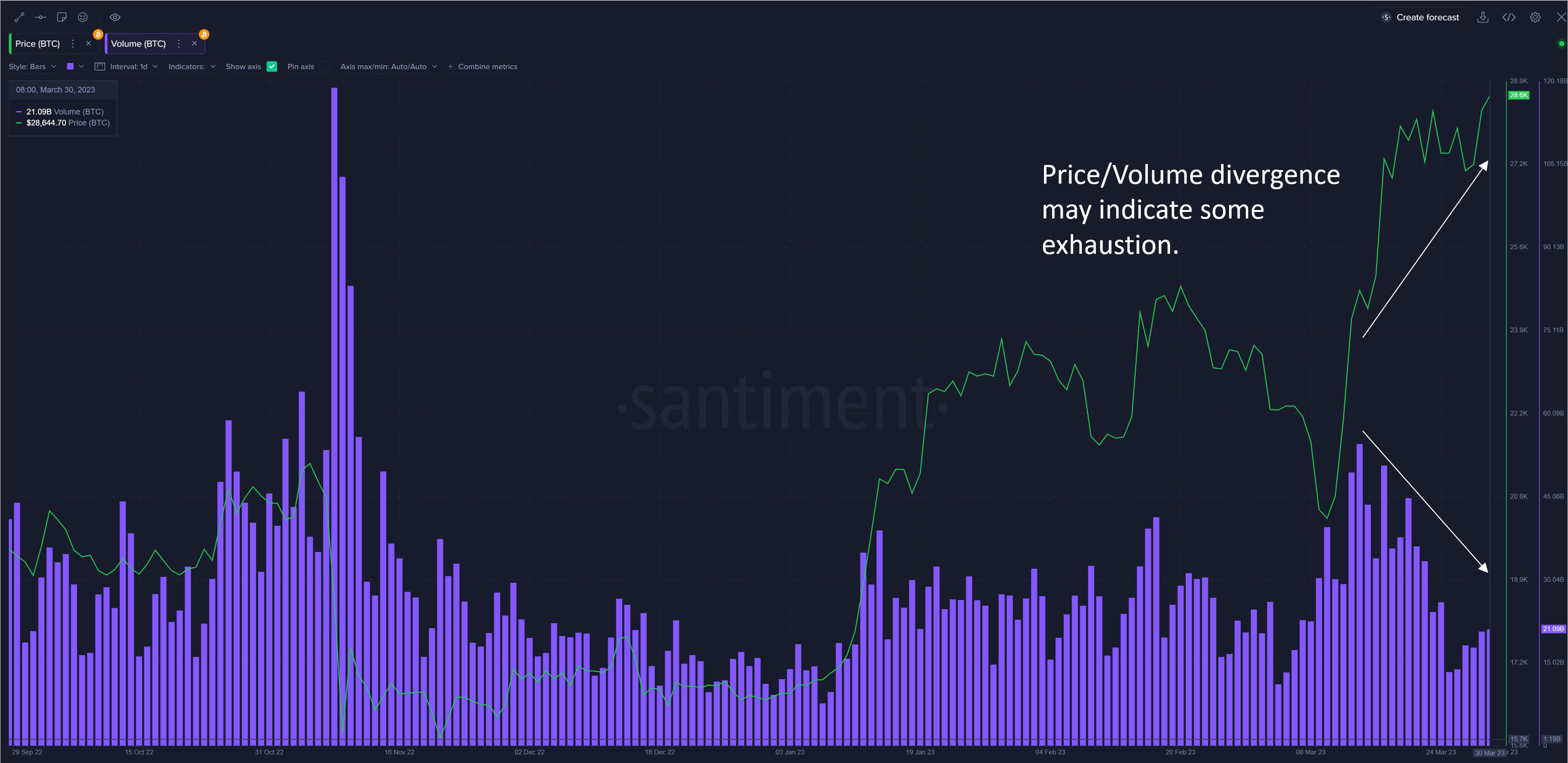 The recent rally saw pretty decent trading volume coming in at the start, which is a healthy sign.
However, things started to slow down a little as we inch higher. Now we are observing a divergence in Price and Volume, which usually isn't a good thing as it is signaling that there's exhaustion in the price action.
Social Volume/ Social Dominance
BTC's Social Volume and Social Dominance are at its highest level in a year, indicating that the crowd is getting somewhat excited - This usually precedes a local top.
BTC Dormant Circulation (5y)
BTC's Dormant Circulation (5y) , which shows the number of dormant coins for the past 5 years that started moving again.
Since mid-March, we saw two such spikes, between 2800 - 3000 BTC that are pretty long term (5 years) being activated. Could it be due to the crypto crackdown or CTFC vs Binance case?
Whichever the case, seems like some whale is probably feeling a little jittery about everything that's going on.
WBTC Total Borrowed on AAVE v2
Seems like the shorters on AAVE have a nice track record of being blown up. So far, the highest spikes in Total borrowed WBTC saw them marked the local bottoms.
Currently, we are seeing cautious borrowing of WBTC at this price range, nothing too insane yet but looks like folks have started to short.
MVRV Long/Short difference
BTC's MVRV Long/Short difference is seeing a similar pattern as 2019 emerge. Bottoming zone checked. MVRV L/S momentum pushing it past 0 checked.
If history is to repeat, then, we might just see a sharp spike marking a local top and a dreadful bleedout like 2019.
Granted, macro conditions today are very very different from that of 2019. It still remains to be seen how BTC is going to navigate through the chaos.
-----------------
Disclaimer: The opinions expressed in the post are for general informational purposes only and are not intended to provide specific advice or recommendations for any individual or on any specific security or investment product.
Thanks for reading!
If you enjoyed this insight please leave a like, join discussion in the comments and share it with your friends!
Never miss a post from Sanfam!
Get 'early bird' alerts for new insights from this author