BTC - What a rollercoaster ride to kickstart the week
Assets covered: Bitcoin (BTC)
Metrics used: Price, Supply on Exchanges, Weighted Sentiment (Twitter), MVRV 30D
BTC has rallied 26% since our "Will we get a relief bounce" insight to top out at the $40,000s, let's take a look at how it all played out.
The week got off to an exciting start as BTC's price went on a rollercoaster ride fuelled by speculations of Amazon accepting BTC (then denial), Tether FUD (then debunked), and rekting of leveraged traders.
Here's a timeline of events within the day
Ae mentioned in the previous insight that majority of the market was short and as it turns out, people were adding more shorts over the weekend as BTC moved up.
The timing of the Amazon rumour couldn't come at a better time as bears overextended themselves, price continued upwards and cascading liquidations pushed price even further.
The wild action eventually sent BTC towards the $40,000 region but it failed to break it and we are now resting at $37,000s.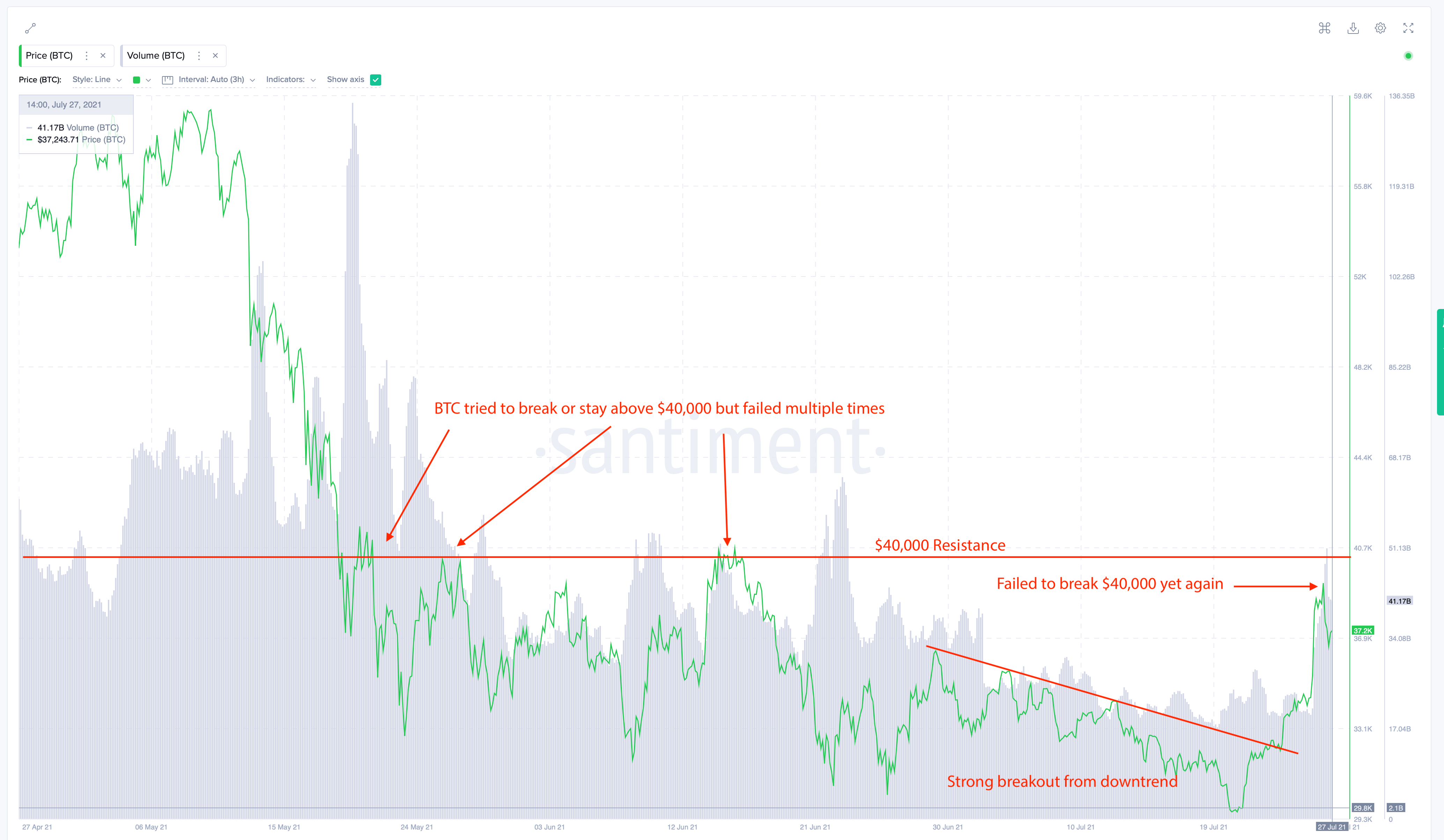 The $40,000 levels continue to remain a major resistance on a higher timeframe. As we can observe that it has tried around 4 times now and failed. That said, the more times BTC knocks on the $40k door, the probability of it breaking increases.
The recent rally has provided the much needed relief bounce and it's encouraging to see such a strong breakout from the resistance trend line. Traders are currently eyeing bounce off the $36,000 - $37,000 area for confirmation of a continuation.
BTC's Supply on Exchanges saw a nice spike as price rallied, which coincided well with where BTC topped out.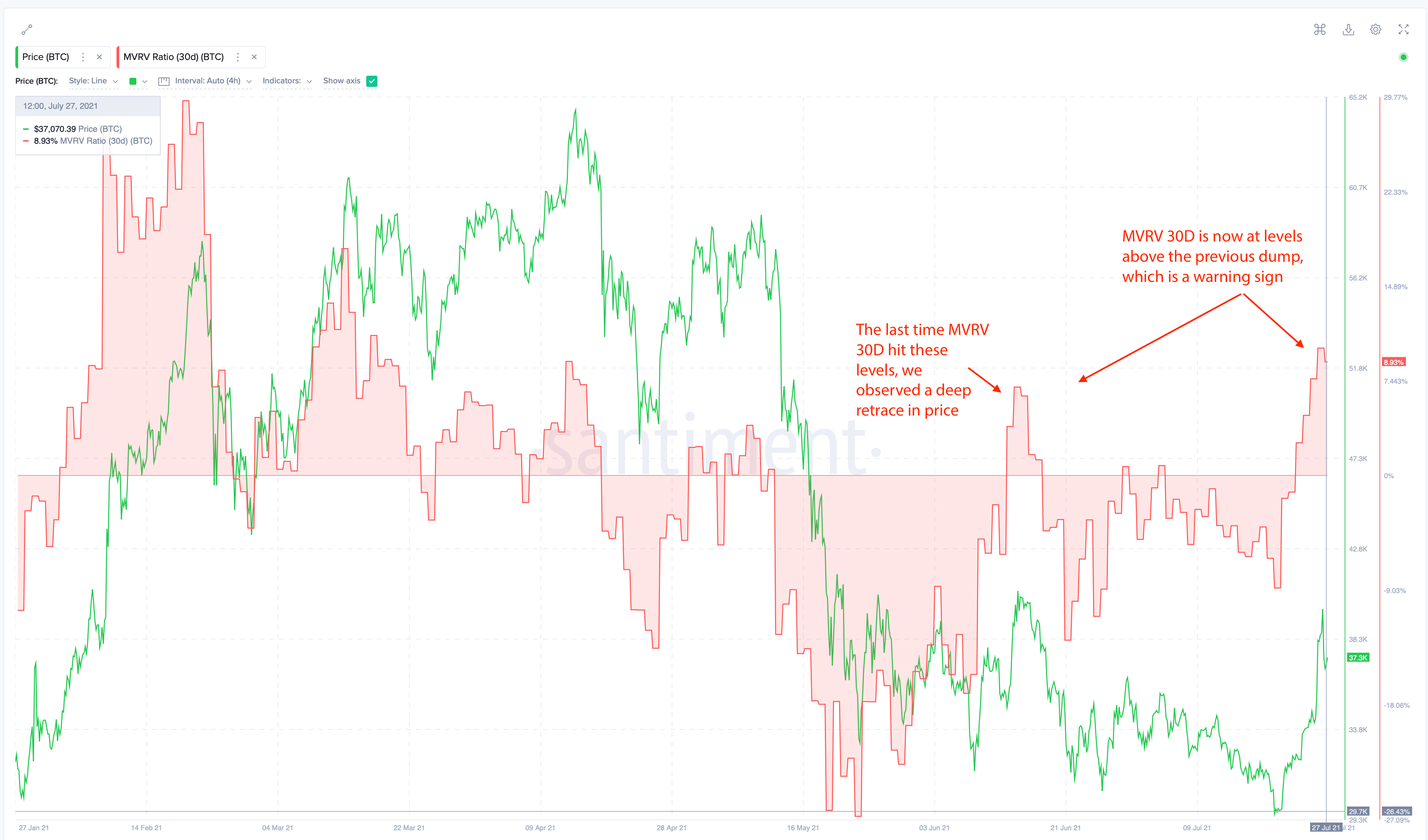 MVRV 30D, which is used to identify short-term holders' profit/loss, is flashing some warning signs as we find ourselves at a level higher than the one seen in June (where we saw a deep retrace in price).
This usually indicates that shorter-term holders are incentivised to take some profits off the table if anything spooks them.
Weighted Sentiment (Twitter) & Funding rate
Since the Amazon rumour, crypto twitter sentiment rapidly turned positive but ended up crashing to its lowest levels in 6 months once Amazon denied the rumours. Guess this must have disappointed many out there.
Could we be seeing a "there goes the only positive thing for bitcoin, it's going to die now, that was a sucker's rally!!!" scenario which would further help building a reversal as signs of disbelief sets in?
The coming days and how the crowd reacts to the price action would reveal more.
For now though, if predicted funding rate is anything to go by, we are seeing that it's neutral or negative at the moment, meaning most people are short.
Summary
So, we got our relief bounce. BTC's price action was certainly a strong one but was it enough to set a reversal?
For that, we'll need to see it paint a higher low and continuation towards breaking that $40,000 resistance. Majority are still bearish on Bitcoin it seems from Twitter Sentiment and funding rate so that helps.
However, in the short-term, onchain metrics are also showing some warning signs, so a dip wouldn't be a surprise either.
For a deeper onchain look, do check out our latest weekly pro report on BTC.
Disclaimer: The opinions expressed in the post are for general informational purposes only and are not intended to provide specific advice or recommendations for any individual or on any specific security or investment product.
Assets from this insight

Bitcoin
BTC