Are Altcoin Whales Bailing for Now?
After an incredible start to 2023, markets have flattened out a bit. Assets are more in a "hit or miss" stage at the moment, with some showing signs of corrections while others have still had a bit more pump in them to start February (like HEX, BNB, TMG, and HT).
But we are seeing some red flags in whales' behavior now. Perhaps they are just taking out some of their profits, or perhaps they're showing early signs of more extreme exits of their altcoins. January was, after all, the best performing month for crypto since October, 2021.
But every altcoin is different, of course. So we can look at a few assets that are seeing a heavy amount of very large transactions, and you can decide for yourself if this is concern enough to avoid keeping them at their allocations in your portfolio:
Loopring (LRC)
Loopring his up +113% in the past 30 days. And as of the past couple of days, the amount of transactions exceeding $100k in value have erupted on the LRC network. Interestingly, the whale transactions from yesterday occurred after the coin was showing minor signs of correcting, resulting in prices pumping up further. But the spike that happened today occurred as it appeared the asset was having trouble maintaining its steam:
Aave (AAVE)
Aave hasn't quite pumped on the level of Loopring. But seeing a price bounce of +65% over the past 30 days is still quite impressive. We have seen three similar sized whale transaction spikes over the past couple of weeks. The largest of which did signal a top. Though 106 $100k+ transactions is very high, it wasn't quite as big as the 129 on January 16th. Regardless, this does look like a caution flag:
DYDX's native token has been absolutely on a tear over the past 30 days. It is +173% after being as high as+207% at its peak since January 1st. Whale transactions have essentially grown with the asset. The coin is only a bit over 2 years old, and it has been one of the bigger beneficiaries of the FTX collapse. So this could actually be more of a sign of more whales flocking in to trade one of the coins with the most volatility in crypto right now: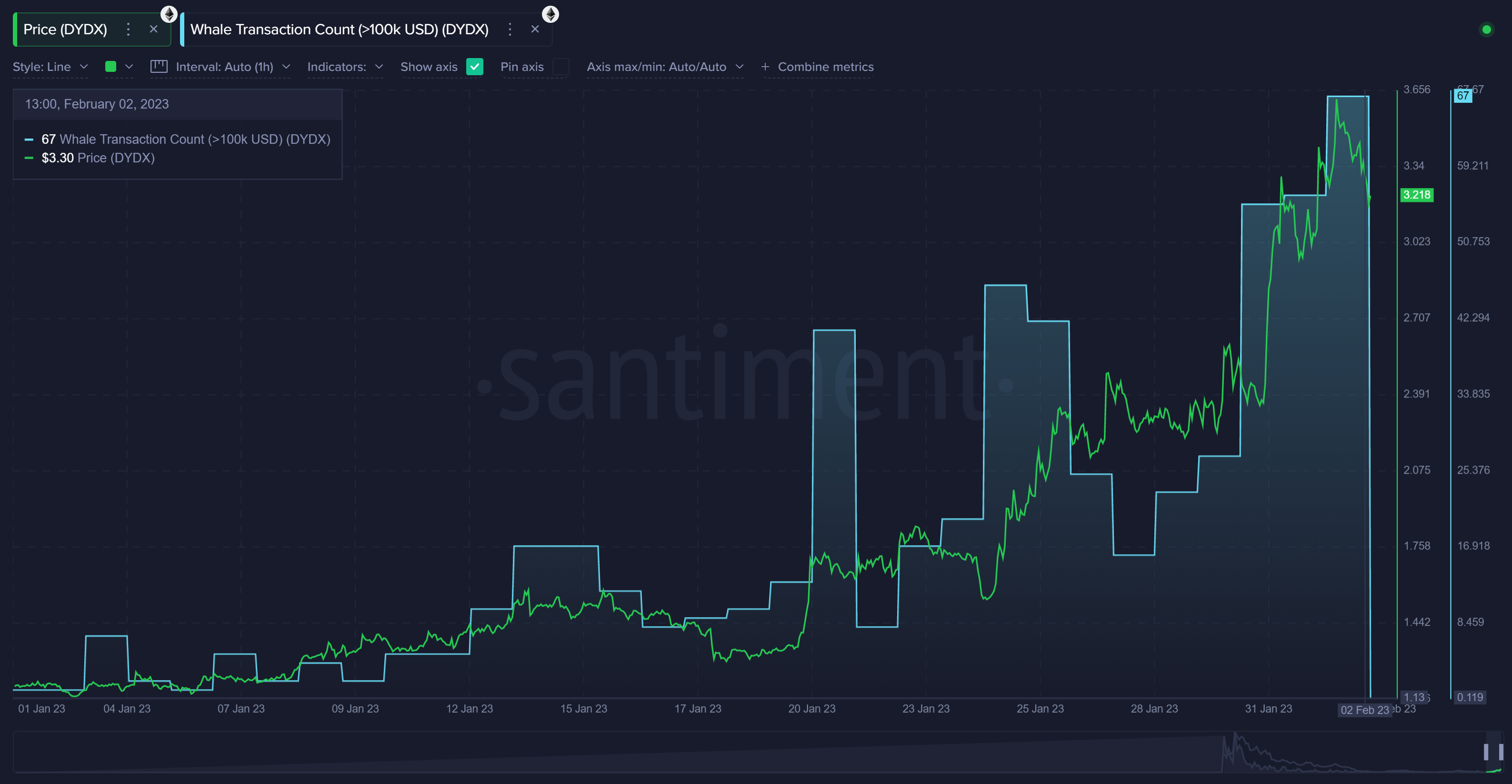 Curve's reputation has mostly recovered after its address hack from a few months ago. The spike of 128 whale transactions isn't the largest over the past month. But this spike is still worth paying attention to, considering the other four were all followed by short-term local tops:
-----
Disclaimer: The opinions expressed in the post are for general informational purposes only and are not intended to provide specific advice or recommendations for any individual or on any specific security or investment product.
Thanks for reading!
If you enjoyed this insight please leave a like, join discussion in the comments and share it with your friends!
Never miss a post from brianq!
Get 'early bird' alerts for new insights from this author