Altcoins That are Transacting at a Major Profit or Loss in May
We have documented several cases for identifying spots to take profit when altcoins are seeing severe euphoria and/or profit taking. However, the often more challenging task for traders is timing their dip buys to get in as close to price bottoms as possible.
The notion of "catching a falling knife" can be a dangerous proposition, and there have been a significant amount of altcoin prices falling off of a cliff going back to last November.
But with increasingly useful data coming out on Santiment, we can look at FUD signals from metrics like social volume. Additionally, our new metric known as The Ratio of Daily On-Chain Transaction Volume in Profit to Loss, has shown signs of being a very good indicator of capitulation to see justifiable times to add on to your crypto positions.
Below, we've listed three assets that are seeing a high ratio of profit taking transactions (indicating higher likelihoods of short-term price retracements), as well as three assets that are seeing a high ratio of transactions occurring while traders are in loss positions (indicating higher likelihoods of short-term price bounces):
Assets With High Profit Taking Ratio (Be Careful):
OKB Token ($OKB):
OKX's native token hasn't really bounced a whole lot since bottoming out two weeks ago. However, profit taking transactions were very much in full swing last week and haven't stopped yet.
With 3.3 times as many profits taken as there are losses in OKB Token's transactions, it looks like long term holders who got in early are letting go of a large amount of tokens.
Axie Infinity ($AXS):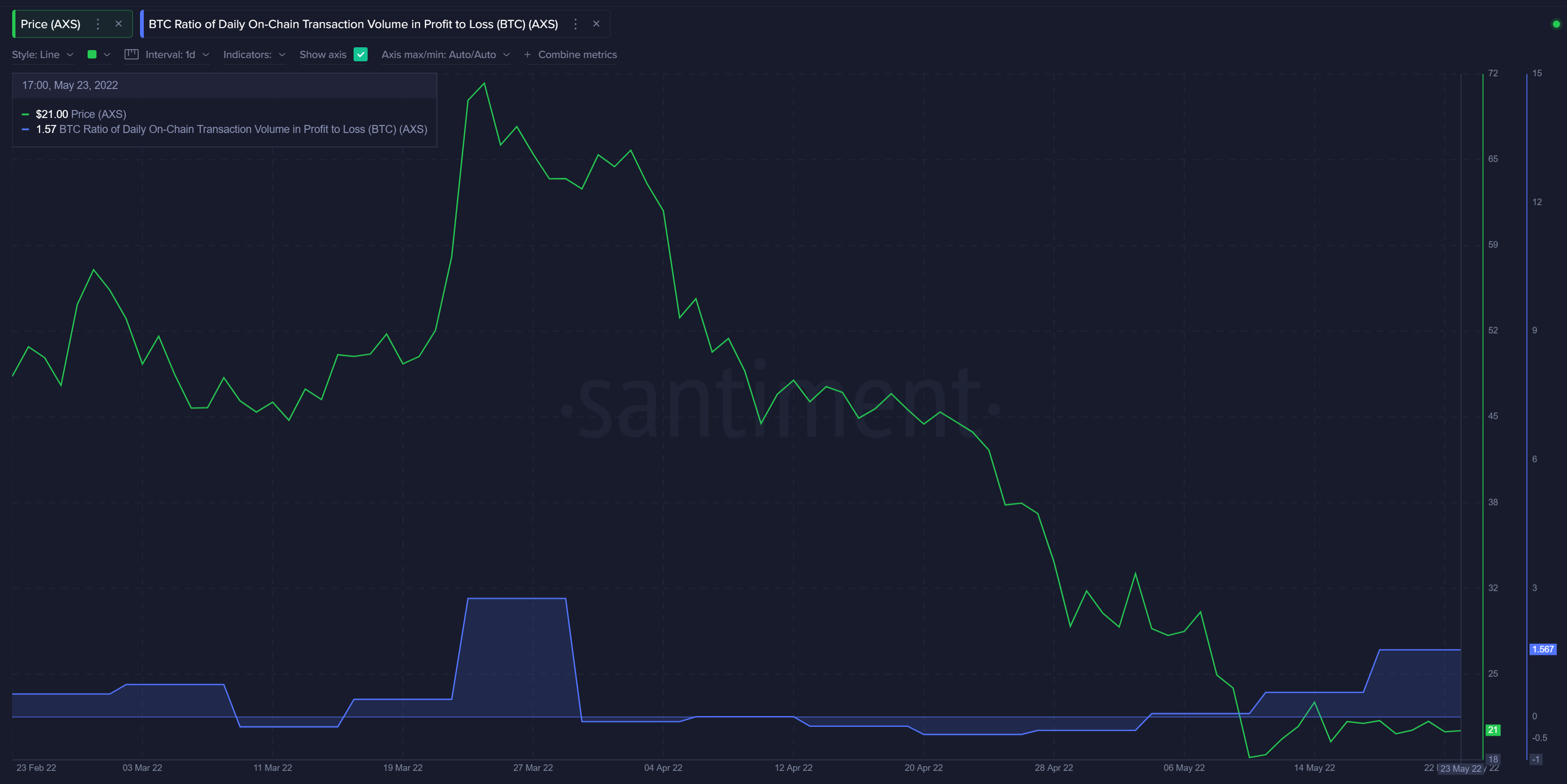 Axie Infinity is seeing about 1.6 times as many profit transactions as they see loss transactions. This is actually high in this asset's range, and something to be weary of considering their last time the ratio was this high, it signaled the beginning of a price freefall.
Chiliz ($CHZ):
Chiliz is not seeing a massive spike in transaction in profit vs. loss, but it's enough to be the highest week since late March. This asset has shown a history of seeing major corrections when this metric gets above 0.75.
Assets With High Capitulation/ Selling at Loss Ratio (Be Optimistic):

Maker ($MKR):
Maker saw a massive decoupling from the rest of the crypto markets about 10-12 days ago. And despite the coin's price dropping back below $1,300 after getting above $1,600 during its surge, there hasn't been much evidence of profit taking whatsoever. This is a good sign, and we're continuing to see most network action occurring when transactions are occurring at a lower price than the address's entry.
Serum ($SRM):
Serum's ratio in profit vs. loss is only mildly showing capitulation right now, but this is now the 5th week in a row where traders are dropping out of the asset while at a loss. This is a good sign for patient investors who can take advantage of the weak hands bailing on their negative investments.
Binance Coin ($BNB):
Binance's native token is also on its 5th straight week of transactions at a loss outweighing transactions in profit. With a rather impressive price bounce compared to other assets, it's actually quite surprising to see how little profit taking is going on. This is another case where this metric indicates there could be more room for a further rise.
-----
Disclaimer: The opinions expressed in the post are for general informational purposes only and are not intended to provide specific advice or recommendations for any individual or on any specific security or investment product.
Thanks for reading!
If you enjoyed this insight please leave a like, join discussion in the comments and share it with your friends!
Never miss a post from brianq!
Get 'early bird' alerts for new insights from this author