Altcoins - Panic on the dancefloor
Assets covered: ETH, LINK, YFI
Metrics used: Funding rate, MVRV, Exchange inflow
Summary:
Looks like altcoin holders won't be having a jolly Christmas afterall as this week's brutal meltdown (which saw -25% ) continues. May see a bounce but eventually might just bleed out before we can begin the mythical "altseason"
Let's take a quick look at how things are now.
As usual strong movements in the market are usually caused by liquidations. And in this case, there were many over-leveraged longs in the altcoin market.
To understand how alts will fare, we just need to take a look at altcoin daddy ETH, if it falters, it's more than likely that alts will be bleeding too than not.
The Bitmex funding rate for ETH tends to shed some light. A positive funding rate means longs pay shorts, and anegative funding rate means that shorts pay longs.
At the moment, we are still seeing a high positive funding rate after the dump, which historically does not bode well for the price of ETH. Just too many speculators being bullish and longing the dip.
Notice how they got rekt at the very top, just before the big dump?
Ideally, a drop in funding rate into the negative territory after a strong dip, exhausting all the bulls and attracting the late shorters, would help draw us closer to a bottom as we have seen in the past year.
Until then, we might just bleed out.
Exchange inflows
Some notable spikes in exchange inflows have been happening this week, some money were able to dump at the top and some are panicking with the price drop.
Below are a few handpicked ones: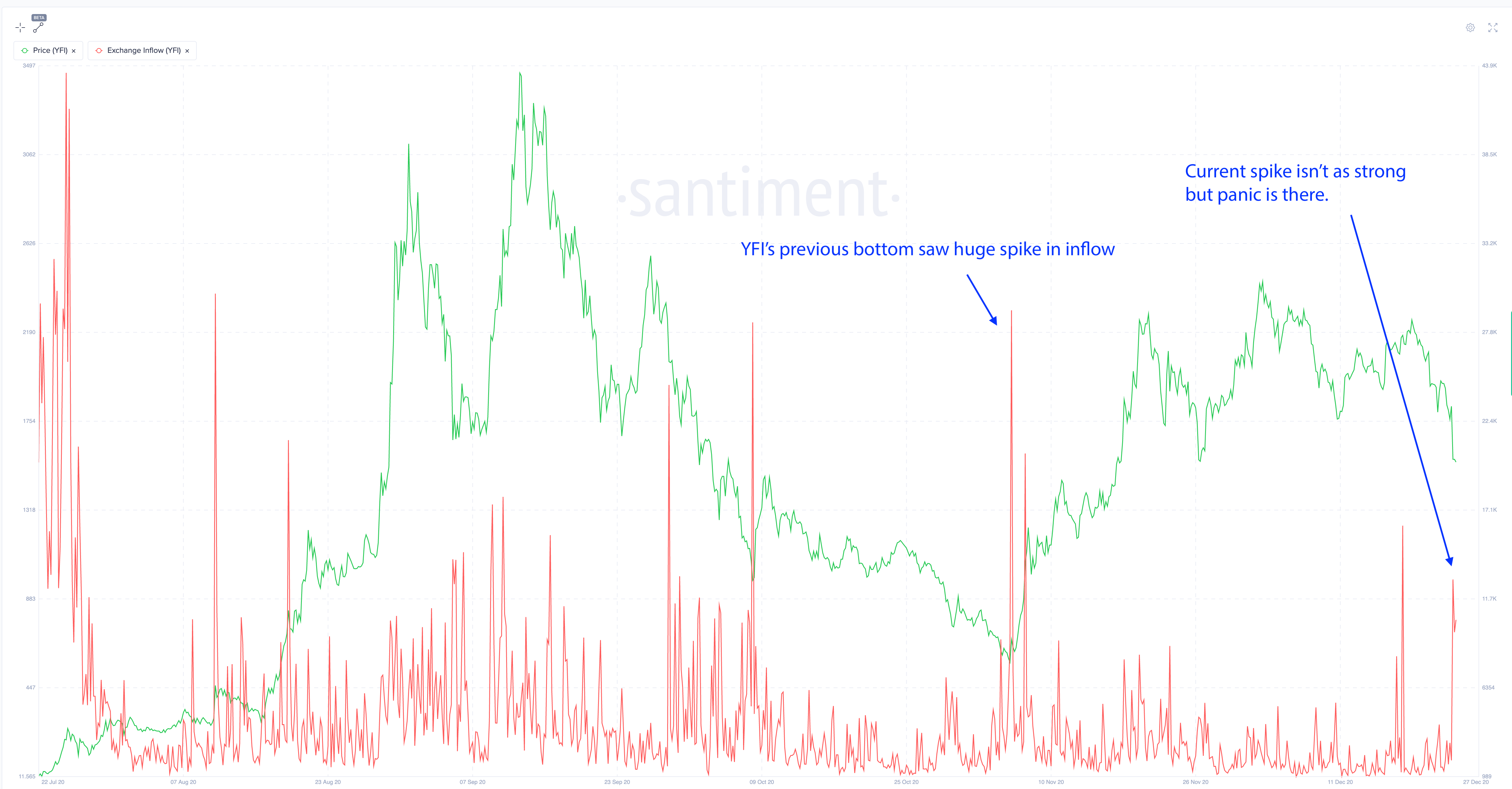 MVRV 30D
MVRV 30D is digging deep into the negative territory, with each dump inching closer to the heavily undervalued zone which historically marks a bottom.
Ideally, we want to see a days of MVRV dipping into the zone, with some strong spikes down, to ensure that all short-term holders are in deep loss for capitulation.
Below are a few examples of how MVRV 30D is looking:
Going forward
BTC remains king as usual when it comes to braving the bear slaughter. However, whenever BTC drops, we are in the phase where everyone else will too. Until this settles down, no one can really call for a altcoin season.
Panic is setting in (which is required to mark a bottom), however a bounce is likely after a deep retrace but it might just turn out to be a dead cat bounce for further bleedout to exhaust all bulls first.
Thereafter, perhaps consolidate for a period of time, where everyone forgets there's such a thing as "altseason", before beginning one.
That said, alts are getting into a really juicy zone for the picking.

Stay safe out there folks!
Disclaimer: The opinions expressed in the post are for general informational purposes only and are not intended to provide specific advice or recommendations for any individual or on any specific security or investment product.
Assets from this insight

Ethereum
ETH
yearn.finance
YFI
ChainLink
LINK