Bold Predictions, Volume X - Ethereum Finally Showing it Can Move on its Own Again
SANBASE SIGNALS
June 23, 2020
It has been a week of mildly steady recovery for Bitcoin, Ethereum, and the altcoin markets after the sharp drops on June 11th (to ~$9,300 BTC) and June 14th (to ~$8,900 BTC) shook out a small selection of weak hands. As is often the case, on sharp market-wide drops like the ones we saw two weeks ago, it often takes Bitcoin recovering back to its previous prices first before altcoins follow. We saw this on a macro scale with BTC reaching $10,000 for the first time in three months back in May, and alts began making incredible separation and decoupling attempts after this happened.
Now that we have fallen into an extended period of nearly two months of Bitcoin trading in a range between $9,000 and $10,000, there seems to be a bit of impatience and frustration among traders. We'll get into it more when we discuss market sentiment of our selection of five projects for this week's Bold Predictions down below. In the meantime, it's important to remember that most projects have still more than doubled since the Black Thursday crash in March, and we are still coming off a very volatile first five months of 2020. So a period of dormancy to allow crypto prices to catch their breath is understandable and a very common pattern after extreme volatility.
As always, we continue to offer 25% off your first month's subscription on any Santiment subscription you have your eye on! Just take 15 seconds to provide feedback for us on this poll. Then just visit the Sanbase pricing page to get started with your 25% discount now, and enter SIGNALS25 at checkout!
Any help needed on redeeming this, just email us at [email protected]. With every weekly volume we release of our Bold Predictions series, we are taking a look at the most recent three-day averages (or percent changes) for each metric we're covering. As a reminder, these signals are for intra-day traders to assess local tops and bottoms based on historically solid leading indicators. Our rating system is simplified for this week. A 0 to 10 scale, with 0 being as bearish as possible and 10 being as bullish as possible. This would mean that a 5 would be neutral and imply sideways movement estimates over the next week. Whether we call a project bullish or bearish for the next week or two, please remember that this has no relevance to what we think of the asset's long-term viability as an investment.
----------------------------------------------------------------------------------
This Week's Assets:
This Week's Metric Breakdowns:
DAA vs. Price Divergence, Token Age Consumed, Sentiment Volume Consumed
----------------------------------------------------------------------------------
Bitcoin ($BTC) - #1 Ranked Market Cap
Daily Active Addresses vs. Price Divergence
3-Day Movement: +3.4%
30-Day Movement: +9.7%
90-Day Movement: +44.4%
As we watch Bitcoin prices continue to trade within a fairly narrow range, the DAA vs. Price indicator continues to be more valuable than ever. Flat price movement like this can often be the most valuable time to peak into when Daily Active Addresses are beginning to heat up or diminish behind the curtains. As of now, they're really doing neither. According to our model, DAA is just slightly under where it is expected according to its 21-day rolling average. And when we say slightly, we mean that the divergence is practically statistically irrelevant. Currently at just -8.7% off its mean deviation, it is well under the statistical significance threshold of +/29%.
Rating: 4.5
Token Age Consumed
Token Age Consumed is a metric we haven't covered in a while in our Bold Predictions editions. As a recap, this metric measures the amount of tokens changing addresses, multiplied by the number of blocks created on the blockchain since they last moved. Spikes signal a large amount of tokens moving after being idle for an extended period of time, and they typically indicate an upcoming directional change in price. We have not seen any significant spikes on BTC's network over the past week, so this measurement can be considered dormant for now.
Rating: 5.0
Sentiment Volume Consumed
Bitcoin's sentiment has gradually fallen from a one-year high of positiveness in early May, to an overall negative perspective that has continued to move south in June. The stagnation that has began to take place over these past six weeks or so has had a lot to do with this shift in mindset, as traders tend to become complacent and unenthusiastic about an asset that traditionally has the reputation of being volatile, after enough time elapses without major movement. This negativity can generally be perceived as a good sign for bullish traders out there, and as it creeps toward a mean deviation close to -1, this is generally a tell-tale sign of a buy opportunity.
Rating: 8.0
BTC Average Rating: 5.8 (Neutral/Slightly Bullish)
----------------------------------------------------------------------------------
Ethereum ($ETH) - #2 Ranked Market Cap
Daily Active Addresses vs. Price Divergence
3-Day Movement: +6.5%
30-Day Movement: -+20.6%
90-Day Movement: +79.2%
Ethereum has more or less been in the same range as Bitcoin on the DAA vs. Price Divergence model, and no serious skews in its daily active addresses have emerged over the past month. It is encouraging that as ETH's price fell down to the $220's earlier this week, the DAA on its network did not, thus shifting from a very mild bearish divergence to a very mild bullish one.
Rating: 6.0
Token Age Consumed
ETH saw a massive token age consumed spike that ended up perfectly correlating with its top of around $251. After its inevitable drop, there was a much smaller token age consumed spike on June 10th that signified that the drop may be coming to an end. Sure enough, a few days later, it began recovering again, and we're not close to June's price to the three-month high again. If the #2 market cap token does inch close to $251 again over this next week, it will be important to watch for any token age consumed spikes again. But for now, this metric remains dormant.
Rating: 5.0
Sentiment Volume Consumed
Interestingly, Ethereum's sentiment on Twitter currently sits at a one-year high in positive regard. Well over a standard deviation of +1, this is a bit surprising considering its lack of price movement. But the positive fundamental news regarding COMP and defi as of late is a likely contributor to this optimism. Individually for ETH though, we find it a bit concerning that this sentiment is quite so high though. And we would like to see the amount of excitement cool down a bit before we could be confident there will be a serious rally in ETH/BTC price.
Rating: 2.5
ETH Average Rating: 4.5 (Neutral)
----------------------------------------------------------------------------------
Binance Coin ($BNB) - #8 Ranked Market Cap
Daily Active Addresses vs. Price Divergence
3-Day Movement: +2.5%
30-Day Movement: +2.3%
90-Day Movement: +33.5%
BNB's daily active addresses have been surging and skewing toward a serious bullish divergence for about two weeks now. This model is indicating that there may be a serious jump once markets start to roll again, with several spikes well over the +0.5 threshold over the past week. As one of the largest gainers and least impacted crashers after the end of the 2017 bull run, people may soon be reminded why Binance Coin generated so much hype two and a half years ago. The coin associated with the #1 crypto exchange in the world has some serious potential with the DAA growth it's seeing right now.
Rating: 9.0
Token Age Consumed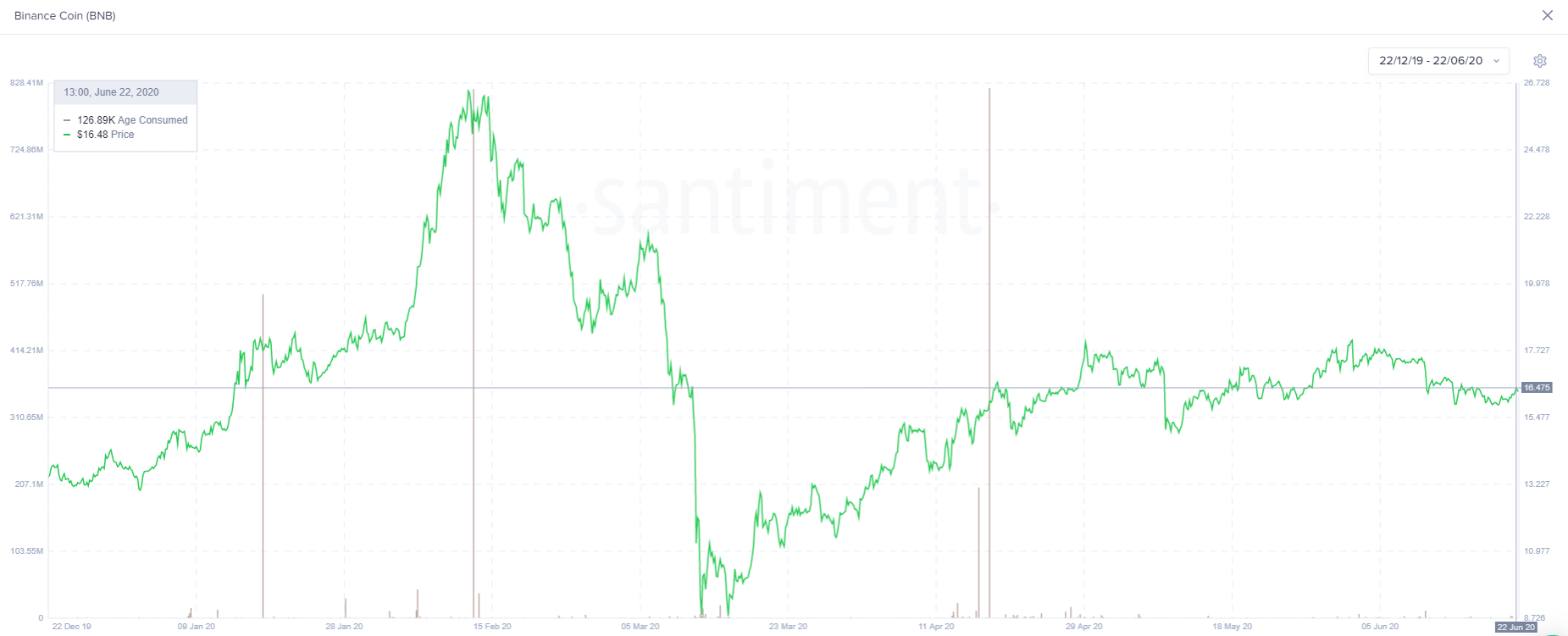 BNB's token age consumed has always been an interesting phenomenon. When its tokens are moved, they move in VERY large quantities that can often be an indicator of not just a price shift indicator for itself, but for BTC and other alt markets. The largest token age consumed spike of all time according to the top 100 projects we track, was with BNB, and it occured the day of BTC's two-year top last July (when BTC's price had just eclipsed 13k). So it goes without saying that there is a lot of importance reflected in this token age consumed for the entirety of crypto markets. For now, there has been very little significant movement to note in about 2.5 months.
Rating: 5.0
Sentiment Volume Consumed
BNB's sentiment has skewed positive again, in spite of the fact that it has been one of the less impressive altcoins since Black Thursday three months ago. We attribute this more to Binance's continued advancements and progression rather than a direct reaction to BNB's fundamental value changes itself. Although it's over +1 from its standard deviation from the mean in terms of positive sentiment, we don't put as much credence in this as we would in other projects.
Rating: 3.5
BNB Average Rating: 5.8 (Neutral/Slightly Bullish)
----------------------------------------------------------------------------------
Augur ($REP) - #44 Ranked Market Cap
Daily Active Addresses vs. Price Divergence
3-Day Movement: +1.5%
30-Day Movement: +47.6%
90-Day Movement: +93.2%
Augur's Daily Active Addresses have been making some pretty big waves after a 30-day stretch that saw its price go from over-inflated to undervalued, according to this model. Whether this has just been FOMO kicking in or something else entirely, there has been a shift over the past couple weeks that is now showing that DAA indicates room for even more price growth. This is saying a lot for a project that is already +47.6% over the past month.
Rating: 8.0
Token Age Consumed
There are some concerns with some recent token age consumed spikes for REP, which are indicating that a local top could be imminent. A series of three token age consumed spikes from June 16th and June 23rd between 53M and 76M tokens are revealing that there is some considerable movement of stagnant coins beginning to take place. Considering that this metric indicates upcoming price shifts, and prices have been surging upward, we would be surprised if REP/BTC doesn't drop a bit in the upcoming weeks.
Rating: 2.0
Sentiment Volume Consumed
As REP has continued to separate itself from BTC and even most of the altcoin pack, particularly in June, the positive sentiment has understandably jumped up higher and higher. It's now closing in on a std. deviation from mean of around +2, which is yet another indication of taking place, as over-exuberance is becoming a theme here. We would tread carefully when the consensus on this token is so one-sided.
Rating: 1.5
REP Average Rating: 4.3 (Neutral/Slightly Bearish)
----------------------------------------------------------------------------------
0x ($ZRX) - #37 Ranked Market Cap
Daily Active Addresses vs. Price Divergence
3-Day Movement: +4.3%
30-Day Movement: +19.2%
90-Day Movement: +133.1%
After a month of some serious bearish divergence for ZRX's daily active addresses, things have begun to skew bullish after a mild increase in DAA over the past couple of days. The last time ZRX suddenly had a bullish divergence was June 10th, when the price suddenly decoupled from BTC in a major way. We are again seeing this increase, and it could be a sign that we could see a repeat in history.
Rating: 7.5
Token Age Consumed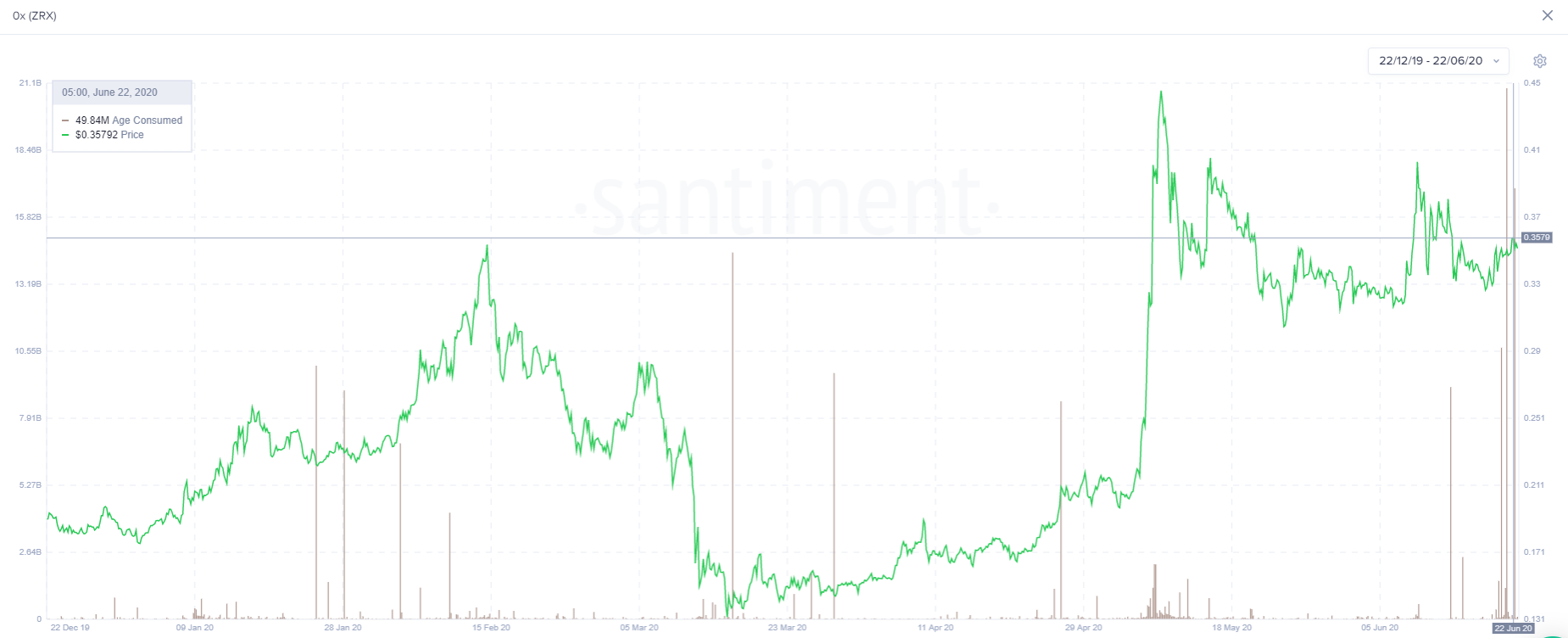 Well it looks as though ZRX's token age consumed has absolutely exploded over the previous day, as June 22nd saw an all-time high spike of 51.2B token age consumed. The only complication in how to react to this is the fact that 0x has been zigzagging all over the place over the past two months, and the direction of its price of this spike is a bit unclear. When considering other factors like DAA's increase and the slightly negative social sentiment revolving the project, we lean slightly toward the assumption that this is a foreshadow of prices moving up and not down. However, this may take a week or two to start to see the trend that is taking place. Once a clear direction begins to show, this token age consumed can be referenced as a confirmation that the direction it chooses will continue in a large manner. We're playing the odds right now by combining with other metrics indicating bullish formations, and giving it a slightly positive bump.
Rating: 6.5
Sentiment Volume Consumed
After the massive ZRX surge in May, the excitement for the 37th ranked market cap project has fallen essentially back to slightly below neutral and stayed here for about a month now. Interest for this project seemingly comes in waves, as it has notoriously had very, very large pumps followed by periods of stagnation throughout its history. This quick mood shift back to complacency could be a very mild bullish sign.
Rating: 6.0
ZRX Average Rating: 6.7 (Slightly Bullish)
----------------------------------------------------------------------------------
It's pretty obvious that both Bitcoin and Ethereum have fallen into a bit of a lull during the month of June, and with this, the rest of the altcoins (particularly defi projects) are indicating which ones have individual values without the aid of the top two market cap projects pulling them along. DAA, Token Age Consumed, and Sentiment Volume Consumed are just a small sample of the great leading indicators we have to objectively predict where markets are heading next, and it will be wise to consider trying a month of PRO status on Santiment to be among the first to find when projects have an upcoming price spike around the corner due to underlying on-chain and social fundamental factors that present themselves in the models discussed in this latest volume of Bold Predictions. Thanks for reading!
Get 25% off of Sanbase Pro and enter code SIGNALS25 at checkout to get access to all of the signals and templates dicussed in these emails!
Thanks for reading!
If you enjoyed this insight please leave a like, join discussion in the comments and share it with your friends!
Never miss a post from brianq!
Get 'early bird' alerts for new insights from this author