Feb 18
What's the Deal With Ballooning Bancor?

18-02-21, 20:41
Bancor has been flying up the altcoin ranks, with a +49% return the past 24 hours, and +98% the past week. Here are are some metrics that led to BNT being able to peak at $6.17 today:
Whale Address Numbers Rising
The amount of addresses with at least 100,000 BNT tokens was sitting at 61. It's climbed to 87 now, and was already scaling up prior to the price boom.
Dormant BNT Tokens Moving
Dormant tokens have been moving away from long-sitting addresses aggressively for 3 months. This dip in the average time dollars have been invested is a fantastic foreshadower for price rises.
Exchange Supply Dropping
Bancor supply began rapidly moving off of exchanges in mid-November (25% then, 15% now), and the inverse price correlation has been apparent.
Address Activity & Volume Exploding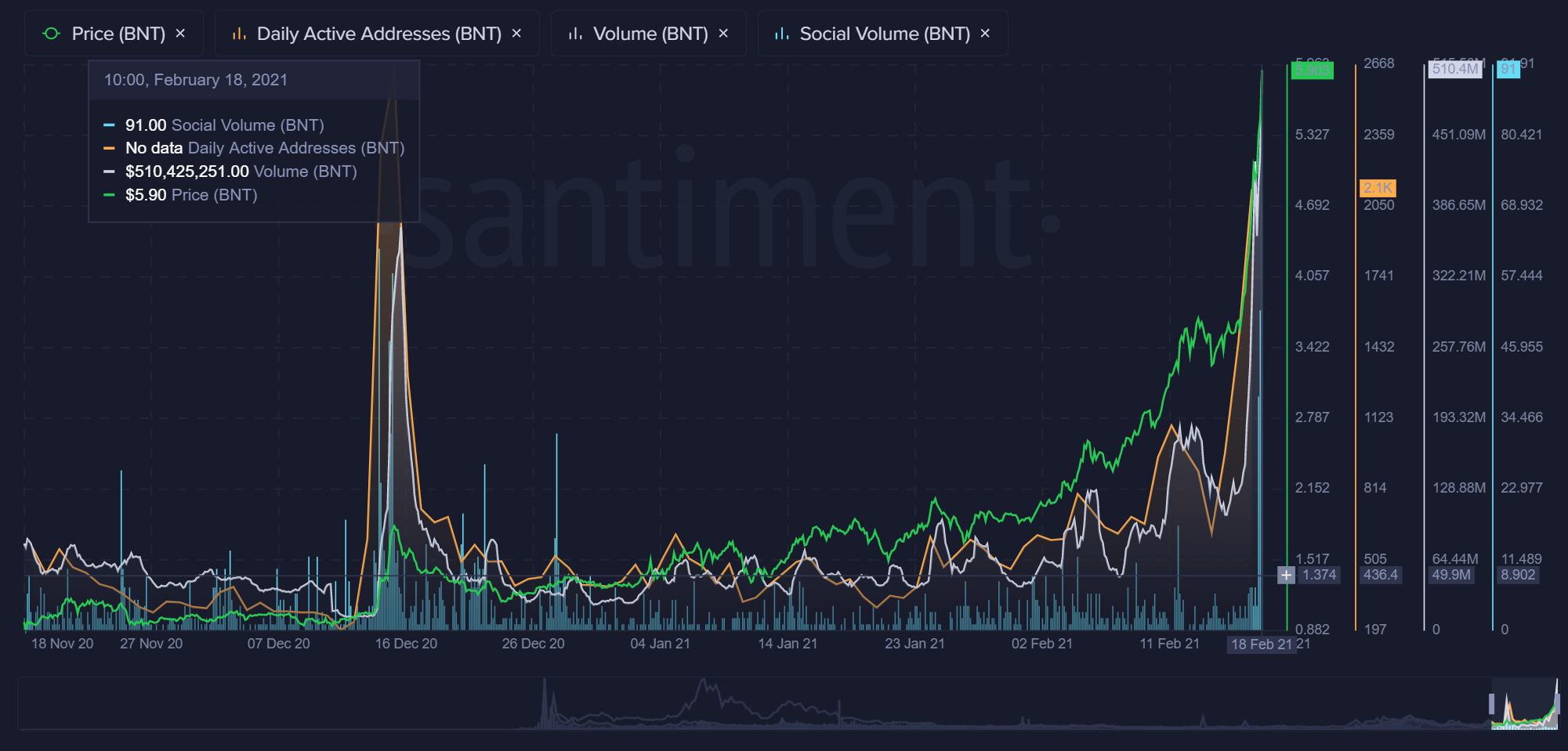 Active addresses, volume, and social volume have all skyrocketed. Just note that when this last happened in mid-December, a price correction subsequently took place.
Dec 16
Nov 17
DEX Liquidity battle

17-11-20, 15:44
The total value of assets locked in Uniswap has plummeted by 38% in 24 hours amid the conclusion of its UNI liquidity rewards program on November 17th.
Meanwhile, "vampire" clone SushiSwap has doubled its TVL and is aggressively pursuing additional liquidity. Details.
And the same time Bancor is making a move announcing proposal for BNT liquidity mining.
This is what you see on top, Total Value Lock jumps for all three tokens:
Prices of UNI, SUSHI and BNT sharing an uptrend:
Social volumes are increasing only for SUSHI:
Onchain activity measured in Daily Active Addresses and Network Growth increased for all three tokens last days:
And Realized Network Profit/Loss showing painful losses all the way for UNI, SUSHI and BNT. Last string of pain - Bancor on November 15th:
All the above metrics are available for PRO members on a single chart layout.
Be sure to switch 'shared axis' on and off to compare absolute values.