ZRX - Time to chill before the next one sir?
Price action
The ZRX/BTC pair finally broke out of the major resistance that have been holding it back for the past few months. Going on a tear straight towards the next major resistance target of 8200 sats.
It currently topped out at 8000 sats or so and is hovering at 7186 sats.
Supply on exchanges & Supply lock
ZRX total supply on exchanges have fallen from 544.18M to 448.69M (-9.55%) over the past 6 months.
A good amount of ZRX was moved out of the exchanges thanks to Compound's liquidity mining initiatives that support ZRX as a collateral. Currently, Compound is still holding 84M ZRX (8.42% of total supply).
Given the lucrative farming activities going on at the moment, ZRX holders are actually incentivized to use ZRX as a collateral to borrow USDC/DAI to participate in yield farming on other protocols as doing so will also allow them to farm COMP (Compound's token).
Until things change, ZRX should continue to be "locked up" in Compound and alleviate any sell pressure on the exchanges.
Social volume & Santrends
We are also observing the biggest spike in Social volume since the last time ZRX's price went parabolic. During then, the crowd was excited and everyone's just shilling ZRX as it was Teeka's pick but things eventually fizzled out as we saw the topped out and slowly decline. Folks chasing the pump certainly didn't end up well.
Now that we are seeing a similar parabolic price rise and strong crowd excitement, will we see the same pattern repeat? I think so.
Generally, it's never a good idea to chase pumps and eventually ZRX will run out of buyers, cools down and find a support to continue its trend and given the general market conditions, we are still in a bull trend.
Also another sign to look out for whether something is about to top out is when a coin appears on our Santrends. Usually when a coin appears here, we soon see a retracement of 10%-20%.
Daily Active Addresses (DAA)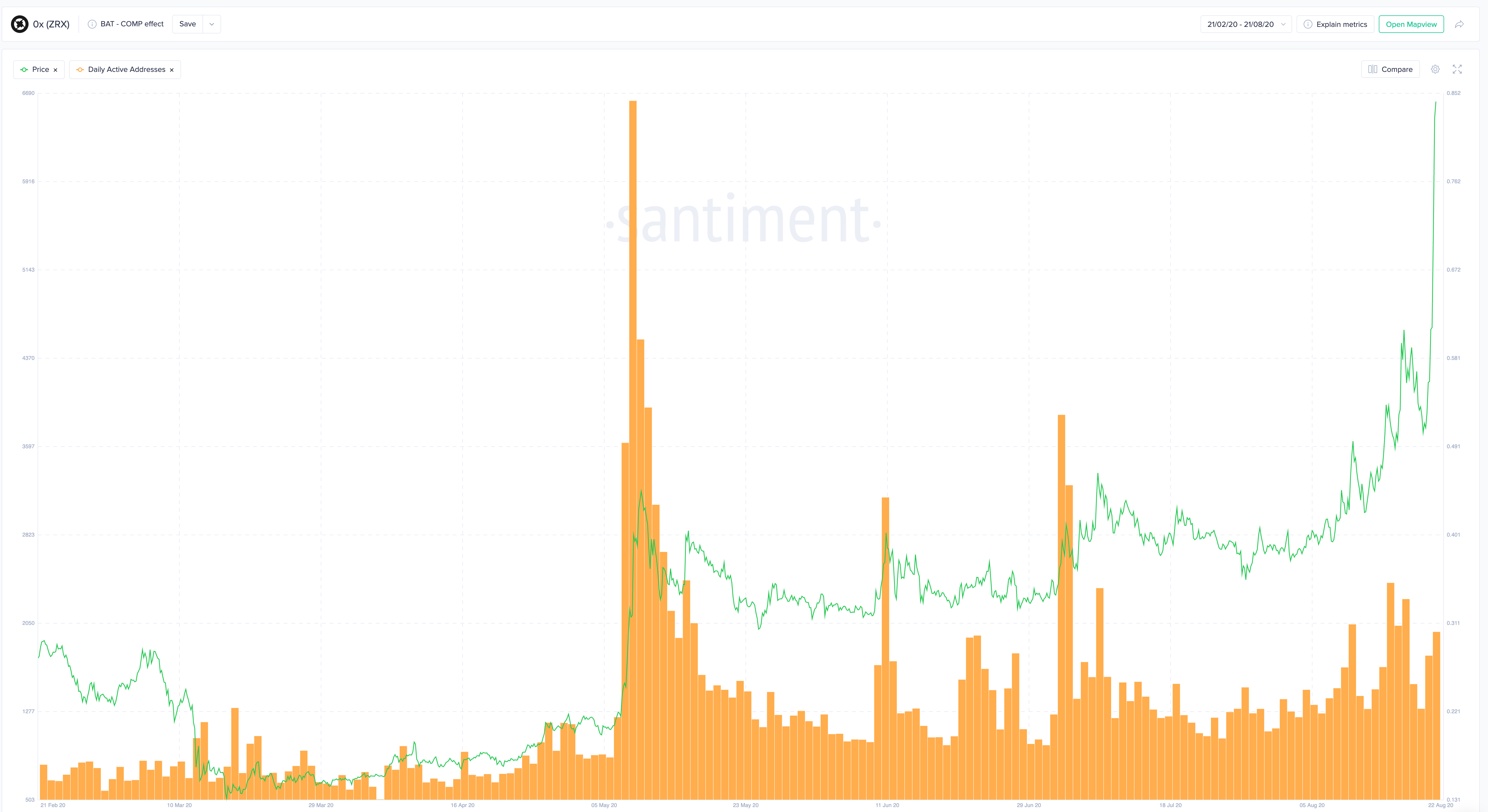 DAA looks suspiciously low as compared to the previous huge spike in price. Suggests that we are seeing way less actual market participants than before, almost reeks of an exit pump. It's very unusual to see High price spike and low DAA at this stage of the parabolic rise. Will have to observe what happens the next day.
Going forward
The parabolic price rise will eventually top out as the crowd settles down. People that bought at the top will likely panic dump as they realize they are the last ones, this then sends it on a temp correction before we find a support.
Market structure continues to be bullish and may provide one more leg up eventually before another major correction.
Assets from this insight
0x
ZRX