UNFI - A case of exit liquidity?
Assets covered: UNFI
Metrics used: Price, Volume, Age Consumed, Network Growth, Active Deposits
Charts: https://app.santiment.net/s/_w9caktY

Price
In the midst of a bear market, in comes a UNFI with a 10x rally (going from $3.60s to $36.99) in just under 24hrs, recovering whatever bear price action of the past year and almost went to make a new ATH.
Pretty crazy trading volume too, at 1.65bn. Traders desperate for some decent price action just piled into it.
The trading volume surpassed major coins like sol, xrp, trx, Avax, link. Where the action is, there, you'll the traders. Whether you are looking to long (fomo anyone?) or short (a pump like this opens up great opportunities for shooters), UNFI is where it's at.

UNFI eventually topped out and dropped as quickly as it rose In a classic pump and dump behaviour.

Social volume and social dominance
No surprises here. UNFI's social volume and social dominance saw huge spikea as the rally caught the attention of pretty much everyone (Hard to go 10x without anyone noticing).


Age Consumed
UNFI's Age consumed (large amount of dormant coins) saw huge spikes as well. Indicating that long term large holders were on the move during the rally. From the looks of things, it's likely to take advantage of the pump to exit.
Active Deposits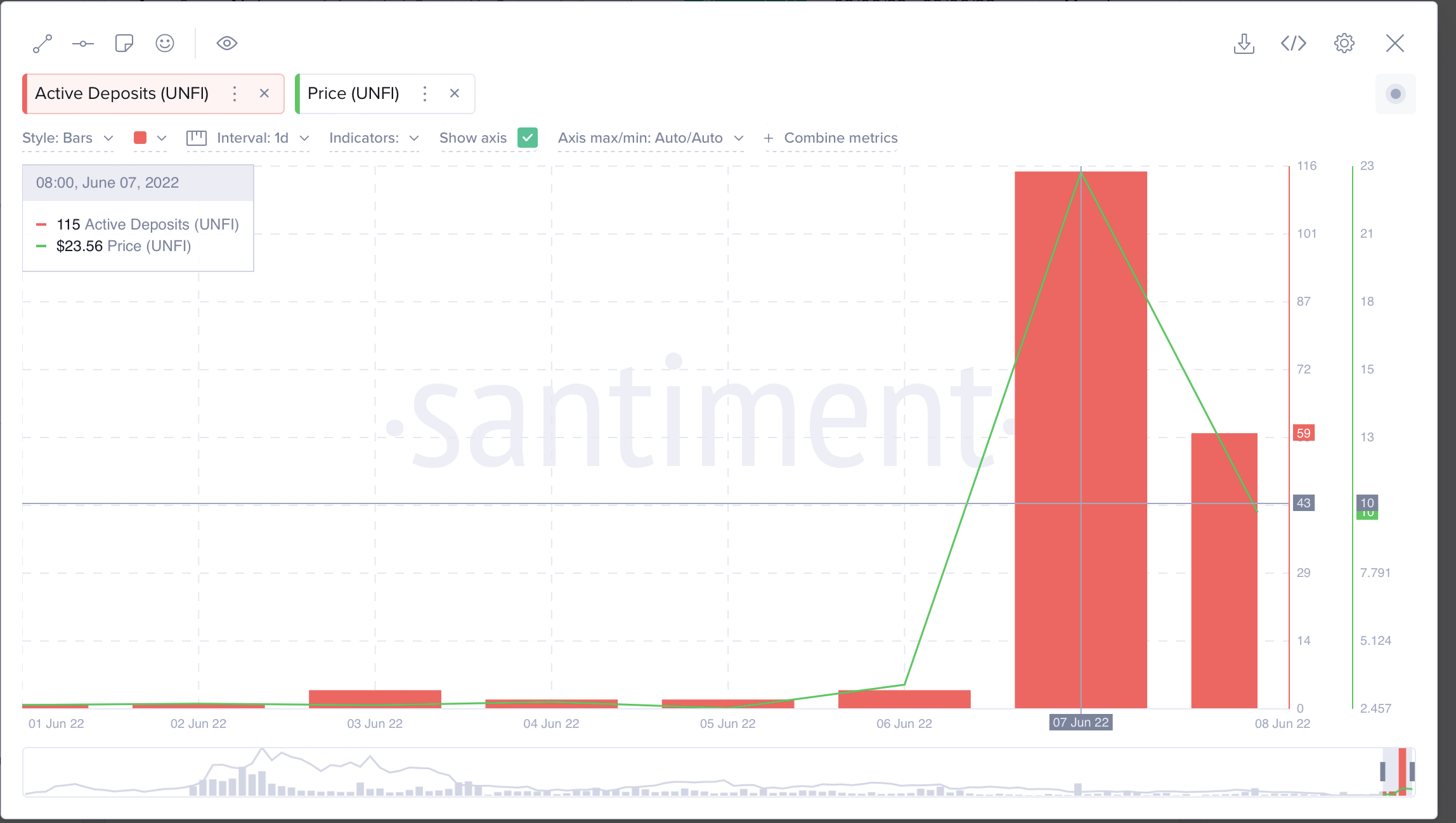 UNFI's Active deposits, which shows the number of unique addresses making deposits to exchanges, saw a spike during the rally. Again, it's likely from long term holders looking to exit.
Network Growth
UNFI's network growth, which shows the number of new unique addresses interacting with UNFI, saw huge spikes as well during the rally and when it fell.
In the previous metrics, we observed long term holders using this chance as exit liquidity. Now, we are seeing the birth of new community members, as UNFI changes hand.


Thanks for reading!
If you enjoyed this insight please leave a like, join discussion in the comments and share it with your friends!
Never miss a post from Sanfam!
Get 'early bird' alerts for new insights from this author