Top Social Gainers for Wednesday, March 6th, 2019
Here are today's biggest developing stories in crypto based on Santiment's data:
bnb/launchpad (+318 mentions in last 24hrs)
It seems that the price rise of BNB is not slowing down, making around +25% gain since 4th March to reach a recent high of $13.83 on 5th March. Looks like the Binance live AMA went pretty well, combine that with a string of announcements and increased investor confidence, it's hard not to see a price rise.
Speculators had a few things to work with:
New token sale for Celer just announced on Binance's Launchpad. With previous token sales having an ROI of at least 3x and a high chance of a Binance listing , it's the new ICO machine. And everyone wants a piece of the action.
CZ confirmed in the latest AMA that 8 ERC20 projects will migrate to the Binance chain once mainnet launches and that more projects are interested as well. Catch the full stream here.
Celer/celr (+40 mentions in last 24hrs)Binance announced on 5th March that Celer Network will be having a token sale on 19th March via their launchpad with a public hardcap of $4M USD. Speculators are betting on a easy 3x returns given previous launchpad token sales history.
blockfi (+12 mentions in last 24hrs)
Crypto lending platform BlockFi's Interest Account is now live, offering a 6.2% compound interest for both BTC and ETH. Gemini (Winklevoss brothers) will provide custody for these accounts.
Kroger (+2 mentions in last 24hrs)
U.S grocery chain Kroger recently stopped accepting Visa in their Smith's Food & Drug (250 stores) due to high network fees. They are now considering using the Lightning Network instead thanks to Anthony Pompliano.
Soon enough, the crypto community reached out and... Kroger responded as well.
grs (+18 mentions in last 24hrs)
Today, we have yet another coin skyrocketing with seemingly no reason whatsoever. If you have observing, you'll notice that a few coins have behaving the same lately. Looks like someone/group might making their rounds.
And the crowd is buying it, just look at the conversations around it.
So why GRS? Why indeed.
Digging deeper, we found that it was the selected coin by a pump group.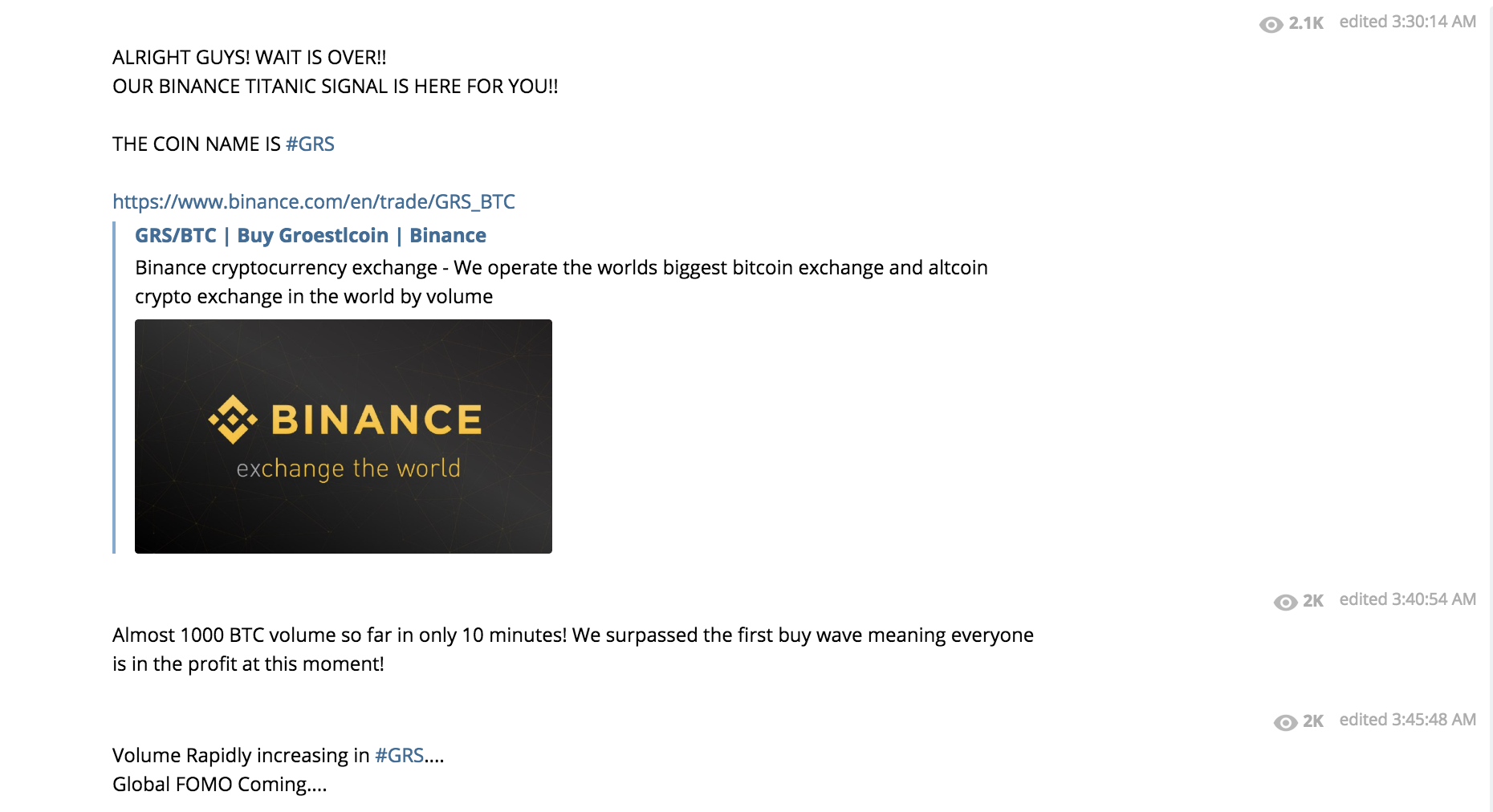 Within 30 minutes of their announcement, GRS went up by 35% before the crowd realized that this game of hot potato wasn't going to last.
Stay safe out there folks, never a good idea to chase pumps. But if you really insist, just be sure not to be the last one left hodling!
symbol (+39 mentions in last 24hrs)

If Bitcoin has ฿ , isn't it about time that the Satoshi (Sat) had its own? Well, the r/Bitcoin community members just tasked themselves to propose one!
Below are some of the submissions:
As always, visit SANbase to explore these and other trends in more detail!
Assets from this insight