Top Social Gainers for Tuesday, May 28rd, 2019
Here are Tuesday's biggest developing stories in crypto based on Santiment's data:
1. XRP / Golden cross (2810+ mentions)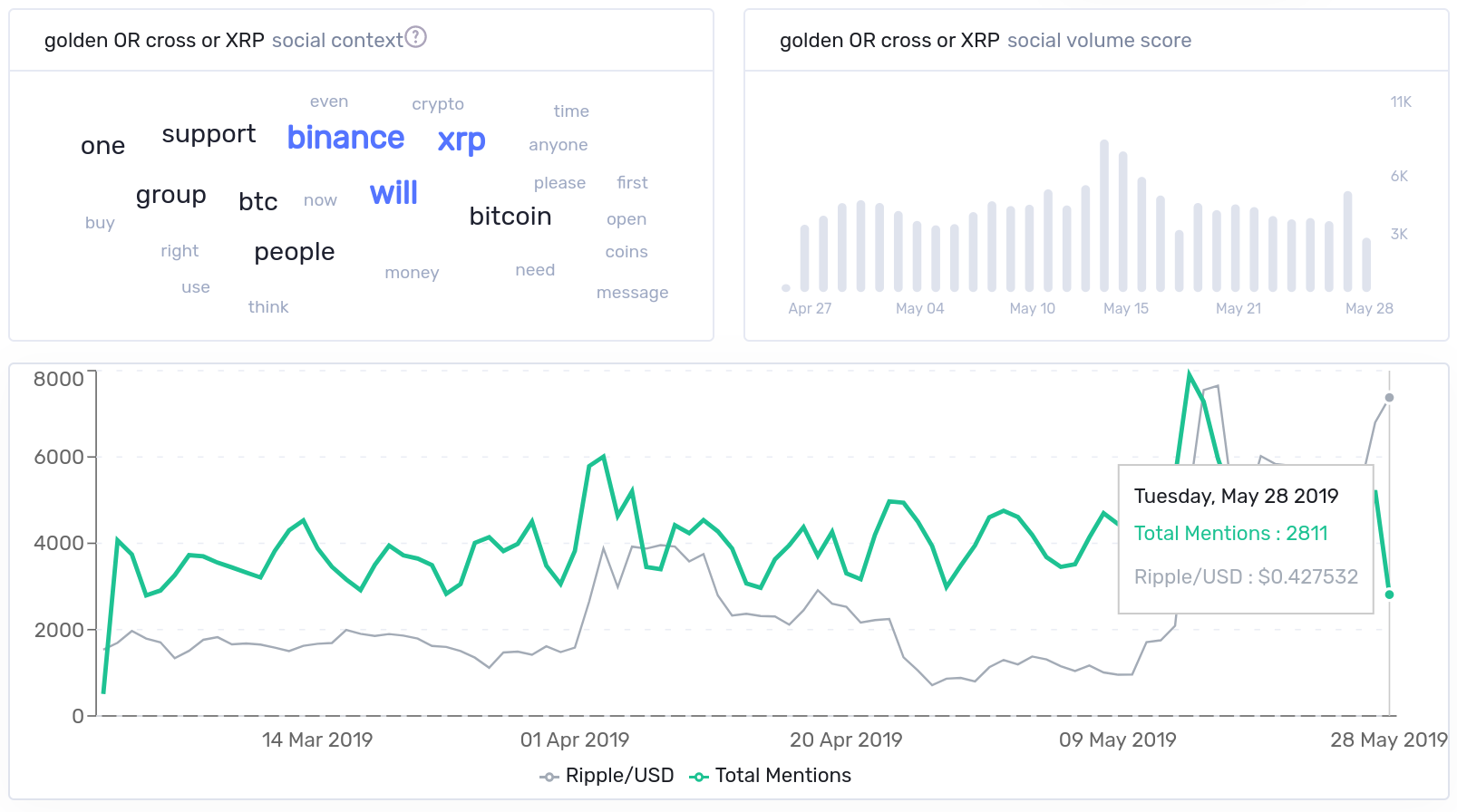 "XRP Army" is huge.
On Tuesday their chatter was very positive, expecting huge pump due to the "Golden Cross" on charts.
(A bit more about Golden cross itself and it's application to BTC - https://app.santiment.net/insights/read/golden-cross.-what-does-it-mean%3F-309)
Moods during the day:

- Omg 😮 xrp golden cross
- Why no effect of xrp golden cross
- Lol there is no pump on xrp a golden cross require numerous other technical indicators to complete and it can be false aswell
News articles titles:

- XRP's bullish swing buoys cryptocurrency into Golden Cross; a sign of massive bullish movement?
- Ripple Price Moving Towards Confirmed Trend Reversal with Golden Cross Event
- Golden Crossover: XRP Heads for Bullish Chart Pattern as Price Climbs 27%
And at the moment of writing this insight price responded quite intensively:
2.
EOS / RAM
(520+ mentions)
It's been a while since Dan first posted "B1 is coming in June", "June will impact EOS".
The closer June the more momentum gains EOS.
News that the company has bought up 3.3 million tokens worth of RAM could also be driving momentum.
Traders express concerns:
- EOS too bullish now
- I don't expect EOS to moon and stay there, especially without bitcoin
Is the current trend a buy the rumour/sell the news scenario? The price compared to the btc price went crazy. I would like to accumulate more Eos. I cant imagine the June news to be that big. Sell now buy back on the 3rd?
Nothing to add.
3.
TRX
(290+ mentions)
Tron had a nice ride since Sunday, almost +30%.
More background on it covered yesterday - https://app.santiment.net/insights/read/top-social-gainers-for-monday%2C-may-28th%2C-2019-453
One of the reasons it's still upfront - TRX passed ADA and jumped back to top-10 assets.
Cant believe that shitcoin trx has passed ada....hopefully not for long.
Yeah, it didn't last long.
Sentiment-wize traders are very excited: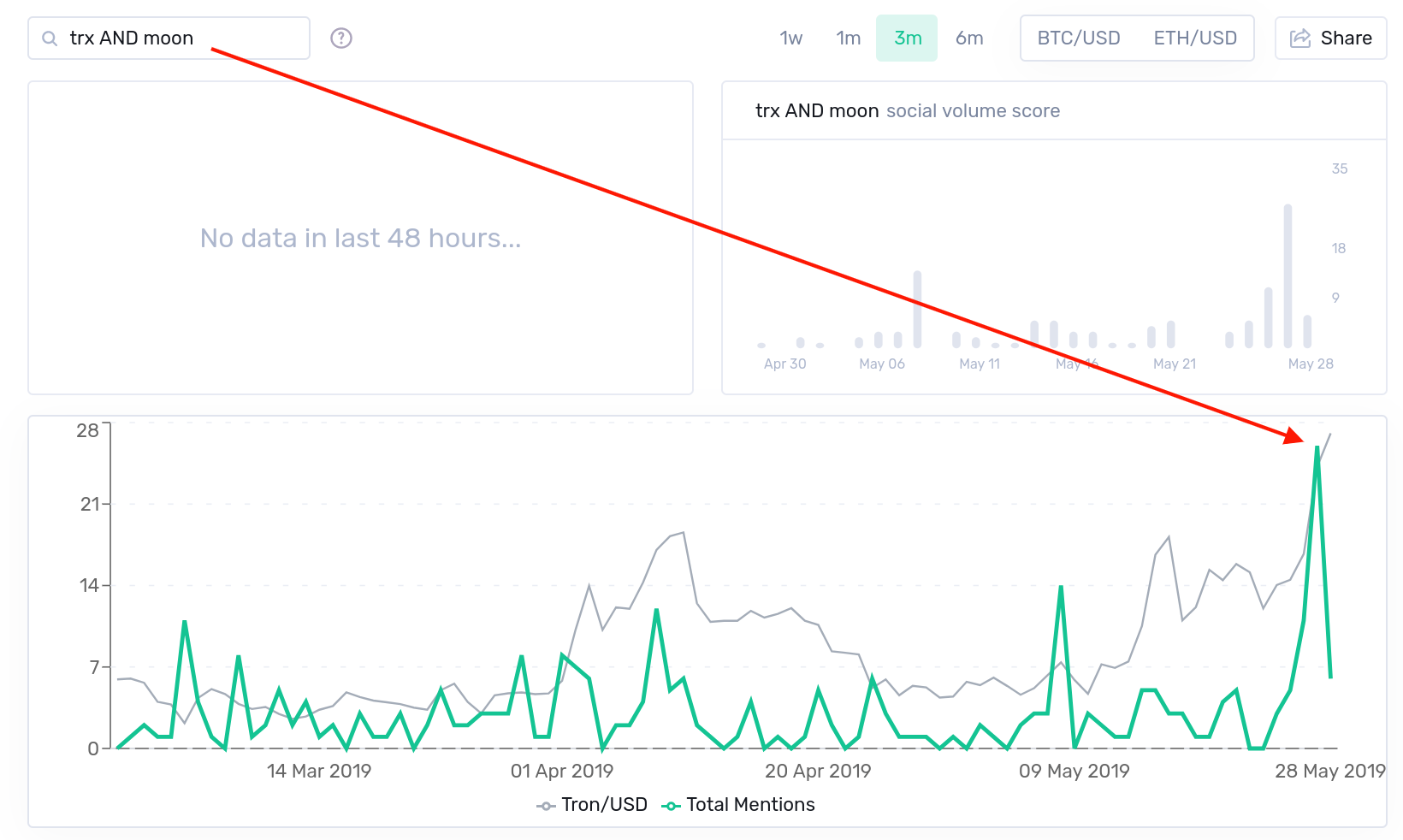 And it's the highest excitement since July 2018.
4.
LTC
(240+ mentions)
Today Litecoin paused it's uptrend and people are talking about upcoming LTC halvening.
The countdown timer slipped from 70 days left to 69.
Do You guys think that the upcoming halving will have a significant impact on ltc? I have the feeling right now that most of the people are only paying attention to bitcoin.
I think LTC is prime for more gains The halving is coming up in 2 months so I expect the price to even double from where it is now in the next 70 days or so. when you see LTC take a big dip load up on it on low leverage. You are almost guaranteed some profits
People are often mentioning BTC in context of LTC halvening.
Let's check the charts?
Halvening LTC:
And halvening BTC:
Can't see anything specific here.
Ok, are there interesting patterns on BTC social volume vs LTC social volume at the same timeframe?
One interesting spike can be observed.
On February 8-9 LTC social volume overtook BTC significantly.
And it's not related to halvening, simply first strong LTC pump in 2018 took place around these dates.
Good'al BTC fork is still close to his elder brother in many senses.
As always, head over to our Social Trends page for the latest updates.
EOS
XRP
TRX
LTC
Thanks for reading!
If you enjoyed this insight please leave a like, join discussion in the comments and share it with your friends!
Assets from this insight