Top Social Gainers for February 12th, 2019
Here are today's biggest emerging stories in crypto, based on Santiment's data:
BTT/TRX/Airdrop/Snapshot/Sats
#1, #2, #4, #6 and #9 on our list, respectively.
4800+ combined new mentions in the last 24 hours
Justin Sun is not letting BTT cool down. After a massively successful token sale that took place on January 28th ($7.1M raised in 15 minutes), today marked the first of what is supposed to be a 6-year-long series of BTT airdrops to TRX token holders.
Today, almost $11M BTT were airdropped, corresponding to 1.1% of the total supply. TRX balances under 100 TRX were not be eligible for the drop.
Airdrops are typically a one-time event, but BTT airdrops are planned to take place each month, to incentivize HODLing TRX and promulgating the BitTorrent coin. A grand total of 97 Billion BTT are to be airdropped by February 11th, 2025, which is about $100M at current prices.
Apparently, at midnight on the 11th of each month, the Tron team will make a snapshot of the current TRX balances, and distribute that month's BTT airdrop proportionally. Today's airdrop was based on a snapshot of TRX balances at a block height of 6,600,000 at 15:59:15 AM (UTC).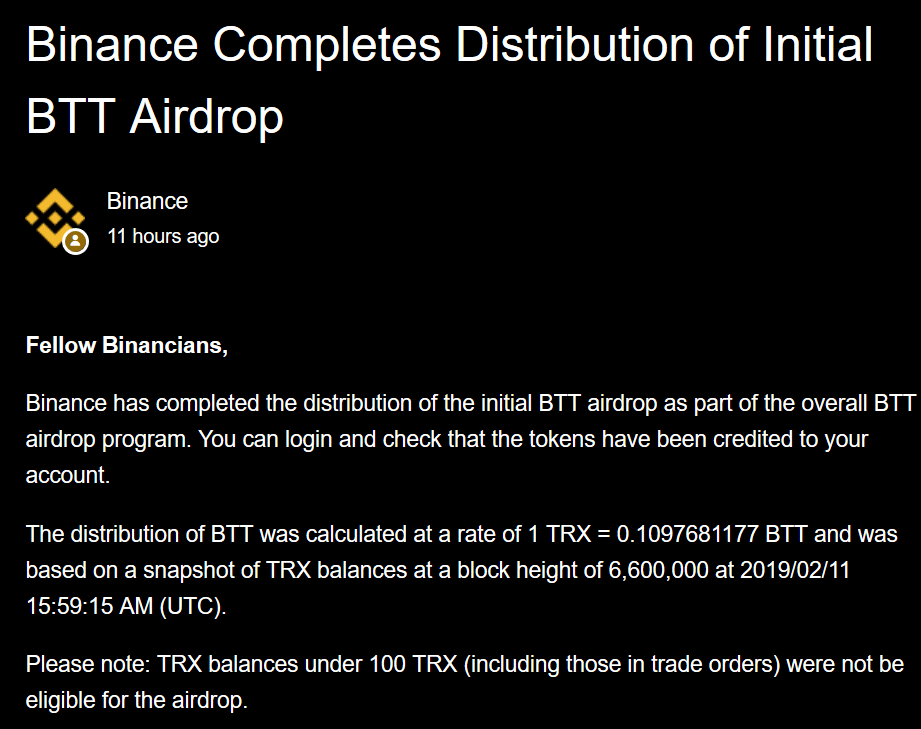 In light of the drop, BTT skyrocketed to a week-high 31 Satoshi, and is currently up 22% for the day. TRX, however, has taken the opposite route, as it continued its 3-day slump. It's currently down 1.87% for the day and 9.7% for the week.
#3 on today's list
1150+ new mentions in the last 24 hours
Binance Chain testnet got a release date; BNB plateaus in the past 24hrs
Justin Sun and Changpeng Zhao are the busiest thumbs in crypto.
CZ, full-time Binance CEO and part-time Twitter celeb, tweeted out a release date for Binance Chain testnet, the company's own blockchain platform which will be used to power the Binance DEX:
In his recent AMA on Twitter, CZ answered various questions about the upcoming decentralized exchange. Among other things, he revealed that a total of 11 test nodes are planned to be used on the network, and that the listing fee will be "probably close to $100K US".
While some may have expected another huge rally for BNB after the announcement, the coin has mostly threaded water for the past 24 hours. It's currently down 2.34% for the past 24 hours, tho still up 32% for the week.
#8 on today's list
400+ new mentions in the last 24 hours
Dash joins the list of breakout coins, up 23.8% for the week
One of the biggest privacy coins has had itself a rally, breaking above $80 for a first time in more than a month yesterday.
Dash's recent price action has been attributed in part to a recent release of Dash Core v0.13.1, which is meant to accelerate adoption of the Dash Core v0.13 software by "improving the process by which DIP3 (Deterministic Masternode Lists) gets activated."
In other Dash-related news, Crypto Emporium (Crypto-only retailer) has announced yesterday that it has added the coin to its platform:
DASH is currently up 23.8% for the week, and 2.31% for the day.
#10 on today's list
40+ mentions in the last 24 hours
Cory Johnson is Out As Ripple's Chief Market Strategist
After joining Ripple in early 2018 following about 8 years at Bloomberg TV, Cory's time with the project has come to an end.
Johnson was one of XRP's key spokespeople, and was tasked with aligning Ripple more closely with the financial world in general and Wall Street in particular.
It's not that he just got fired though - his company role has been scrapped entirely:
"Due to changes in market conditions, we've chosen to eliminate the role of Chief Market Strategist", said a(nother) Ripple spokesperson.
Some also believed that Cory was the infamous bearableguy123, an anonymous community member that made a variety of XRP-related predictions over the past year. Although his predictions were fairly cryptic, there are those thought he was an XRP insider giving vague clues about the project's future.
He also said XRP would go to $589 before the end of the year tho, sooo...yeah.
XRP has broken even for the past 24 hours, tho it dropped to the number #3 spot (behind Ethereum) for the moment. The two are pretty much neck and neck at this point.
As always, visit SANbase to explore these and other trends in more detail!
Assets from this insight