Institutional money knocking at BTC's door? Fidelity teases BTC trading service
According to recent reports, Fidelity, one of the world's largest investment firms, is expected to launch a cryptocurrency trading platform "within weeks." The upcoming BTC trading service will be aimed at institutional investors, and will arrive complete with high-grade custody service.
The news helped propel Bitcoin to a 2019-high $6326, although it has slightly consolidated since.
With almost $7 billion in customer assets and about 24 million users, Fidelity's interest in crypto is understandably making waves in the community.
The investment firm is a trusted and well-established presence on Wall Street, so some hope its involvement in crypto will serve as a proof of concept for other high-end players to enter the market.
Moreover, BTC trading is still dominated by retail investors, and it's no secret that many crypto enthusiasts believe that the influx of institutional money will be what sparks the next bull run.
As you might expect, the reaction to the announcement was overwhelmingly bullish, with some even taking it as an 'all-in' signal:
And while most of the sentiment was decidedly positive, there were some that second-guessed if the Fidelity news is in fact 'good for bitcoin':
Some skepticism was also expressed about the reliability of the announcement, given historical precedent with Bakkt: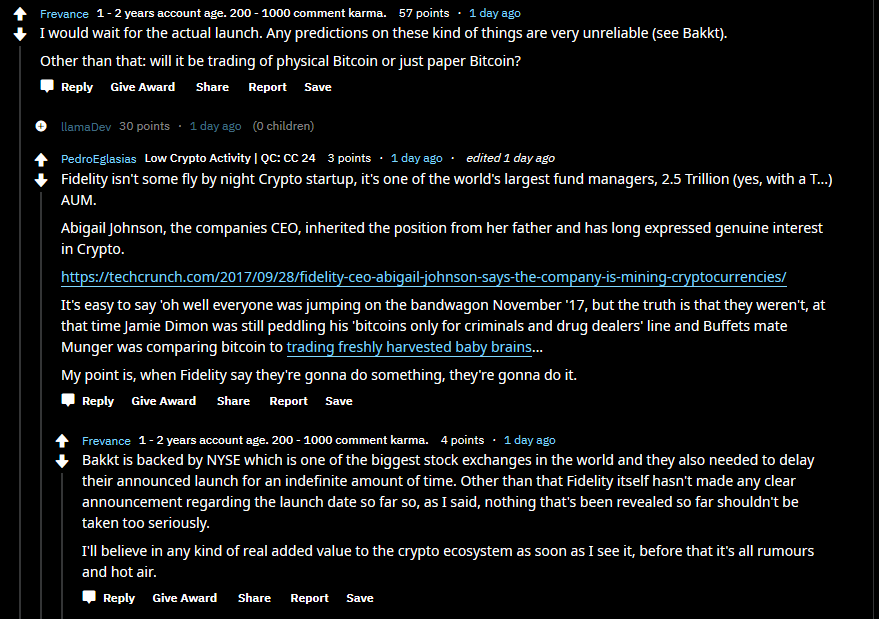 Meanwhile, r/btc was debating if the Fidelity trading service was better suited for the Bitcoin hard fork instead:
There are takes, and then there are takes.
Assets from this insight

Bitcoin
BTC