FET pumps for the first time in a month - why?
For the first time in a month, Fetch AI's coin gave some signs of life earlier today, sparking rumours and intense shilling on both Telegram and Twitter.
FET gained almost 20% since early yesterday, reaching a 30-day high $0.249 before losing most of it over the last 12 hours.
The roller coaster price action also triggered a spike in 'FET' mentions on crypto social media: our Social Trends tool has recorded 110+ new mentions of the coin over the last 48 hours - its biggest spike since the previous local top almost a month ago.
Of course, much of the chatter came from Binance English telegram group, where the crowd welcomed the rally with open arms:
What looks like a classic pump and dump, however, has also prompted wide speculation on whether a big news might be on the horizon for Binance's second-ever IEO coin.
Now that Binance is wooing projects away from Ethereum and to their own blockchain, some have wondered if Fet might be the next in line for a migration:
"Wondering if fet may be next coin in Dex 🤔 "
"Fet.. next binanace chain token !! "
"everyone on twitter shilling FET now"
Others yet rationalized FET's rally from a purely TA standpoint:
"FET bounce off of support perfectly! Target back to 40cents. It's headed towards the 0.786 Fibonacci area. Let's [email protected]$king go. All in baby. 🚀🚀 "
Looking at FET's on-chain data since the ICO, it becomes clear that the latest price action did little to boost the coin's usability. Both its daily addresses and network growth charts remain unimpressive:
There has, however, been some elevated activity in regards to FET's Token Age Consumed (idle coins moving) and Trx Volume in days leading up to the rally:
And while this may look like someone 'in the know' getting into position before the pump, our exchange-related graphs tell a different story. In fact, both of these spikes correlate with FET coins moving OUT of the exchange wallets over the past week or so:
Meanwhile, FET's number of daily active deposits remains low, further indicating that today's top proved uninteresting for most traders:
Looking at our metrics, there's little indication that the recent pump is supported by the project's fundamental data. Furthermore, Fetch AI's social media accounts have also been fairly silent, with no big news or partnership announcements teased and/or revealaed.
In the meantime, FET has already dropped over 10% from today's local high. Seems like the P&D party's over for now.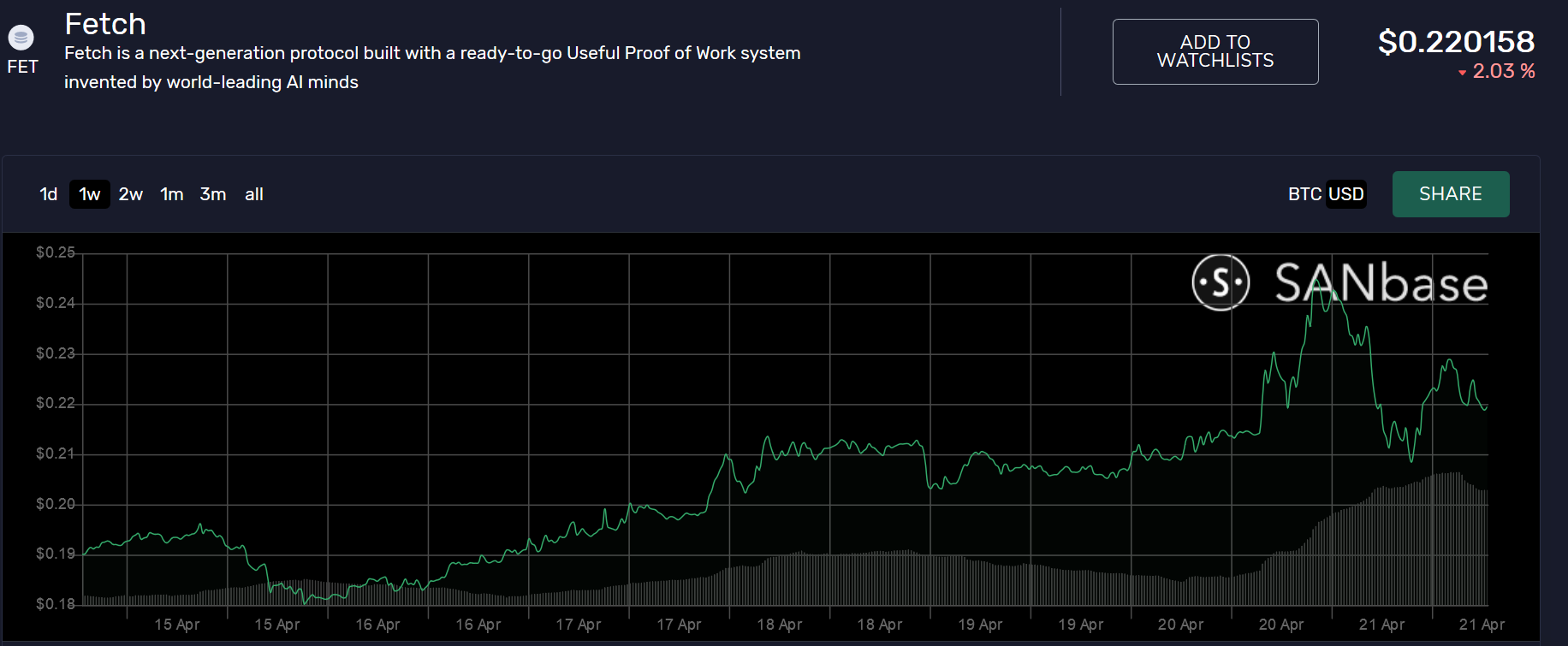 Assets from this insight
Fetch
FET