China suddenly falls in love with DLT - and maybe pumps Bitcoin?
After banning ICOs in 2017 and imposing a country-wide embargo on cryptocurrency exchanges, looks like China is finally warming up to the distributed ledger technology - although (surprise) likely not in a way that will actually benefit the ecosystem.
On October 24th, China's President Xi Jinping called for an increased pace of blockchain adoption in the PRC:
"We must take blockchain as an important breakthrough for independent innovation of core technologies, clarify the main directions, increase investment, focus on a number of key technologies, and accelerate the development of blockchain and industrial innovation."
The remarks were made at a recent Politburo Committee session on blockchain technology trends and rippled through the cryptoverse, as pundits welcomed Xi's change of heart and traders hoped the news would indiscriminately pump the market.
And pump it did; at around 1pm UTC on Friday - just as Asian traders (presumably) start their day - Bitcoin and a number of 'chinese' token began to ascend, in spite of grim short-term projections from most market analysts after BTC's previous drop to $7500.
In the midst of the announcement, Bitcoin ballooned all the way back to $10k in about 12 hours, give or take. China's 'Ethereum killer', NEO simultaneously spiked to a 3-month high $11.54, while VeChain, Tron, Ontology and others also partook in the rally which added some $50 billion to the total crypto market cap.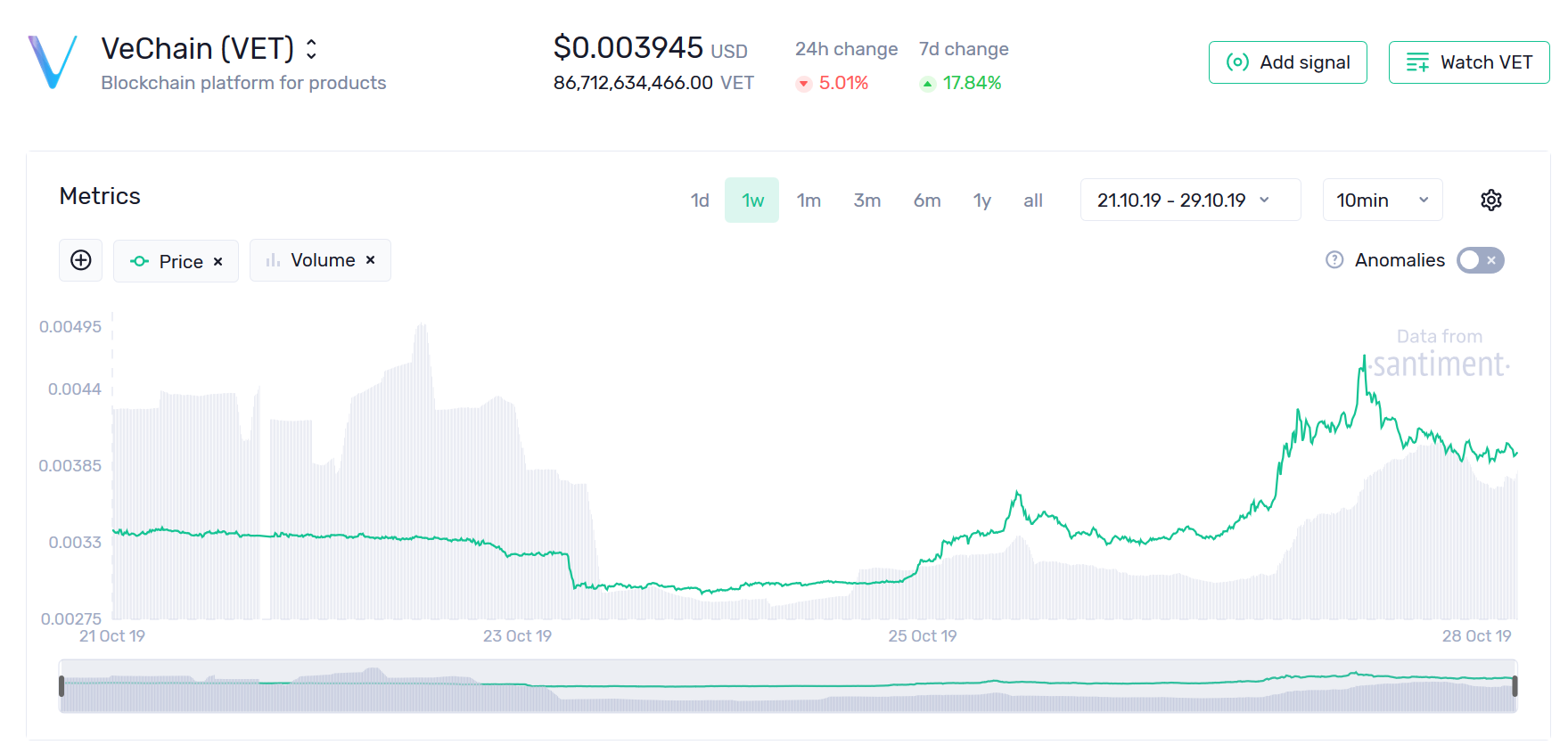 So are the two events connected? No one can really say for sure, although there's already anecdotal data showing increased interest in Bitcoin across China's main messaging apps:
Following up on Xi's 'wtf we love blockchain now' speech, China's state-backed think tank released its 14th crypto rankings report today, and, well...it's definitely one of a kind.
The top spot on the list is claimed by EOS - as it was in its previous iteration - whereas Justin Sun's Tron managed to improve on Ethereum this time around, clutching to spot #2 on the list.
Of course, you won't be surprised that the list is also heavily populated by china-based projects including NEO and Ontology, while Bitcoin sits at a distant #11.
Meanwhile on the interwebs, the community reactions to Xi's speech have been a delicate blend of tempered optimism and scorching hot takes. For one, some longtime NEO HODLers saw the announcement as apt validation for their continuing support of the project:
NEO loyalists also see a clear connection between Xi's speech and NEO's roadmap:
However, not everyone's convinced that China has any plans whatsoever to use - or partner with - any open blockchain projects, but rather plan on developing one or more private, government-owned and operated blockchains: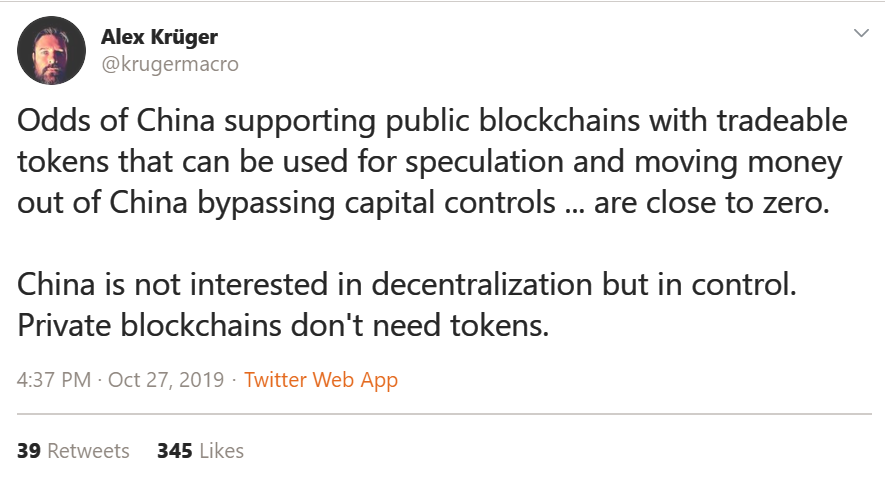 It's not just NEO's fans that got excited about a potential government partnership; XRP army was also quick to explain why a Ripple-based settlement system would make the most sense for China. Most of the crowd wasn't buying it, however: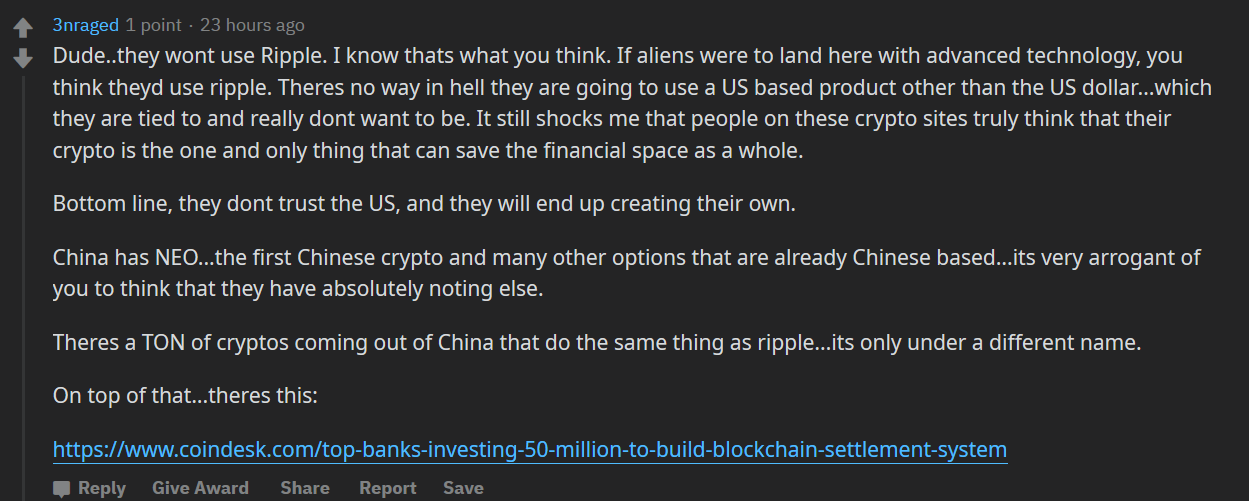 Regardless of what China ends up using the blockchain for, some still applauded the government's newfound affection to the technology, and hoped it will inspire other crypto-skeptic nations - like India - to reconsider their current stance:
Either way, the market pump seems to be over for now, as most of the weekend's big gainers began to correct (and even overcorrect) in the last 24 hours. Over in China, however, the nation-wide blockchain onboarding campaign seems to have just begun: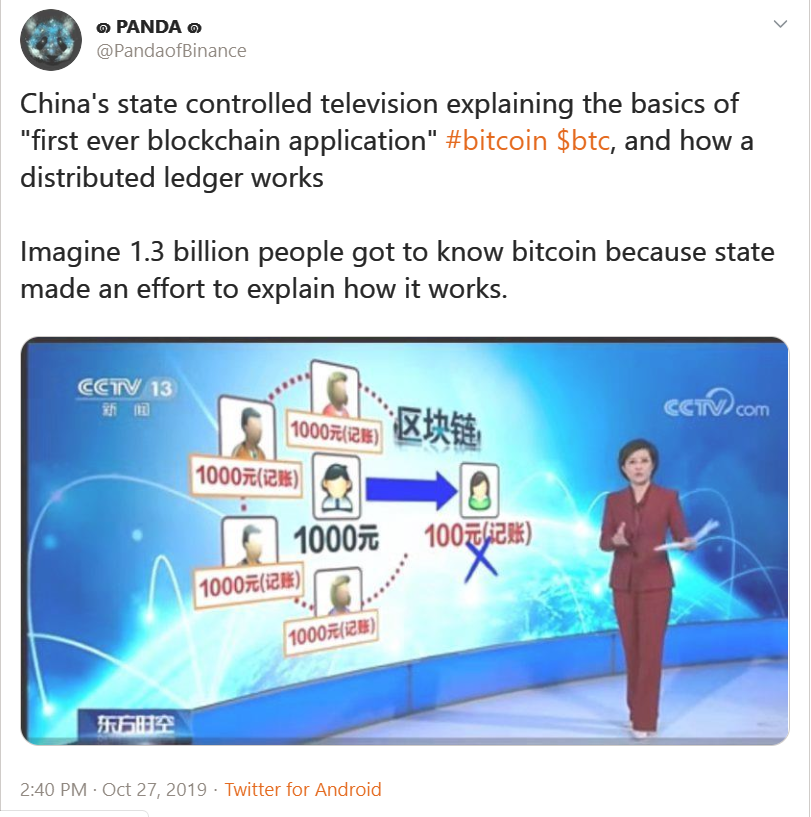 Assets from this insight
Ontology
ONT
NEO
NEO