Cardano Outlook - Has the Bottom Finally Hit?
With Cardano key metrics recently added to Santiment, there is no better time than now to take a look at how the 7th largest cryptocurrency by market cap is looking.
It was an extremely volatile 2021, which saw a massive charge to a new all-time high of $3.10 in early September. However, the popular asset has lost -70% of its value in these following 5+ months, and is back to $0.91 at the time of this writing.
Some of our top leading indicators will lead the way in revealing when the reversal will occur:
Whale Activity
The group of addresses holding between 10,000 to 100,000 has been growing rapidly:
However, the group above that holds between 100,000 to 1,000,000 ADA has dumped from 37.0% to 17.7% of the supply held in just the past three months:
These two very opposite directions seemingly wipe each other out, and create a mostly neutral indicator.
Funding Rate
By combining the average hourly funding of Cardano on both FTX and DYDX, we can see that traders are shorting at their highest ratio in a month:
We can further see that the funding rate on Binance, which updates every 8 hours, also reflects a high degree of shorts. This recent downtick was actually the highest ratio of shorts recorded on Binance since early September, 2021:
Typically, these negative funding rates are a promising sign that the crowd expects prices to go lower. And this very often leads to short liquidations that can propel prices upwards. It goes without saying that these negative funding rates are a great sign.
Whale Transaction Count
The amount of transactions equal to $100,000 or more can play a major part in indicating price turnarounds. We often see massive spikes in whale transactions that mark either major tops or bottoms. As for ADA right now: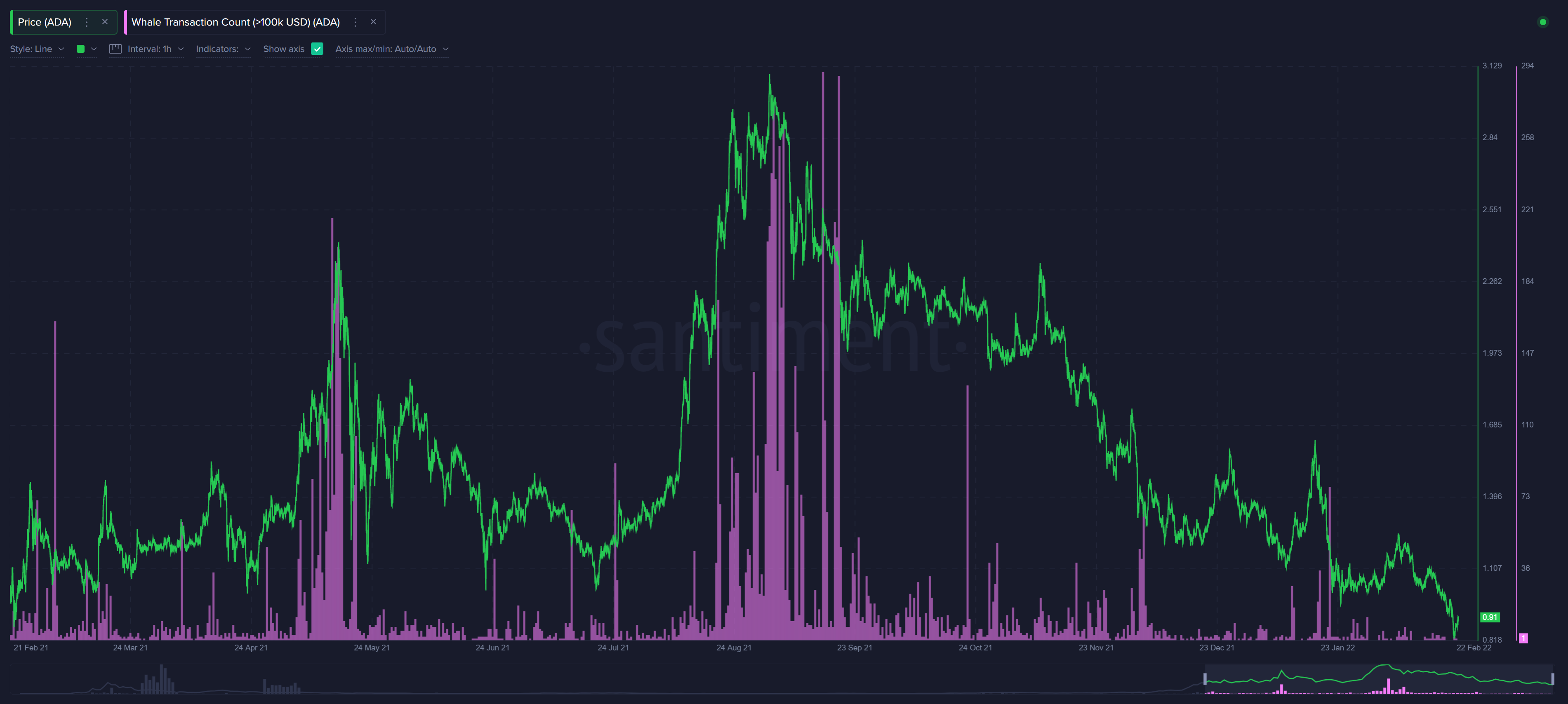 Not a lot appears to be happening.
We see that the major clusters of whale transactions both happened right at local tops in both May and at its all-time high in September.
Look for an uptick in these transactions as some great alpha that Cardano will see a long-term turnaround.
Disclaimer: The opinions expressed in the post are for general informational purposes only and are not intended to provide specific advice or recommendations for any individual or on any specific security or investment product.
Thanks for reading!
If you enjoyed this insight please leave a like, join discussion in the comments and share it with your friends!
Never miss a post from brianq!
Get 'early bird' alerts for new insights from this author