Brave 1.0 launches - BAT prepping for local top?
After 4 years in beta, Brave released version 1.0 of its privacy-centric browser today, signaling a departure from the project's early-bird marketing and growth strategy, and a decided push towards mass adoption.
According to the announcement, the beta version has already onboarded more than 8 million monthly users worldwide. Starting today, the first official 'stable' release is available for Windows, macOS, Linux, Android, and iOS.
Brave 1.0 comes with all of the features familiar to casual crypto enthusiast, including opt-in, privacy-centric ads, Brave Rewards (first announced several months back), as well as Brave Shields, including a built-in ad blocker and a number of anti-tracking features.
The crypto community welcomed the news with open arms, applauding the company's progress to date and, yes, calling for BAT, Brave's native coin, to pump as a result:
In return, Basic Attention Token responded with a reputable 5.81% spike over the last 24 hours:
And while the announcement helped propel BAT to a week-high $0.252 at the time of writing, the coin has yet to experience any excess usage related to the news.
Looking at BAT's on-chain stats, the number of addresses interacting with the token continues to decline from November 7th, when the network recorded a 6-month high of 5359 daily addresses.
The spike in question seems to be mostly speculative, as exchange data reveals over 3.1k active deposit addresses recorded for BAT on the date, paired with an almost 8-month high inflow of the coin to exchange wallets a couple of days earlier:
All the ensuing sell pressure brought a swift end to BAT's ongoing rally, with the coin reversing its week-long uptrend soon after.
Since then, pretty much all relevant on-chain indicators for BAT have been in decline. The on-chain transaction volume for the token has yet to reach its October levels, while BAT's network growth (amount of new addresses created) has been trending south for the past 5 days:
Meanwhile, the coin is experiencing a notable uptick in social volume, with over 120 new mentions of 'BAT' on crypto social media over the last 24 hours - close to its 3-month high:
This combination of factors - an increase in social volume paired with a divergence between price and on-chain activity - has often been a bearish indicator and can signal a local (or interim) top forming. This has especially been the case once/if the social mentions starts to wane as well, indicating a passing crowd interest in addition to a declining on-chain activity.
While we're looking at potential top indicators, one thing we've yet to see from BAT that's been present in several of its recent tops is a pronounced spike in Token Age Consumed, pointing to HODLers moving their coins (potentially to exchanges) to take advantage of the rally: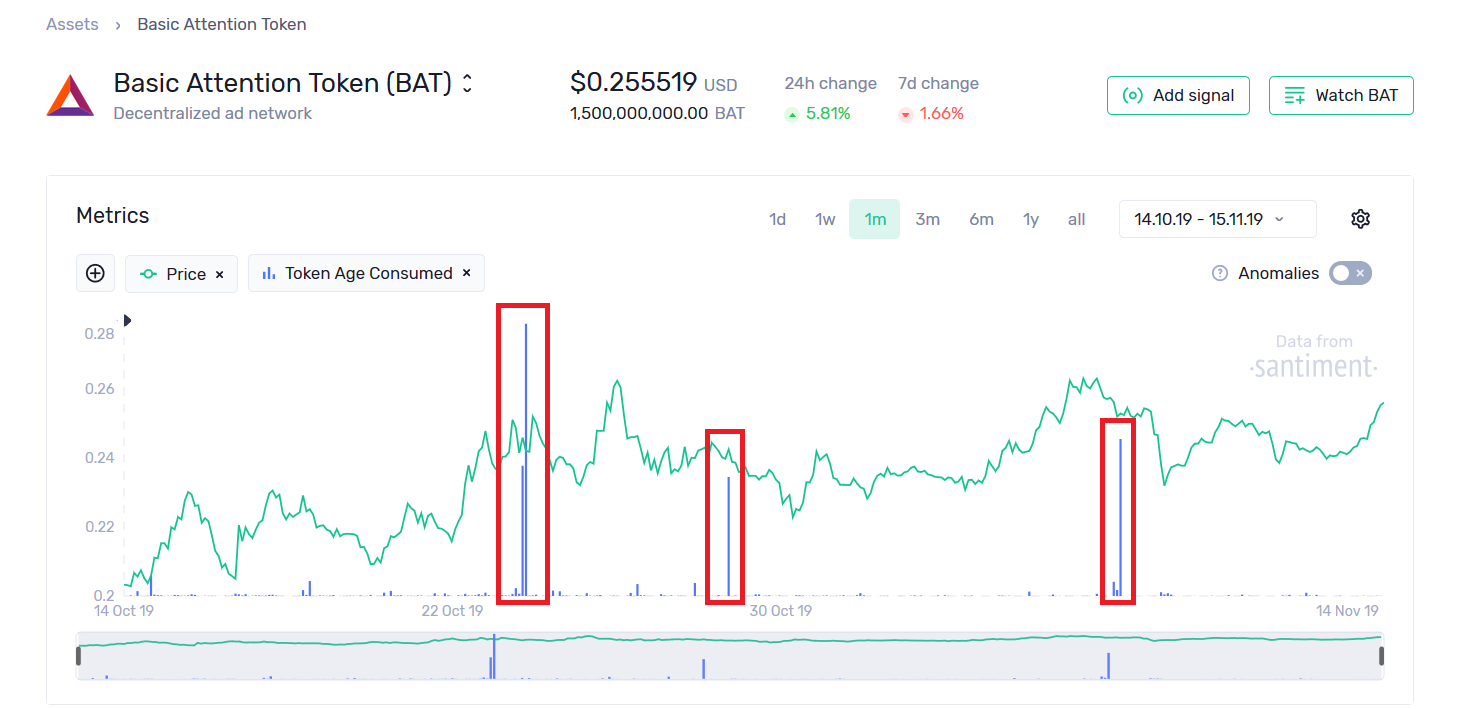 In short, it would be a good idea to keep an eye on BAT's social volume and Token Age Consumed over the next few days: if the former dips and the latter pops off, the short-term outlook for the coin could become progressively bearish.
Assets from this insight
Basic Attention Token
BAT